RV Rental Northern Kansas
Search For RV Rentals
---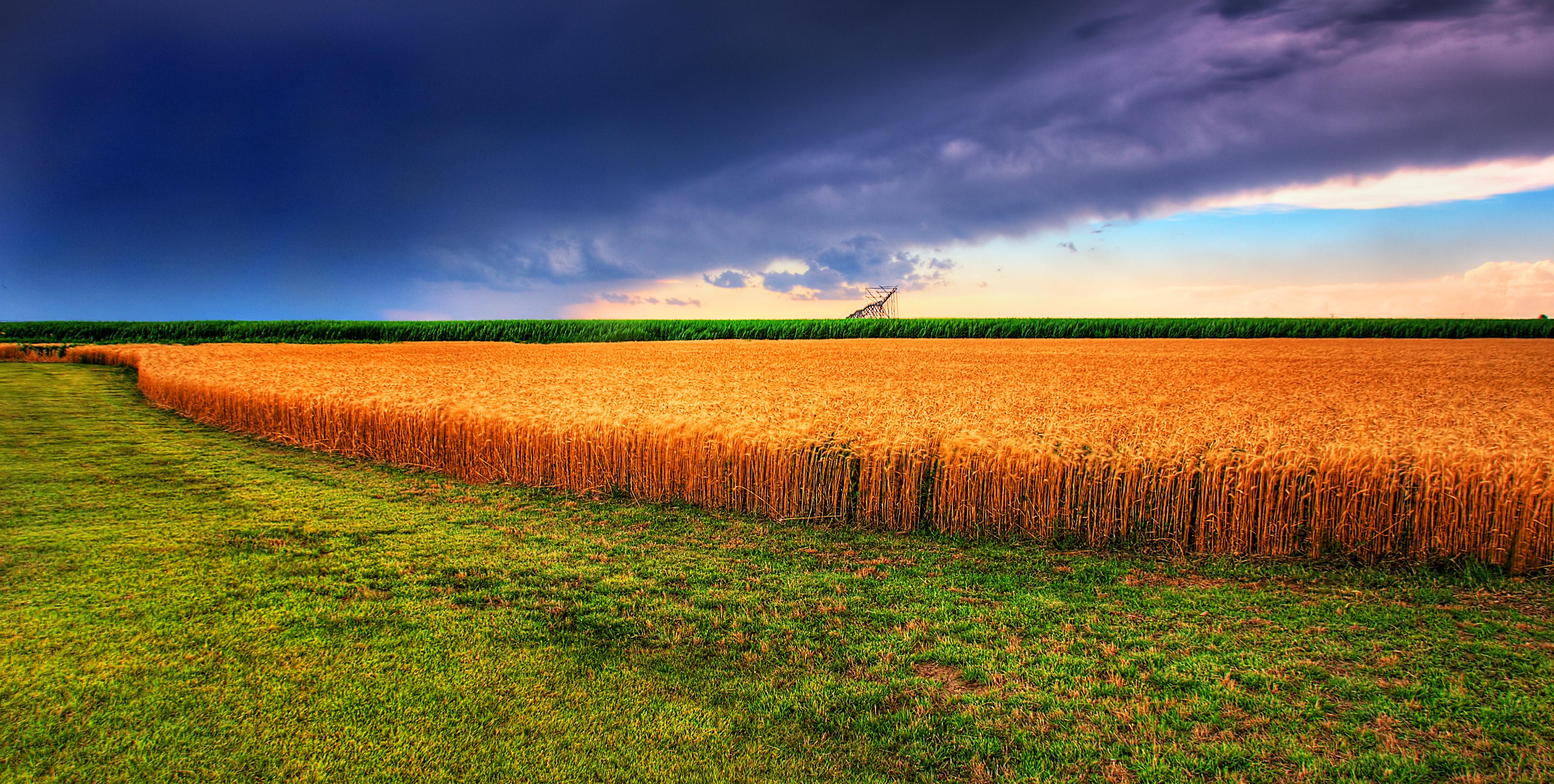 Rent an RV in Northern Kansas
If you're looking for an RV rental in Northern Kansas, you won't be disappointed by the region's western landscapes, historic sites, military forts, and state parks.
Photo credit: By James Watkins (Flickr: Kansas Summer Wheat and Storm Panorama) [CC BY 2.0], via Wikimedia Commons
The Glacial Hills
The Glacial Hills are a must see for anyone with a travel trailer rental in Northern Kansas. Old glacial movements gave the region its name, and rolling hills and jagged valleys dominate the area now. You can follow along a former Pony Express route and stop at Fort Leavenworth, or drive through the many small towns and former military sites in the area.
See Dodge City with a Camper Rental in Northern Kansas
Dodge City is a great place to take in the culture and heritage of Northern Kansas. The original settlement was constructed in 1865 as the pioneers moved westward, and the town today still maintains much of its heritage from being a critical hub of the Wild West era. You can visit a number of historic sites and forts, but simply spending time here will give you a sense of the area's cowboy roots.
Rodeos, cattle drives, and frontier-era storefronts abound in Dodge City. In fact, the Dodge City Rodeo is one of the biggest events in Northern Kansas, and includes an arts and crafts show, a parade, a rodeo, and a classic car show. The Boot Hill Museum, the Carnegie Art Center, and the Coronado Cross are also worth a visit for anyone interested in colonial and pre-colonial America.
RV Parks for Your RV Rental in Northern Kansas
The Fort Dodge RV Resort is conveniently located right next to the Boot Hill Museum, and it offers pull through sites with big rig access. You'll also find full hookups, wifi, and cable here. This resort is fairly new and features paved and new utilities. There is also a nearby waterpark and zoo within walking distance, which are great options for anyone with children.
Rent a Campervan in Northern Kansas
Leavenworth - The First City in Kansas
Leavenworth has been named "the first city in Kansas", and it's certainly a worthwhile stop, especially if you're interested in the region's history. Located on the bank of the Missouri River, it offers historic sites, homes, depots, and the "Big House" United States Penitentiary. Fort Leavenworth is the oldest fort still in operation and boasts many historic monuments, including the Buffalo Soldier Monument. The town itself has a great local brewery with craft beers, lovely Victorian homes and architecture, and a variety of Native American and colonial sites.
Campgrounds & RV Parks in Leavenworth
Suncatcher Lake Campground and Walnut Grove RV Park are two nearby options for accommodation. The campground offers pull through sites with water, sewer, electric and wifi and is located on a small lake with a good number of permanent residents. The RV park offers many of the same amenities, as well as large lots and laundry service, and is minutes away from both Leavenworth and Kansas City.
Book a Motorhome Rental in Northern Kansas
Perry State Park
Take your RV rental in Northern Kansas to Perry State Park, which is known for its sand beaches on the Perry reservoir, picnic areas, and outdoor and recreational activities. While you're there, enjoy horseback riding, mountain biking, and 25 miles of trails through a massive woodland. Sport fishing in the river provides catfish and crappie, and one can also spot waterfowl, quail, and other birds along the waterways.
If you're looking for an RV park nearby, Rockcreek COE is a great option. They offer pull through sites with big rig access, restrooms and showers, water, and electric, as well as boat access to the lake. The park is close to both Topeka and Kansas City.
Slough Creek COE is another good place to park your pop up camper rental in Northern Kansas for a night or two. The park has pull through sites, tent camping, restrooms, showers, water, and electric. It's nestled in rolling hills that overlook Perry Lake and even provides views of the Perry Lake dam. Each site has a private fire ring and views of the lake.
Rent an RV in Northern Kansas
Visit Historic Nicodemus
Nicodemus in Northern Kansas is now a National Historic Site as the only remaining western town established by African Americans during Reconstruction, after the Civil War. The town is home to five sites, including two churches, the old town hall, a hotel, and a schoolhouse. It's a very significant destination for anyone interested in African American history.
RV Rental Locations in Northern Kansas
Now that you're ready to vacation with an RV rental in Northern Kansas, search RVshare for RV rentals on our peer-to-peer database to find exactly what you need. With hundreds of options all over Northern Kansas and beyond, RVshare can help you easily find an RV rental that meets you needs.
Private RV Rentals in Northern Kansas
If you're looking for cheap RVs for rent in Northern Kansas, look no further. RVshare provides some of the most affordable prices out there thanks to a large network of private RV rentals. It's also worth noting that RV travel is the most affordable and flexible way to travel -- and it's fun for everyone!
Rent an RV in Northern Kansas
Peace of Mind Guarantees and 24/7 Roadside Assistance
Your payments at RVshare are always protected by our $10,000 peace of mind guarantee. Once you've booked your travel trailer rental in Northern Kansas, communicate directly with the owner to decide on key pickup. The owner will give you a walk through and demo of your new RV rental so that you know how to use it.
Then, you'll be ready to hit the road in no time! While you're out there, we offer you 24/7 access to our roadside assistance services, so you've always got someone to help you out.
---
Search For RV Rentals
$100
Las Vegas NV
Sleeps 4 / Class C Motor Home
$39
Loveland CO
Sleeps 2 / Travel Trailer
$120
Morrison CO
Sleeps 6 / Toy Hauler