RV Rental Northern Indiana
Search For RV Rentals
---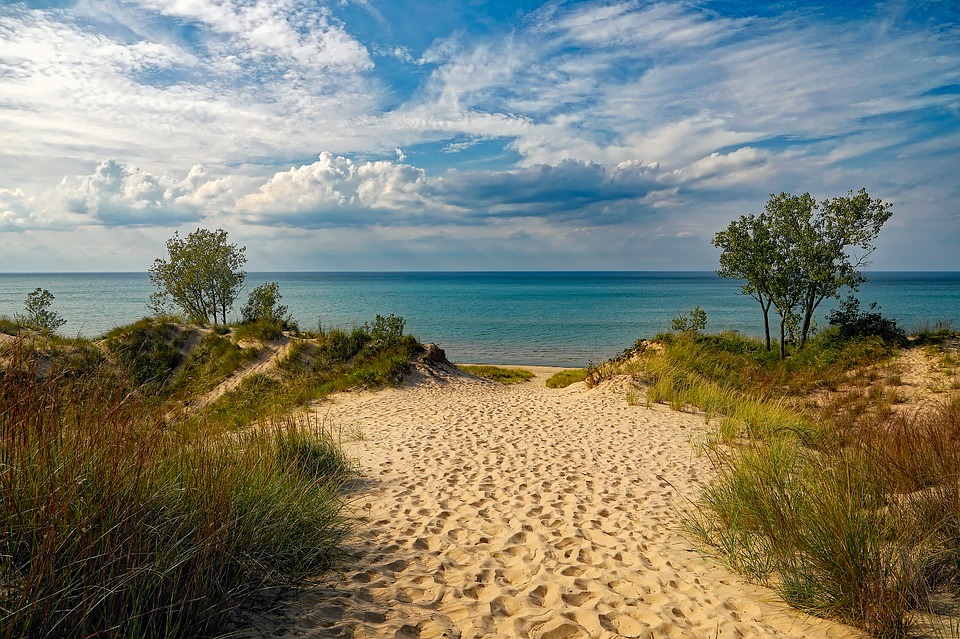 Motorhome Rental in Northern Indiana
With territory stretching across the shores of the vast Lake Michigan, small historic towns with Amish villages, and close proximity to the city of Chicago, Northern Indiana is an exciting region to travel with an RV rental any time of year.
Overnight parking is permitted free of charge in all state rest areas, making travel with an RV rental in Northern Indiana easy, flexible, and very affordable.
Rent an RV in Northern Indiana - Experience Lake Michigan
During the summer months, visitors can enjoy summer festivals as well as the many beaches along Lake Michigan, which offer excellent swimming and sunbathing. In the winter months, the snow cover from Lake Michigan in Northern Indiana is truly something to marvel.
If it's snow you're after, the Auburn Indiana Scenic Byway is the heaviest snowed area in all of Indiana due to the lake effect from Lake Michigan. You'll witness a large cloud cover that appears to roll across the sky very quickly, carrying snow far and wide, and the lake views are particularly astounding when covered in snow and ice. The historic route is also dotted with flea markets, when weather allows, as well as Amish shops and villages, offering a taste of true American heartland.
The Miller Indiana Scenic Byway is another favorite for travelers with a camper rental in Northern Indiana. The drive passes from Gary, Indiana, just south of Chicago, all the way to Michigan City in just 25 miles. It provides travelers with varied sights and plenty of outdoor activities. You'll pass impressive early 20th century industrial buildings, rolling sand dunes on the lakeshore.
Private RV Rentals in Northern Indiana
When searching for private RV rentals in Northern Indiana, consider starting your trip in one of the regions several large towns and small cities. These include Gary, South Bend, Elkhart, and Fort Wayne, as well as Chicago, just north of the Indiana border.
Explore South Bend, Indiana with a Camper Rental
South Bend is a large commercial city that provides all of the amenities you could need. With excellent shopping, history, and Amish marketplaces, you could easily fill a couple days here. It's also a lovely city situated right on the St. Joseph River just 40 miles from the shore of Lake Michigan.
Spend an afternoon at one of the city's many art galleries, and then head to Redamak's Tavern, right on the waterfront, for one of their legendary burgers. Amish markets also offer access to one of the area's many agricultural sights, and the local Japanese garden Shiojiri Niwa is a lovely stroll as well.
South Bend KOA North provides pull through sites with big rig access, water, sewer, and electric, and showers and plumbed toilets. Bordered by dense forest, you feel that you're in the middle of nature at this campground, although you're just minutes from the College of Notre Dame, a great place to catch a game during your visit.
Elkhart Campground is another option, located right off the interstate between South Bend and Elkhart. It offers a huge variety of sites, from gravel sites or grass sites to newly paved lots. They have all amenities available, including cable and reliable wifi.
Visit Fort Wayne with a Motorhome Rental in Northern Indiana
The second largest city in Indiana, Fort Wayne, has managed to maintain a small town feel while becoming a center of industry. Its history dates back to the 1700s, and visitors can see a number of historical events and sites, including Johnny Appleseed Park.
Apart from touring the city's historic landmarks, you can also go to its beautiful botanical gardens and three different art conservatories. Fort Wayne is also known for its old-time, retro restaurants that take patrons flaunt old decor and music, taking patrons back to its historic roots.
Just outside of Fort Wayne, you'll find the perfect stop for any animal lovers in your family. The Black Pine Animal Sanctuary is quite large and hosts a variety of local and exotic animals, including bears, lions, monkeys, bobcats, and more. You can go on one of their regular feeding tours or attend one of their informational events for a more in depth look into their conservation efforts, animal rehabilitation, and greater Indiana's national parks.
Camping with an RV Rental in Northern Indiana
Cedar Lake Bible Retreat and Campground has full hookups, big rig access, showers, wifi, and fully renovated facilities. Situated close to Gary, Indiana, this is the perfect place to stay if you'd like to explore the greater Chicago area.
Michigan City Campground features pull through sites with full hookups as well as plumbed toilets, showers, wifi, and a pool. The campsite has plenty of paved lots and open spaces, and it's perfect for exploring the many nearby towns.
Indiana Dunes National Lakeshore with a Camper Rental
If you've got a motorhome rental in Northern Indiana, Indiana Dunes National Lakeshore is a sight that's not to be missed. Separated into three sections, a settlement, preservation, and park area, the vast lakeshore offers widely varying landscapes and sights. Even history lovers will find themselves satisfied with the host of historic sites from the park's old fur traders and colonial heritage.
For those interested in natural wonders, Indiana Dunes National Lakeshore is a sight to behold. Made up of preserved sand dune areas that date back to the Ice Age, there is nothing else on earth quite like it. You can hike and sunbathe on the large, rolling dunes before going for a swim in Lake Michigan. There's also a large boardwalk that passes through the various ecosystems of Northern Indiana. Apart from dunes, the region also contains wetlands, dry forests, ponds, and large open prairies.
RV Rental Locations in Northern Indiana
When you're ready to plan your family vacation, you can search for cheap RV rentals in Northern Indiana at RVshare. As a peer-to-peer network, we offer hundreds of affordable RV rentals of all types and sizes. You can even look for a one way RV rental to Northern Indiana.
With your purchase backed by our peace of mind guarantee and 24/7 roadside assistance, RVshare is the easiest, most convenient way to rent an RV in your area. Book your RV rental in Northern Indiana today, and get ready to explore sand dunes, historic towns, and the stunning shores of Lake Michigan.
---
Search For RV Rentals
$100
Las Vegas NV
Sleeps 4 / Class C Motor Home
$39
Loveland CO
Sleeps 2 / Travel Trailer
$120
Morrison CO
Sleeps 6 / Toy Hauler