RV Rental Northern Arkansas
Search For RV Rentals
---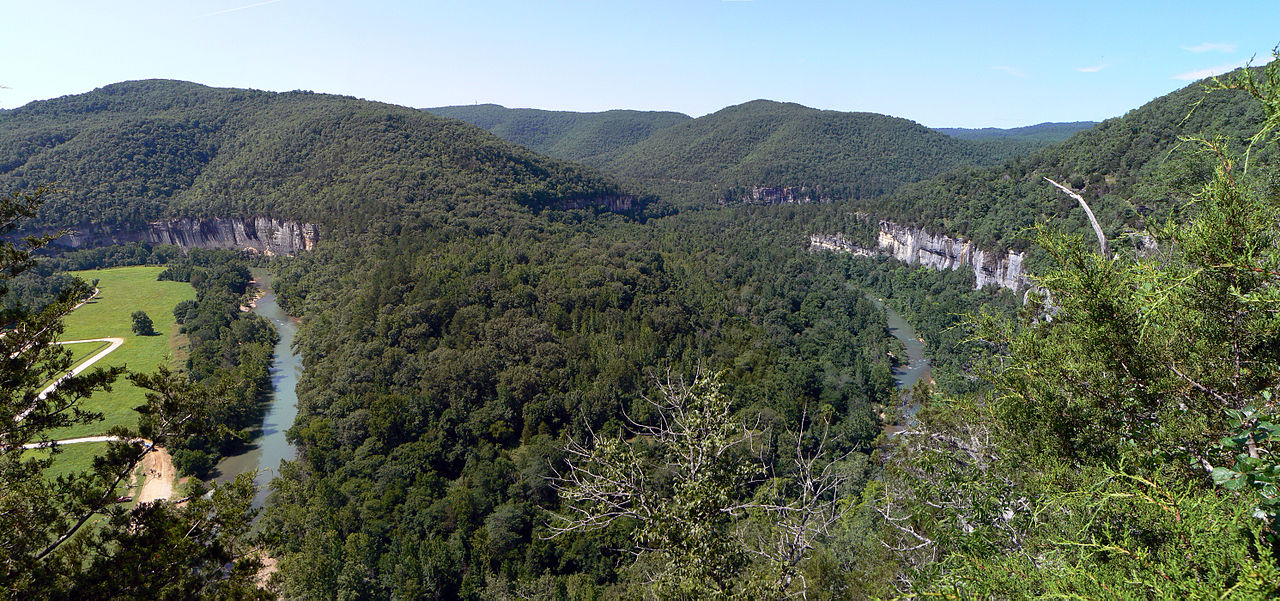 Rent an RV in Northern Arkansas - The Natural State
If you're looking to rent an RV in Northern Arkansas, you probably already know about its abundant natural beauty. Nicknamed "The Natural State," rivers, caves, forests, and mountains make this an ideal spot for RV travel and private RV rentals.

Photo credit: Jasari, via Wikipedia Creative Commons
With over 6,000 acres of lakes and 9,700 miles of rivers and streams, it's easy to camping and RV parks along the water in Arkansas. Thanks to RVshare, it's even easier to search for RV rentals and find the perfect motorhome rental or RV trailer rental in Northern Arkansas. The best part is that RV travel is the cheapest way to travel, especially if you're bringing the family along.
Northern Arkansas is covered in the Ozark mountains, hiking trails, and broadleaf forests. It's also home to countless, charming small towns. Fayetteville is the populous center of Northern Arkansas, followed by Springdale and Jonesboro. There are dozens of private RV rentals in Fayetteville, where they're most highly concentrated, but RVshare lets you rent a camper in Northern Arkansas just about anywhere.
Enjoy Fayetteville Football with an RV Rental in Northern Arkansas
Fayetteville, home of the University of Arkansas, is a fun, small city and college town nestled in the Ozarks. Devil's Den State Park is a popular hiking and mountain biking destination in the Ozark National Forest with plenty of backcountry to explore. The park offers camping, RV sites, and cabins as well as a cafe and pool.
This quaint southern college town offers lots of history and museums as well, including the Fayetteville National Cemetery, Headquarters House Museum, and Clinton House Museum are must-see spots for history buffs. Be sure to check out an Arkansas Razorbacks football game and hit up the Bikes, Blues, and BBQ Festival for a real taste of local culture. Lazy Acres Campground and Art's RV Sites are located just out of the city and are ideal for people who want a mix of city life and the outdoors.
Motorhome Rental in Northern Arkansas
Discover the Ozark Wilderness
The Ozarks are one of the top destinations in Northern Arkansas. If you're renting a camper rental in Northern Arkansas, you can't miss them. The Buffalo National River is a beautiful and clean river that runs through the heart of the Ozark Mountains where hiking, backpacking, kayaking, canoeing, fishing, and bird watching opportunities abound. Buffalo National River offers a number of campgrounds and RV parks, including Ozark Campground and Erbie Campground, but neither offer hookups or dump facilities.
Rent a Campervan in Northern Arkansas
See the Local Culture
Be sure to check out Mountain View, an old-time Ozark town where you can watch live banjo and fiddle music on the main town square. The Ozark Folk Center will open your eyes to the traditional folk culture of the Ozarks with live bluegrass music and local handicrafts such as blacksmithing, basket weaving, fiddle making, and candlemaking. Head to Blanchard Springs Caverns and tour a majestic underground cave system and the Blanchard Springs Waterfall for a truly memorable outing.
For an RV park on the border of Northern Arkansas and Missouri, Ozark View RV Park offers stunning views, good birdwatching, space for campers and motorhomes of all sizes, and a strong wifi signal. Ozark RV Park in Mountain View offers easy access to cultural sites and a central location to explore the greater area. They even have a "jam shack" where you can enjoy live music shows.
Fish White River with Private RV Rentals in Northern Arkansas
If you rent a campervan in Northern Arkansas to do some fishing, a stop on the White River is an absolute must. It's the best place to catch fish in Northern Arkansas, boasting record-breaking trout year round. There are also lakes with plenty of bass fish, such as Norfork Lake in Gamaliel, Arkansas.
White River Campground and Cabins has RV space with no hookups and has canoe and kayak rentals as well as guided fishing trips. For those looking for more amenities, Denton Ferry RV Park and Resort is situated on the White River and offers full-service hookups, riverfront sites, and pull-through sites, as well as a large vacation cabin. They even won the titles of "the cleanest RV park restrooms in America".
Get a small RV Rental in Northern Arkansas
Experience the Charm of Historic Towns
For something unique, head to Eureka Springs, a small Victorian town on Beaver Lake that has an almost European vibe to it. The village is filled with quirky art galleries, handicrafts, "Opera in the Ozarks", and natural healing pools. The city itself is even listed on the National Register of Historic Places. Wanderlust RV Park and Green Tree Lodge & RV Park are both right outside the town and have a great reputation.
Rent an RV in Northern Arkansas
Explore Arkansas Wine Country
After all of your hiking, caving, and fishing expeditions, you'll probably want a little rest and relaxation. Believe it or not, Northern Arkansas actually has its very own wine country in the town of Altus. Located in the River Valley region, it's easy to spend a few days taking in the views of this scenic area and hopping from winery to winery. Chateau aux Arc, Mount Bethel, and Post Familie are some of the best.
In Northern Arkansas, vineyards and RV parks go hand in hand! Many of the area's best wineries offer their own camping and RV parks. Chateau aux Arc RV Park is right at the doorstep of one of the region's best wineries, so you can spend the day tasting vino and retire to your luxury RV rental in style. Full-service facilities with 30 and 50 amp hookups are offered.
Grape Country RV Park is also on the Arkansas wine trail, with four local wineries located within 3 miles of the park. You can even pick your own fresh grapes in the summer, and it's a great place to stay if you're attending the annual Grape Festival. They offer full-service hookups on 26 acres of land.
---
Search For RV Rentals
$100
Las Vegas NV
Sleeps 4 / Class C Motor Home
$39
Loveland CO
Sleeps 2 / Travel Trailer
$120
Morrison CO
Sleeps 6 / Toy Hauler