RV Rental Northeast Kansas
Search For RV Rentals
---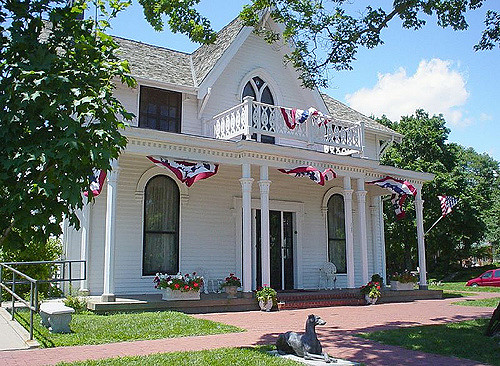 Small RV Rental in Northeast Kansas
There's nothing like a great vacation to bring the family together, right? If you're booking the same vacation you always have, year after year, you're probably doubting that sentiment. But before you end up at the same location you always have, take a moment to consider the absolute vacation of a lifetime – getting everyone together in an RV and hitting the open road, stopping at every single site you want.
A vacation like that isn't just affordable, it's perhaps the most affordable way to vacation period. Interested? Keep reading to find out what millions of people have already learned: what makes RV travel so great, and why your first destination should be Kansas.

Image courtesy of Flickr/Franklin Thompson
The Top RV Resorts in Northeast Kansas
Deer Creek Valley RV Park – 3140 SE 21st St, Topeka, KS 66607
One of the top rated campgrounds in all of Kansas, Deer Creek is a fantastic getaway in a secure, comfortable setting. Lake Shawnee is just a mile and a half away, and hosts boating, fishing, jet skiing, and walking. There's an in-ground pool, plus a fenced playground and pet play area. There are numerous great restaurants around, including a well known barbecue spot just outside the park. If you love history, there are several museums in this area as well.
RV Rental Locations in Northeast Kansas
Chapman Creek RV Park – 2701 N Marshall St, Chapman, KS 67431
This is a fairly new RV park, and it's the perfect place if you need a quick stop overnight or if you want to settle in for a few days and enjoy the area. There's a self service kiosk to check yourself in if you arrive overnight, something you don't find in a lot of places! Indian Hills Golf Course is only 2 miles away, and Milford Lake State Park is a short drive. If you're traveling with kids, the Sunset Zoo in Manhattan, Kansas in about a 25 mile drive. The nearby city of Fort Riley has several fantastic historical sites if you love history.
The Top RV Destinations in Northeast Kansas
Amelia Earhart Birthplace
This historic site and museum is the birthplace of famed aviator Amelia Earhart. The home was built in the early 1860s, and has been restored to how it would have looked when Amelia was there. There are many artifacts from the Earhart family, along with a small gift shop. This site is on the National Register of Historic Buildings, but actually remained a private residence until the 1980s. Don't miss the huge earthworks portrait of her on the hillside nearby.

Deanna Rose Children's Farmstead
The Deanna Rose Children's Farmstead is an absolutely fantastic place to visit if you have kids. It was built in the 1970s, but depicts a 1900s era Kansas farm. Around 200 animals and birds of prey are on site, plus beautiful flower gardens, an authentic one room schoolhouse, a fishing pond, gemstone mining, live milking demonstrations, pony rides and so much more. The farmstead is seasonal, so be sure to check before you head out to make sure it's operating.

OZ Museum
As the name implies, this is a tribute to all things Wizard of OZ, whether it's the original book, the 1930s movie, the remake starring Michael Jackson, or the smash Broadway musical. The museum is filled with props from different versions of the story, and guests will follow the yellow brick road from the sepia beginning through the dazzling color-filled end to visit with over 100 years of OZ history. This is a site worth visiting especially for movie fans, but also for people who are fans of pure Americana, as there's arguably no more iconic film.
Private RV Rentals in Northeast Kansas
If reading about the best RV trip in Kansas has you dreaming of cruising down the road, just know that you won't find many places that make for a better RV vacation. Kansas has something for just about every interest – action and excitement, museums, relaxation, dining, and more.
And if you are indeed getting the whole family together for a vacation, one of the first things you'll be concerned about is the cost. But fortunately, RVing can be the cheapest way to vacation. When you're not paying for a hotel each night (especially if you have enough people to need multiple rooms), the savings pile up quick. Most people who decide to rent a RV through RVshare are surprised at the number of cheap RV rentals in Kansas.
Renting an RV in Northeast Kansas
Maybe one of the best parts about an RV trip to Kansas is that most destinations are very friendly to RVers. You'll find ample rooms and accommodations for large vehicles most places you go. Not sure about what type of RV you want? That's okay! RVshare lets you search available rentals by size, by price, and even by location. So it's easy to find exactly what you need. And if you need a one way RV rental in Kansas, there are plenty of those listed too.
Rent an RV in Northeast Kansas
While renting an RV may seem scary (there's a good chance it's literally the largest thing you've ever rented), the whole process is simple with RVshare. You just choose the vehicle you want, confirm the dates, and you're all set. You actually handle most of the paperwork beforehand, so when it's time to actually leave for your trip, all you need to do is pick up the keys. When the trip is done, just fill it up with gas.
Motorhome Rental in Northeast Kansas
If you're sold on an RV vacation, you probably still have a few questions, and that's okay. RVshare wants to make sure ever renter feels comfortable and taken care of. That's why every rental has $10,000 of insurance coverage, a free 24/7 travel concierge, and free 24/7 roadside assistance. No matter what time of day or night it is, no matter where you are, you've got someone available to help.
RV Rental Locations in Northeast Kansas
Does this sound like the vacation you've been dreaming of? Then read our full rental guide for all the details on exactly how peer-to-peer RV rentals work.
---
Search For RV Rentals
$100
Las Vegas NV
Sleeps 4 / Class C Motor Home
$39
Loveland CO
Sleeps 2 / Travel Trailer
$120
Morrison CO
Sleeps 6 / Toy Hauler