Search For RV Rentals
---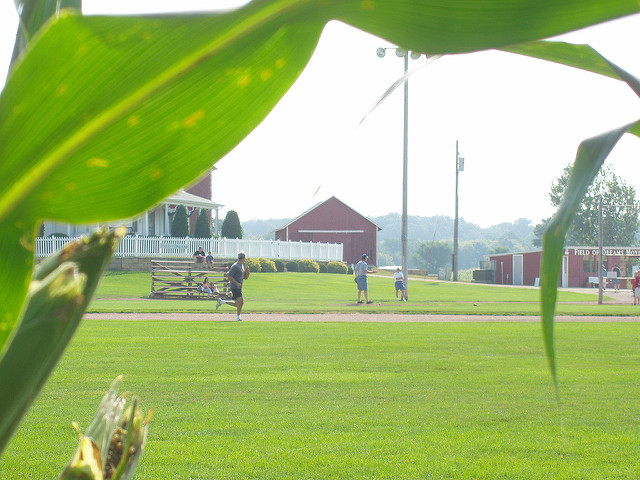 How to Rent an RV in Northeast Iowa
Are you tired of the same old family vacation to the beach where the kids go one direction and you end up sitting alone? Before you book the same trip you've done for the past 15 years, consider finally taking the trip you've always dreamed of... the trip of a lifetime that everyone will talk about for years to come. It's actually easier and more affordable than you think.
If you've decided you're ready to make memories that will last forever, keep reading to discover just what makes an RV vacation so special and why you should make Iowa your first destination.

Image courtesy of Flickr/Joel Dinda
The Top RV Resorts in Northeast Iowa
Oakwood RV Park – 5407B 240th St, Clear Lake, IA 50428
If you're RVing across Iowa and need a place that's close to the interstate, Oakwood RV Park is your place. And if you want a place where you can slip into seclusion and rest, this is your place as well. The city of Clear Lake is great resort area with plenty to see and do. There are lots of local events throughout the summer if you want to be with the locals, especially events that utilize the Historical Surf Ballroom (the site of the last Buddy Holly concert). There are several great museums close by, a 2.5 acre garden, and even the Fort Custer Maze.
RV Rental Locations in Northeast Iowa
Lazy Acres RV Park – 5486 32nd Ave, Center Point, IA 52213
This RV park is right off the interstate, but you'd never know it once you drive inside. The park can fit RVs up to 120 feet long, with plenty of room for privacy at each site. They have several waterfront cabins if you want a change of scenery for an evening or two, and opportunities for fishing, paddleboating, biking, hiking, and more.
The Top RV Destinations in Northeast Iowa
Field of Dreams
If you build it, they will come. That's what a mysterious voice told an Iowa farmer in the classic 1989 movie Field of Dreams, and over 25 years later, people are still coming. An old family farm now plays host to a site that has inspired millions – the filming location/baseball diamond from that iconic film. Home tours are available most every day of the year (with 24 hour reservation). This site is worth a visit for movie fans, baseball fans, of people who just love to see a happy site.
Small RV Rental in Northeast Iowa
Pikes Peak State Park
You can't mention northeast Iowa without mentioning Pikes Peak. It's likely the most photographed area in the state, and with good reason. The views of the Mississippi River here are absolutely majestic, and one 500 foot bluff in particular gives visitors a stunning view of the Wisconsin and Mississippi rivers. This area is particularly popular in the fall, when the vibrant leaves draw visitors from all across the nation. Be sure to watch out for Bear Mound, an ancient American Indian effigy from around 800 to 1200 A.D.
Renting an RV in Northeast Iowa
Amana Colonies
Amana Colonies is a grouping of seven villages where visitors can step away from the busyness of life and enjoy local foods, furniture, décor, art and more. The Colonies, as locals know them, give visitors the chance for a unique look at history that can't be found anywhere else. Whether you're looking for something to take home and remember your trip, to snack on some local delicacies you can't find back home or just to stroll down a quiet street and picture years gone by, the Amana Colonies really is a must visit if you're in this part of the state.
Private RV Rentals in Northeast Iowa
If you're reading this and dreaming about the open road with your family together, remember that you won't find many better places for an RV trip than Iowa. Why? Because there's something to do for just about every age group and every interest.
And if you're taking a vacation with the whole family, you may be concerned about finances. Fortunately, RV travel can be one of the most affordable ways to vacation. The price you pay for an RV rental is actually cheaper than many hotels (especially if you'd have to rent multiple rooms), and you save money in other areas too. In fact, many people are shocked when they see the number of cheap RVs in northeast Iowa that are available using RVshare.
Renting an RV in Northeast Iowa
Maybe one of the best parts about an RV trip to Iowa is that most destinations are very friendly to RVers. You'll find ample rooms and accommodations for large vehicles most places you go. Not sure about what type of RV you want? That's okay! RVshare lets you search available rentals by size, by price, and even by location. So it's easy to find exactly what you need. And if you need a one way RV rental in Iowa, there are plenty of those listed too.
Rent an RV in Northeast Iowa
Renting an RV certainly can seem overwhelming, but it's surprisingly easy with RVshare. One of the best things about using RVshare is that a lot of your paperwork is done before you leave, so when it's the beginning of your trip, all you need to do is pick up your keys and head out. There's no keeping your family waiting impatiently in the car while you wade through piles of paperwork. And when your trip is over, all you need to do is gas up the RV and drop it off.
Motorhome Rental in Northeast Iowa
If you've never been behind the wheel of an RV before, there's a great chance that you have some questions and concerns about safety – and RVshare understands that. Every rental that starts with RVshare has $10,000 of insurance coverage, plus 24/7 roadside assistance at no additional charge and a free 24 hour travel concierge you can call at any time. No matter where you drive and no matter what time of day or night it is, you've got someone you can call.
If you're finally ready to slip into an RV and set out on the best vacation you'll ever take, read RVshare's full rental guide for all the details on how peer-to-peer RV rentals work.
---
Search For RV Rentals
$100
Las Vegas NV
Sleeps 5 / Class C Motor Home
$39
Loveland CO
Sleeps 2 / Travel Trailer
$120
Morrison CO
Sleeps 6 / Toy Hauler