RV Rental Northeast Georgia
Search For RV Rentals
---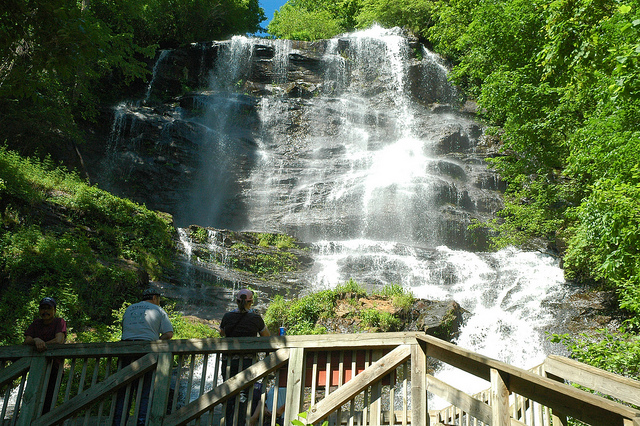 How to Rent an RV in Northeast Georgia
Before you plan another family vacation to the same place you've always been, take a minute to consider setting out on the vacation of a lifetime. It's easier (and more affordable) than you might think! If you're ready to make family memories that will last forever, read on to find out why a RV vacation could be the very best getaway you've ever taken. Here's a look at why there's no trip that brings a family together like an RV road trip.
The Top RV Resorts in Northeast Georgia
River Vista Mountain Village - 20 River Vista Dr, Dillard, GA 30537
If waking up in the cool mountain air is your idea of the perfect vacation, River Vista is where you need to park your RV. It's only 45 minutes from the southern entrance to Great Smoky Mountains National Park, and provides a great chance to get away from all the busyness and really relax. You'll find hiking trails nearby that lead to beautiful waterfalls, several state parks, plus the opportunity for gem mining.

Image courtesy of Clinton Steeds/Flickr
RV Rental in Northeast Georgia
Crossing Creeks RV Resort & Spa - 136 Mountain Creek Rd, Blairsville, GA 30512
If it's luxury you want, Crossing Creeks is where you need to be. Tucked away in the north Georgia mountains, it's one of the few RV resorts that even has a spa on site. There are six golf courses nearby, plus whitewater rafting, kayaking, fishing, and more. For history buffs, this resort is in Historic Blairsville. This truly is one of the nicest RV parks in Georgia, as the amenities here are ones you can't find anywhere else.
The Top RV Destinations in Northeast Georgia
Amicalola Falls State Park
At 729 feet tall, Amicalola Falls is the nation's highest cascading waterfalls east of the Mississippi. Tucked into the Chattahoochee National Forest, this park is packed with waterfalls and mossy beauty. It does take a hike to get to the best view of the falls, but it's worth it. Thanks to the incredible scenery and hiking trails here, this is one of Georgia's most visited state parks. There's a lodge on top of the mountain if you want to rest in a hotel setting for a day or two.
Camper Rental in Northeast Georgia
Georgia Guidestones
Built in 1980, the Georgia Guidestones are often referred to as the "Stonhenge of America." The granite monument stands 20 feet tall, and is made up of six different slabs. The unique thing though, is the text on the monuments. On the monument is printed 10 rules for a "New Age of Reason," including the elimination of a large part of the population, the installation of a one world government, a new spirituality being introduced, and more – and nobody really knows who is behind it.. In short, its guidelines for the perfect world mapped out by an occultic secret society. Most people associate this site with the New World Order, but it's worth a stop whether you're into conspiracies or not. The stones are in the middle of nowhere, giving the site a fairly surreal feel.
Rent a Campervan in Northeast Georgia
Brasstown Bald
The highest point in the state of Georgia, Brasstown Bald is one of the state's most popular spots for leaf viewing in the fall (it's one of the first spots to turn each year), but it's so much more than that too. All year round, the mountain is a fantastic getaway thanks to its cool temperatures and beautiful scenery in the Chattahoochee-Oconee National Forest. A half mile hike to an observation deck gives you 360 degree views of four states on a clear day, while days that aren't so clear have beautiful views of the fog filled valley. You can take advantage of scenic drives, hiking, fishing, and more here at Brasstown, so make sure you visit if you're in the area.
Private RV Rentals in Northeast Georgia
Ready to hit the road in an RV? There's just about no better place to go than Georgia, because there's plenty to do here for all ages and interests. And if you're looking to save money on a family vacation, you've found it! RVing can be the cheapest way to travel, as you don't pay for a hotel, for dining out as much, or for several other aspects of a vacation. When you browse RVshare and see all the cheap RVs in northeast Georgia, you'll be shocked at how much money you can save.
Renting an RV in Northeast Georgia
It doesn't matter what you're looking for in a family vacation, you can find it in Georgia. Fortunately, most destinations in Georgia are very friendly to RV travel, making it perfect for a first time driver. If you don't know exactly what you want to rent, that's okay. RVshare lets you search by vehicle size (how many people it will hold), the price, and the location it's in. So you can find a vehicle that holds just the right number you need in just the right location. And if you need a one way RV rental in northeast Georgia, they even have plenty of those too.
Rent an RV in Northeast Georgia
Renting an RV sounds like it'd be a complicated matter, but RVshare really does make it simple. And maybe the best part is that when you rent with RVshare, you handle all the paperwork before. So when the day comes for the beginning of your trip, all you have to do is pick up your keys. There's no signing a pile of documents while your family impatiently waits. And when you're done, all you need to do is drop off the RV.
Motorhome Rental in Northeast Georgia
Never driven an RV before? Don't let that stop you. It definitely can be a little scary, and RVshare understands that. That's why every rental from RVshare comes with $10,000 of coverage – their peace of mind guarantee. Every rental also has free 24/7 roadside assistance should you break down and a free 24/7 travel concierge that you can call at any time night or day.
RV Rental Locations in Northeast Georgia
If you feel like you're ready to slip behind the wheel and venture out on your greatest family vacation ever, take a look at our rental guide with details on how the process of peer-to-peer RV rentals actually works.
---
Search For RV Rentals
$100
Las Vegas NV
Sleeps 4 / Class C Motor Home
$39
Loveland CO
Sleeps 2 / Travel Trailer
$120
Morrison CO
Sleeps 6 / Toy Hauler