RV Rental Northeast Connecticut
Search For RV Rentals
---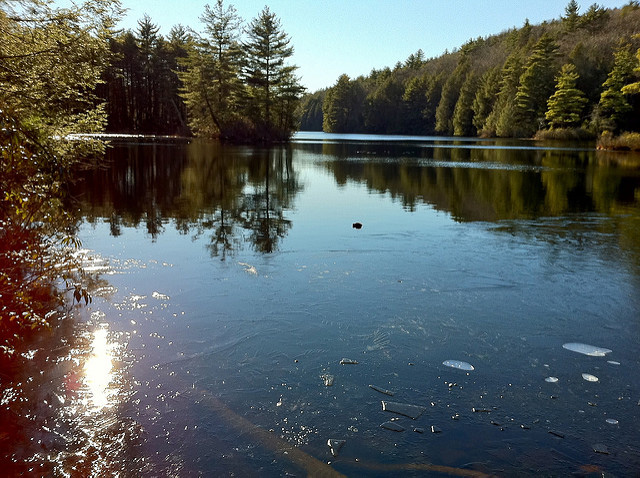 How to Rent an RV in Northeast Connecticut
The state of Connecticut has some of the most beautiful scenery in the nation, which means it's already a fairly popular vacation destination. But Connecticut is actually a popular RV destination as well. While the Connecticut area is most well known for fall leaves, there's actually a lot more to see and do here.
RV Rental in Northeast Connecticut
If you're a history lover, there's no shortage of it in Connecticut. And if you want to hit the beach, there are plenty of opportunities for that as well. But you can also try your luck at one of several casinos, stroll down beautiful boardwalks, and so much more. There's something in Connecticut for every taste and age, which makes it a great choice for a family RV trip.

Image courtesy of MorrowLong/Flickr
Tired of vacations where everyone in the family ends up going their own way? Then an RV vacation in Connecticut is what you're looking for. Most destinations in Northeast Connecticut are very used to RV travelers, so it's an excellent choice if you're renting an RV for the first time.
The Top RV Resorts in Northeast Connecticut
Stateline Campresort & Cabins – 1639 Hartford Turnpike, Connecticut, East Killingly, CT 06243
Sitting on the wooded shoreline of a beautiful freshwater lake, Stateline Resort is in what some people call the "quiet corner" of Connecticut, right across the border from Rhode Island. This site has a great swimming pool with splash pad, and plenty of themed weekends and planned activities. Stateline isn't far from both the Foxwoods and Mohegan Sun casinos, and is centrally located to all of the attractions in central New England.
RV Rental Locations in Northeast Connecticut
Moosemeadow Camping Resort – 28 Kechkes Rd, Willington, CT 06279
Whether you just need a quick overnight stay, a weekend getaway or a longer stay for the season, Moosemeadow is a true gem in Connecticut's RV resorts. This is a great place to take kids, as they have daily fire engine or hay wagon rides, activities like horseshoe contests, and softball games at no additional cost, plus swimming pools and shuffleboard. The historic Nathan Hale homestead and Benton Homestead are within 15 minutes, and the Mark Twain and Harriett Beecher Stowe Houses are less than an hour away.
The Top RV Destinations in Northeast Connecticut
Bigelow Hollow State Park
With over 9,000 acres of natural beauty, Nipmuck State Forest and Bigelow Hollow State Park are a nice getaway for people who love to be outdoors. The park is actually a part of the largest unbroken forest in Eastern Connecticut, so there's no shortage of woodland life. There are plenty of opportunities for hiking and fishing, and even SCUBA diving and hunting. Come in the winter, and there are even snowmobile trails accessible.
Small RV Rental in Northeast Connecticut
Heublein Tower
Located in Talcott Mountain State Park (worth a visit alone), this 165 foot tall tower provides fantastic views of the Hartford skyline and the Farmington River Valley. If you're traveling in the fall, that elevates this to "must see" status, as the foliage views can be absolutely stunning. The tower was actually neglected for many years, making it one of the most mysterious sites in the state. Be warned that there is a 1.25 mile hike to the tower, but it's scenic and not terribly strenuous.
Rent An RV In Northeast Connecticut
Mark Twain House
Just outside Hartford is the home of one of the most iconic writers in American history. Samuel Langhorne Clemens (you probably know him better as Mark Twain) lived here with his family in the late 1800s for just over 15 years. The house itself is beautiful – a 25 room Victorian mansion – but it's most well known because it's where Twain wrote some of his most popular works like The Adventures of Huckleberry Finn and The Adventures of Tom Sawyer. The home is restored to how it would have looked while Twain and his family lived there, and now has a museum on site. Of course, for literature fans, this home is a must see. But it's worth a visit for history lovers as well.
Motorhome Rental in Northeast Connecticut
If you're looking for a motorhome rental in northeast Connecticut, RVshare should be your destination. If you're not sure exactly what you want, you can search available vehicles by price, by size, or even by where they are. You don't have to be an expert to find your perfect vehicle. There are even plenty of one way RV rentals in Connecticut, so you can set out from one city and end in another.
Renting an RV in Northeast Connecticut
One of the biggest advantages of RVshare is when it's time to set out on your trip, you won't have your family waiting while you fill out piles of paperwork. Almost everything is handled before hand, meaning all you have to do is pick up the keys! And when your trip is over, all you have to do is gas the RV up and drop it off.
Rent A Campervan in Northeast Connecticut
If you don't already know this, you'll find it out quickly: RV travel can be the cheapest way to take a vacation. When you browse RVshare's listings and see thousands of cheap RVs for rent in northeast Connecticut, you'll start to see just how much you can save. And there are all types of RVs - from luxury RV rentals to popup camper rentals.
Private RV Rentals in Northeast Connecticut
Especially if this is your first time driving an RV, you probably have a few concerns. It can be a little daunting. That's why every RVshare rental comes with their peace of mind guarantee. Every rental gets $10,000 of coverage plus free 24/7 roadside assistance and a free 24/7 travel concierge available by phone. You'll always have someone ready to help!
Camper Rental in Northeast Connecticut
If you're ready to set out on a trip you'll remember for the rest of your life, read our guide for all the details about how peer-to-peer RV rentals work.
---
Search For RV Rentals
$100
Las Vegas NV
Sleeps 5 / Class C Motor Home
$39
Loveland CO
Sleeps 2 / Travel Trailer
$120
Morrison CO
Sleeps 6 / Toy Hauler