RV Rental Northeast Colorado
Search For RV Rentals
---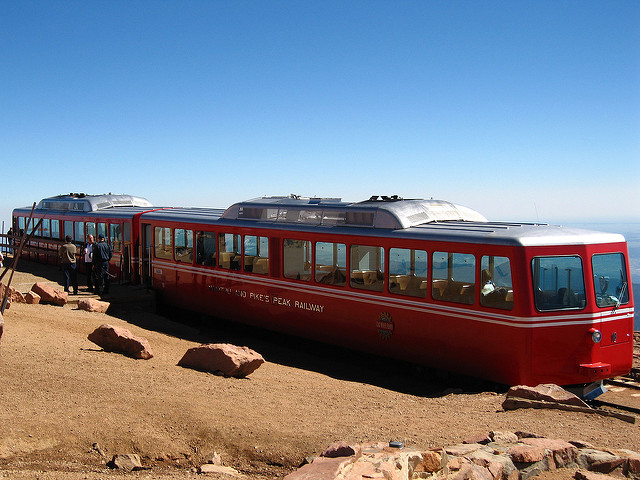 Rent a Campervan in Northeast Colorado
Are you tired of family vacations where everyone goes their own direction? Then you may just be ready for an RV trip! A family RV vacation can make memories that last a lifetime, and the beauty of it is that everyone can still get to their favorite destinations and activities. And if it's adventure for the whole family you're looking for, you won't find a better vacation spot than Colorado.
Colorado is home to incredible natural beauty, and the mountains that dot the state make for absolutely breathtaking scenery. If this sounds like the perfect vacation, read on to learn a little more about an RV trip in northeast Colorado.

Image courtesy of SalimVirji/Flickr
The Top RV Resorts in Northeast Colorado
RV Retreat at Johnson's Corner – 3618 Southeast Frontage Road, Johnstown, CO 80534
Johnson's Corner is just off I-25 between Cheyenne, Wyoming and Denver. The Candlelight Dinner Playhouse is just next door if you're looking for a nice dinner option, and the Promenade Shops at Centerra and the Rocky Mountain Outlet Stores make for some nice shopping. The historic Johnson's Corner Restaurant (which his open 24 hours) is just a few minutes away.

Country Comfort Motel and RV Park - 16466 US-34, Fort Morgan, CO 80701
In a quiet country setting just a couple miles off I-76 sits Country Comfort, a RV park that's the perfect place to rest overnight or spend a vacation in nature. There's a motel on site if you want to spend some time in a room, and while there are only about a dozen RV sites, each one has their own privacy fence. There's not much in the way of attractions nearby, but there are several stores if you need supplies.
RV Rental in Northeast Colorado
Flying Saucer RV Park – 2500 W Hampden Ave, Sheridan, CO 80110
Just northeast of Denver sits 18 riverfront acres of natural beauty in the Flying Saucer RV Park. It's the perfect destination if you're planning to explore Colorado's scenery. It's far enough away from the city to feel like a different world, but plenty close enough to all amenities and attractions. Fishing and golf are immediately nearby, and gambling in the Rocky Mountains is less than an hour away. The light rail is just 5 minutes away if you want to go to Denver.
The Top RV Destinations in Northeast Colorado
Pike's Peak Railway and Manitou
If you're not scared of heights, make sure you don't miss the railway at Pike's Peak. It's the world's highest cog train, and takes a nine mile round trip journey (a little over three hours), and provides some of the most stunning views of the area. Once visitors get above the treeline, they'll be greeted by one of Colorado's largest herds of bighorn sheep. Be sure to bring layers, though. There's usually about a 30 degree temperature difference from the bottom to top.
Camper Rental in Northeast Colorado
Rocky Mountain Arsenal National Wildlife Refuge
Three different national wildlife preserves combine to make up the Rocky Mountain Arsenal refuge. It's just 10 minutes from Denver's downtown, and is home to nearly 350 species of wildlife. Visitors will find bald eagles, bison, deer, waterfowl, and burrowing owls. The refuge's visitor center tells the history of the area, and there are nature programs, guided viewing tours, fishing, photography excursions, and hiking. There's a "Wildlife Drive" that lets visitors see the area at their own pace.
Private RV Rentals in Northeast Colorado
A lot of people might not know this, but RV travel is among the most affordable ways to vacation. You save money on renting a hotel room, on dining out, and on numerous other aspects of getting away. In fact, how much money you can save with cheap RV rentals in northeast Colorado can be surprising if you actually take a look. And what's better is that not only does RVshare have some of the lowest prices on motorhome rentals, their booking system is incredibly easy to use.
Renting an RV in Northeast Colorado
Colorado makes for a great family vacation, as the scenery is some of the best you'll see anywhere. And most destinations in the state are pretty friendly to RVers, making it even better for first timers. Whether you're looking for a small RV rental or a luxury RV rental in northeast Colorado, RVShare is your ticket. Thousands of cheap RVs for rent in northeast Colorado are available, and they can be yours in just a few clicks. If you don't quite know what you want, RVShare lets you search by the vehicle size, where it's located, and the rental price.
Rent an RV in Northeast Colorado
A motorhome rental in northeast Colorado is simple when you book through RVshare. And maybe the best part is that you handle most of the documentation before you leave, so when it's time to depart, you don't have your family waiting while you fill out paperwork. You just pick up the keys and set out! When your trip is over, just gas it up and drop off the keys. If you want one way RV rentals in northeast Colorado, RVshare has plenty of those too.
Motorhome Rental in Northeast Colorado
Never been behind the wheel of an RV before? You probably have a few concerns, and RVshare knows that. That's why every single one of their rentals comes with a "peace of mind" guarantee. Each rental comes with up to $10,000 of protection coverage. In addition, every rental gets complimentary 24/7 roadside assistance for any mechanical trouble and a free 24/7 travel concierge – so someone is always available to help.
RV Rental Locations in Northeast Colorado
Especially if you've never rented an RV before, it might seem a little overwhelming. You don't have to miss out on the adventure of a lifetime because of that though, because RVshare makes the process as easy as possible. You likely have a few questions about how it all works, and that's okay. Visit our rental guide for a complete breakdown of exactly how peer-to-peer RV rentals work.
---
Search For RV Rentals
$97
Las Vegas NV
Sleeps 5 / Class C Motor Home
$120
Morrison CO
Sleeps 6 / Sport Utility
$39
Loveland CO
Sleeps 2 / Travel Trailer