RV Rental Northeast Alaska
Search For RV Rentals
---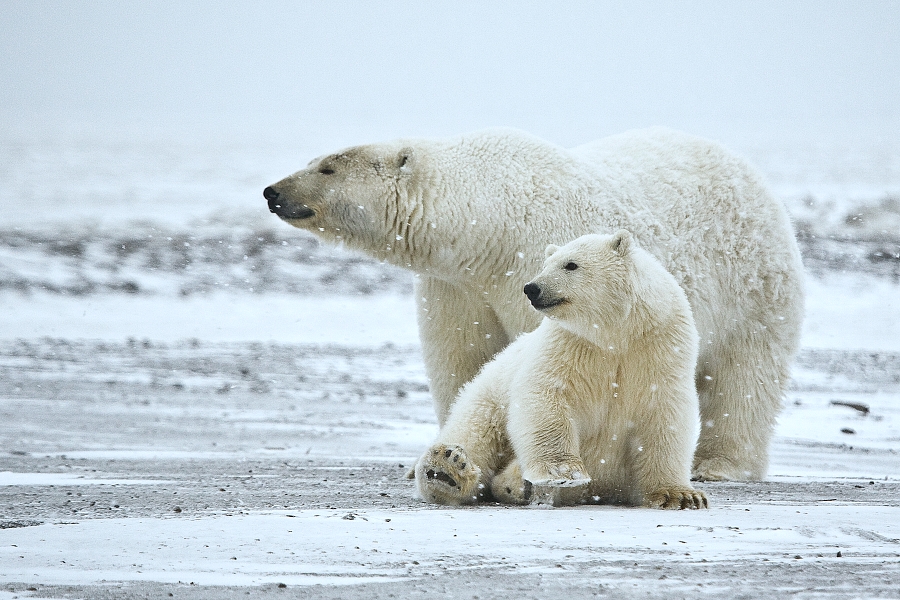 Rent an RV in Northeast Alaska
Northeast Alaska is not for the faint of heart, but those who brave the remote location and harsh weather will be greatly rewarded for their efforts. There is no better state in the country to experience true wilderness. Rent an RV in Northeast Alaska and travel to the end of the earth!

Photo credit: Alan D. Wilson, naturepicsonline.com, Wikipedia Creative Commons
RVshare offers private RV rentals in Northeast Alaska and all throughout the country. You can choose from a wide variety of types, sizes, and prices. Traveling with a travel trailer rental or motorhome rental is the cheapest way to travel - you save money on accommodations so that you can spend it on experiences.
Although RVshare offers private RV rentals throughout the entire state of Alaska, if you're interested in RV rental locations in Northeast Alaska, it's a good idea to search for RV rentals in Fairbanks, Alaska if you'd like a wide selection to choose from. This is the closest major city to Northeast Alaska.
RV Rental in Northeast Alaska
Once you've found the best RV trailer rental in Northeast Alaska for your needs, you'll message the owner to set up a time to pick up the keys. Then, you're out on the road! It's that easy.
If you want to spend some time in Fairbanks before going into the wild, Northern Moosed RV Park and Campground is a great place to stay. They offer full hookups and warm showers. Once you head north of Fairbanks, you're unlikely to find many official RV parks with full hookups. You are in the last frontier, after all.
RV Rental Locations in Northeast Alaska & Finding RV Parks
Luckily, off-the-grid camping is very popular in Alaska. There are plenty of public lands in Alaska where boondocking is totally acceptable and legal. Just make sure that you're able to pull completely off the road and well out of the traffic lane.
Experience Small Alaskan Villages in Your Camper Rental
The northeast interior of Alaska is just east of Fairbanks and is a little-known destination with a couple gems well worth the visit. One of the oldest settlements in Alaska, Fort Yukon, is in the northeast interior. This is where the largest Athabascan village in Alaska is located. With the Yukon River flowing by and some of the best Northern Lights viewing in the country, it's easy to see why this area is beloved by nature enthusiasts.
Fort Yukon itself is a small native Alaskan village (just over 500 inhabitants) that mostly remains unconnected to the rest of the world. It's quite an experience. Nearby you'll find the Yukon Flats, a national refuge made up of wetlands at the meeting point of the Yukon River, Porcupine River, and Chandalar River. It sits right on the border of the arctic circle, and the region is dotted with small settlements of natives.
See the Northern Lights with Your Motorhome Rental in Northeastern Alaska
Prudhoe Bay, far north, is one of the most unique destinations out there. Sitting at the end of the Pan-American Highway, visitors, of which there are few, can experience the tundra, midnight sun, and the Arctic Ocean. If you want to see the Arctic Ocean and the actual bay at Prudhoe Bay, you'll need to arrange a tour in advance.
Private RV Rentals in Northeast Alaska - Last Stop on the Pan-American Highway
The 400-mile highway trip up to Prudhoe Bay is the real star of the show, though your RV trailer in Northeast Alaska might not make it. Dalton Highway stretches from north of Fairbanks all the way up to Deadhorse camp in Prudhoe Bay, and it's mostly gravel. It's an extremely difficult road to drive on, and there isn't much in the way of highway services, so exercise extreme caution. The views are astounding: the Yukon River, the Arctic, Gates of the Arctic National Park, and the Arctic National Wildlife Refuge.
Experience Nature at its Full Potential With a Camper Rental in Northeast Alaska
Another gem to visit after you rent a camper in Northeast Alaska is the Arctic National Wildlife Refuge, tucked away in the remote northeast corner of Alaska, on the Canadian border. This refuge is massive - almost 20,000,000 acres of nature reserves and wildlife. The views of nature here are unlike anything else. You can also see a number of animals, including caribou, sheep, reindeer, and more. This is a true wildlife refuge - there are no roads, no cell service, no trails, no maps, nothing. Just you and the wilderness.
It's important to prepare for a trip to the Arctic National Wildlife Refuge. Most visitors stay around a week. You can camp, float rivers, hike, hunt, and fish within the refuge. Your visit will undoubtedly be one of the most unforgettable experiences of your life.
Discover the final frontier and experience deeply authentic wilderness. A trip to this region of the world is bound to be life-changing. Rent a pop up camper in Northeastern Alaska now and get ready for the trip of a lifetime.
Rent an RV in Northeast Alaska
The process for renting an RV with RVshare is extremely simple. Once you've found an RV rental in Northeastern Alaska that you like and booked it, RVshare will ensure the security of your payment and back your rental with their $10,000 peace of mind guarantee. If you rent a campervan in Alaska through RVshare, your rental will include free 24/7 roadside assistance.
RVshare even has a rewards program! Every time you book, you'll receive a %5 cash back reward that you can put toward your next RV rental.
If you're looking for cheap RVs for rent in Northeast Alaska, RVshare is the best place to look. It's been shown that you can save over half your vacation costs by traveling in an RV?
With RVshare, you can always get a luxury RV rental in Northeastern Alaska when you're tired of the wilderness.
---
Search For RV Rentals
$100
Las Vegas NV
Sleeps 5 / Class C Motor Home
$39
Loveland CO
Sleeps 2 / Travel Trailer
$120
Morrison CO
Sleeps 6 / Toy Hauler