Search For RV Rentals
---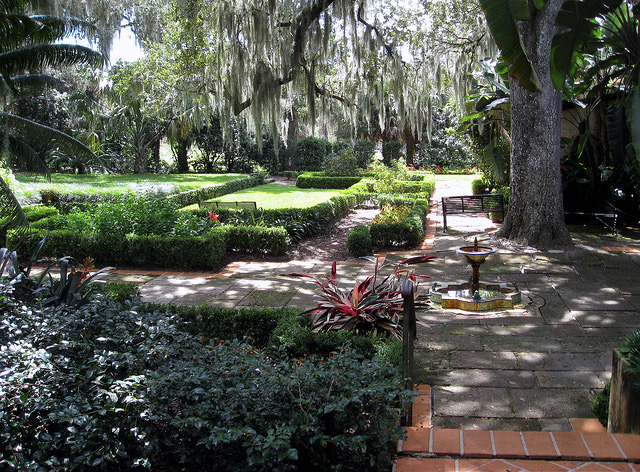 Rent an RV in Mid Florida
It's no secret that Florida is a top tourist destination thanks to the mouse house and other theme parks, but what many people don't realize is that it's actually a top RV destination as well. If you're looking for a vacation packed with scenic beauty, history at every turn, and fun for the whole family, you won't really find a better place to be than mid Florida. Of course, if you are visiting Mickey, doing so in an RV is a great way to not only save money but to make sure you see everything else too.
RV Rental in Mid Florida
Don't be fooled into thinking that Florida is only a destination for people with kids, either. Adults traveling alone or even families with older kids can still pack a schedule full of things to do, and fortunately, most places in Florida are very RV friendly.

Image source: Jared422/Flickr
The Top RV Resorts in Mid Florida
Williston Crossings RV Resort - 410 NE 5th St, Williston, FL 32696
Set in rolling hills between Gainesville and Ocala, Williston Crossings sits on 135 acres of beautiful land with walking trails, a lake with beautiful overlook, and so much more. It's one of the premier RV resorts in central Florida, and it's not hard to see why. There's golfing and shopping nearby, kayaking in Rainbow Run, and the Kirby Family Farm (a working farm with Florida's oldest working railroad) is just a mile away.
RV Rental Locations in Mid Florida
Sherwood Forest RV Resort - 5300 W Irlo Bronson Memorial Hwy, Kissimmee, FL 34746
Located on 13 acres near Florida's Gulf Coast, Sherwood Forest gives the opportunity for a clean, quiet getaway from all the noise. Nearby attractions include Channelside, Fantasy of Flight, the Florida Aquarium, and Lowry Park Zoo. This resort is in Kissimmee, which means all the excitement of Orlando isn't far away. If you're visiting Disney or Sea World, this resort is a great way to save a little money.
Three Flags RV Campground – 1755 East State Road 44, Wildwood, FL 34785
Within 60 minutes of Disney World and Sea World, Three Flags RV Resort has clean sites, a beautiful swimming pool, and an all around relaxing environment. If you want to be close to all the attractions while still being far enough away to rest, this is where you need to be. There's something at Three Flags for the whole family, like walking and nature trails, mini golf, horseshoes, and more.
The Top RV Destinations in Mid Florida
Bok Tower Gardens
Called "a place of beauty second to none," the gardens at Bok Tower are open every day, and host absolutely must see scenery and architecture. The Singing Tower is the perfect spot for a picnic, and there's plenty of bird watching, geocaching, and hiking/walking trails. This is perhaps the best work of famous landscape architect Frederick Law Olmsted Jr., and once you start weaving through the acres of oaks, ferns and palms, you'll understand why so many people visit here each year.
Small RV Rental in Mid Florida
Blue Spring State Park
Blue Spring is a popular spot for adventurers, but there's something everyone can enjoy at this state park. It's home of the largest spring on the St. Johns River, and is a designated manatee refuge. Visit during the right season (mid-November to March) and you can see hundreds of the gentle giants from the spring overlook. The spring crystal clear water is open for swimming and snorkeling (although not with the manatees) and even SCUBA diving. The St. Johns River provides a chance for fishing and boating. If you're into history, check out the historic 1872 Thursby house.
Rent An RV in Mid Florida
Florida Aquarium
Tampa's Florida Aquarium is regarded as one of the best in the nation. Visitors can get up close with alligators, sharks, penguins and much more, and interactive programs like "Dive with the Sharks," "Shark Swim" and "Swim with the Fishes" give guests access to these animals like never before. There are special behind the scenes experiences with other animals as well, plus a water play area for kids.
Motorhome Rental in Mid Florida
If you want beautiful scenery, Florida has it. If you want a place to get away and relax, it's got that as well. If you want to step back in history, try your luck at a casino, eat fresh seafood or just visit museums and attractions with your family, it has that. If you're taking your first family RV trip, you about can't get a better route than one through Mid Florida.
Renting an RV in Mid Florida
RV travel is one of the cheapest ways to vacation, but most people are surprised to see just how affordable it really is. In fact, there are thousands of cheap RVs for rent in Mid Florida. And renting with RVshare couldn't be easier. The booking process is simple, and when it's time to leave for your vacation, you just pick up your keys because all of the paperwork is handled beforehand. When you're done, you just fill the RV up with gas and drop off the keys!
Rent A Campervan in Mid Florida
If you're not quite sure what you're looking for, RVshare can help in the search. You can search for available vehicles by how many people it holds, the price, or even the specific location it's in. You don't have to know anything about RVs to choose the perfect one. And there are rentals from both private owners and from dealers, meaning there are plenty of one way RV rentals in mid Florida to choose from.
Private RV Rentals in Mid Florida
What about safety? Every single rental from RV Share comes with a peace of mind guarantee to make sure both the owner and the renter are covered. There's $10,000 of coverage for every rental, plus free roadside assistance any time of day or night. There's even a free travel concierge available by phone 24/7 if you need any other help while you're on vacation.
Camper Rental in Mid Florida
If you're already planning where you're going or if you're still one the fence, head on over to our full rental guide for details on exactly how peer-to-peer RV rentals work.
---
Search For RV Rentals
$100
Las Vegas NV
Sleeps 4 / Class C Motor Home
$39
Loveland CO
Sleeps 2 / Travel Trailer
$120
Morrison CO
Sleeps 6 / Toy Hauler