RV Rental Mid Connecticut
Search For RV Rentals
---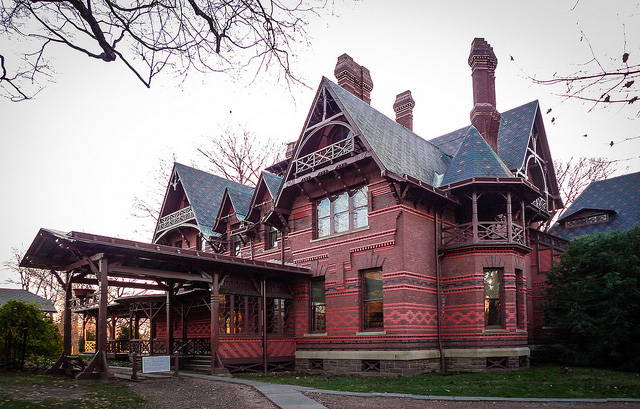 How To Rent an RV in Mid Connecticut
This part of the country has some of the best scenery anywhere, so it's not hard to see why it's a top RV destination for thousands of people. While the mid Connecticut area is most well known for its fall leaves, there's plenty of beauty here year round. And there's a lot more to see here than just fall foliage.
If you're in to history, this part of the country has plenty of it. If you want to go way, way back, there's Dinosaur State Park. If you want American history, there's the Mark Twain and Harriet Beecher Stowe houses. And if you want beautiful lakes and rivers, you'll find them around every turn.

Image source: Ken Zirkel/Flickr
RV Rental in Mid Connecticut
Most places in mid Connecticut are pretty RV friendly, meaning this is a great destination if you're taking an RV out for the first time. There's plenty to do for all ages, so if you're looking for the vacation of a lifetime with the whole family, you've found it.
The Top RV Resorts in Mid Connecticut
Riverdale Farm Campsite – 111 River Rd, Clinton, CT 06413
Tucked away between the Hammonasset River and a winding country road, you'll find a 100 acre colonial farm: Riverdale Farm. This campsite has a variety of RV sites, from secluded woods waterfront to open meadow. There's a friendly and relaxed atmosphere here, and while you won't find luxury, you will find quality amenities with a chance to get away from the busyness. The beaches of Long Island are a short drive away, and there are several state parks close by. Chamard Vineyards offers award winning wine tasting, and there's sailing and fishing galore on local waterways.
RV Rental Locations in Mid Connecticut
White Pines Campsites – 232 Old North Rd, Barkhamsted, CT 06063
If you want to get away from it all, White Pines Campsite in Barkhamsted is where you need to head. White Pines offers planned activities for every age group, plus plenty of chances to just relax. This area is filled with antique shops, and there's even an RV friendly drive-in movie theater down the road. There's a stocked trout pond on site, plus world class fishing at the Farmington River nearby.
Rent An RV In Mid Connecticut
Odetah Camping Resort – 38 Bozrah St Ext, Bozrah, CT 06334
Nestled in the Connecticut woods is Odetah, a resort that combines natural beauty and serenity with the best attractions and excitement. The area around Odetah is packed with historical sites, incredible scenic drives, miles of walking and hiking trails, and all around fun. Whether you want to relax and enjoy nature or get right in the middle of the action, this resort offers it all. A 32 acre lake is the focal point, and offers year round fishing, summertime swimming, rafting, and sunny beaches.
The Top RV Destinations in Mid Connecticut
Mark Twain House
Located in Hartford, you can visit the house that was the home of Samuel Langhorne Clemens (better known as Mark Twain) and his family for about 16 years in the late 1800s. This 25 room Victorian mansion was where Twain spent what's regarded at the happiest years of his life, at the peak of his fame and wealth. He wrote some of his most well known stories here, like The Adventures of Huckleberry Finn, The Adventures of Tom Sawyer, and A Connecticut Yankee in King Arthur's Court. The home has been restored to the condition it would have been while the Twain family lived there, and there's now a museum on site.
Small RV Rental in Mid Connecticut
Dinosaur State Park
In the town of Rocky Hill is a pretty incredible location: one of the largest on site displays dinosaur tracks in the world. Dinosaur State Park is home to a 200 million year old fossil trackway, plus interactive exhibits to learn more. And at the end, you'll have the opportunity to cast a dinosaur footprint of your own. The park opened in the late 1960s after nearly 2,000 dinosaur tracks were uncovered during excavation for a government building. Today, over 500 of the tracks are now enclosed within a geodesic dome while the rest are buried for preservation.
Hammonasset Beach State Park
Attracting over 2 million visitors annually, Hammonasset Beach State Park takes up two miles of beautiful beachfront on Long Island Sound. It's the largest shoreline park in the state one of Connecticut's most popular tourist attractions. There's a large campground and nature center, but the real highlight is the 2 mile boardwalk that's packed with shopping, restaurants, and family activities.
Motorhome Rental in Mid Connecticut
Renting an RV in Mid Connecticut
If you need a motorhome rental in mid Connecticut, RVshare is going to be the absolute best option. Finding the perfect vehicle is easy, because RVshare lets you search by the size, the price, or even the location of available vehicles. When you're ready to depart on your RV vacation, all you need to do is pick up your keys and drive off. There are also plenty of one way RV rentals in mid Connecticut, meaning you can pick it up in one city, take your trip, and then drop it off in another city.
Rent A Campervan in Mid Connecticut
One of the single biggest attractions about an RV vacation is the price. When you're not paying for an expensive hotel every night, the savings add up quickly. And when you see the thousands of cheap RVs for rent in Mid Connecticut (everything from luxury RV rentals to popup camper rentals is available), you'll quickly learn why so many people have fallen in love with the RV life.
Private RV Rentals in Mid Connecticut
If you're considering renting an RV in mid Connecticut, you likely have some questions when it comes to safety. Rest assured though, RVshare has that in mind! Thanks to their "peace of mind" guarantee, every single rental is covered up to $10,000. In addition, you get free 24/7 roadside assistance and a free 24 hour travel concierge.
Camper Rental in Mid Connecticut
If you're sold on the idea of an RV trip to mid Connecticut, head on over to our full rental guide to read all about how peer-to-peer RV rentals work.
---
Search For RV Rentals
$100
Las Vegas NV
Sleeps 4 / Class C Motor Home
$39
Loveland CO
Sleeps 2 / Travel Trailer
$120
Morrison CO
Sleeps 6 / Toy Hauler