Search For RV Rentals
---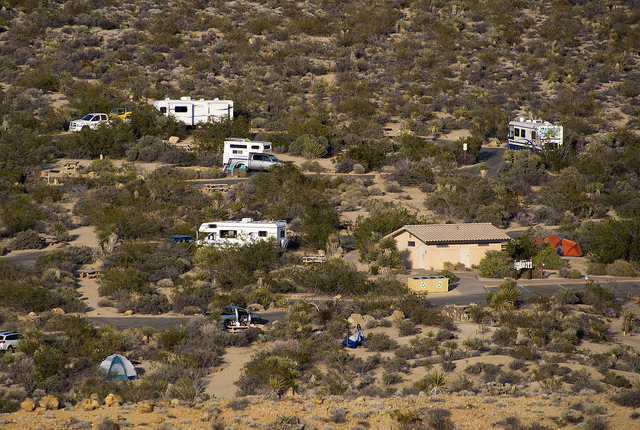 Finding RV Rentals in Mid Colorado
No vacation brings a family together like an RV road trip, and there aren't many better destinations than Colorado. Whether you're after family fun, a sunrise over the mountains, getting away from it all and relaxing in seclusion or stepping back in history, there's no shortage of things to do in Colorado.

If you think the Centennial State sounds like a good vacation, it is! You're probably familiar with Denver and the Rocky Mountains, but Colorado is so much more. There's the world famous Garden of the Gods, Great Sand Dunes National Park, Pikes Peak, and dozens of other sites worth a visit. Colorado is packed with natural beauty, which is a large part of why so many people choose to vacation here each year.

Image source: National Park Service
Motorhome Rental in Mid Colorado
If you do decide to take a family RV vacation in Colorado, it probably won't take too long wandering the back roads before you start wondering why you didn't do this sooner.
The Top RV Parks in Mid Colorado
The main benefit of an RV vacation is that you get the beauty of outdoor camping and the freedom to travel where you want while still holding on to the luxuries of home. No matter where you go, a home base isn't far away for a quick nap, snack, or rest. If you're venturing to mid Colorado, here's a look at the best RV parks.

Garden of the Gods RV Resort - 3704 W Colorado Ave, Colorado Springs, CO 80904
With stunning views of Pikes Peak, this RV resort is located in one of the state's most historic towns. Here, you can disconnect in some of the most beautiful scenery in the country while still holding on to the comforts of home. The action and bustle of Colorado Springs is just a short drive, and of course, you're at the base of America's most visited mountain.
Rent a Campervan in Mid Colorado
Pikes Peak RV Park - 320 Manitou Ave, Manitou Springs, CO 80829
When you step outside your RV and see stunning Pikes Peak, it would be easy to forget that this RV resort is still located in the heart of all the action. This park is actually within walking distance of Manitou Springs, which offers several great restaurants, shopping and museums, and the Garden of the Gods park. Cave of the Winds and Seven Falls are nearby, as is historic Old Colorado City.
RV Rental in Mid Colorado
Mountaindale Cabins & RV Resort – 2000 Barrett Rd, Colorado Springs, CO 80926
Mountaindale is about 15 minutes from the center of activity in Colorado Springs, meaning you're close enough to get to anything you want or need, but far enough way to be in a different world. The wildlife here is abundant, and the nature incredible. There are 45 acres to explore, so if you want to take a relaxing stroll or a challenging hike straight from your RV door, you can do it here.
The Top RV Destinations in Mid Colorado
Pikes Peak
You absolutely couldn't make a list of Colorado's best RV destinations and not include Pikes Peak. It's the single most visited mountain anywhere in North America and the second most visited mountain in the entire world - and it's really not hard to see why. The Pikes Peak Highway gives travelers the chance to take on essentially the whole mountain by road in a trip that can be done in less than 3 hours. There are lakes for fishing, hiking areas, and absolutely breathtaking scenery.

Seven Falls
As the name implies, this area is home to a series of seven beautiful cascading waterfalls that have been a tourist attraction since the late 1800s. There are plenty of hiking trails if you're looking to spend a little time in nature, but the falls are accessible without a hike. Be warned though, the falls to take a reasonably strenuous 225 step walk (with plenty of stops to rest along the way). The site itself is in a beautiful canyon, meaning you won't find a setting like this anywhere.
Private RV Rentals in Mid Colorado
Bishop Castle
Want to see something a little different? Head over to Bishop Castle in Pueblo. What began as a stone cottage decades ago quickly became a three story castle, which seems fairly impressive on its own. But in the castle, you'll find a Grand Ballroom, towers and bridges, and a fire breathing dragon, plus other surprises around every corner. The real surprise though? This castle was built by one single man. A true testament to not giving up on your dreams, Bishop Castle is always open, and it's always free to visitors. If you're looking for an offbeat adventure, take the trip out. The castle is always growing, so even if you've seen it before, it's worth a return.
Renting an RV in Mid Colorado
Most people already are aware that RV travel is among the most affordable vacation options. But if you actually sit down and look at the available vehicle listings on RVshare, you'll be surprised at just how many cheap RV rentals in Mid Colorado there are – far less than a car and hotel rental. And when you figure in the incredibly easy RVshare booking system, you'll be planning your next vacation in no time.
Rent an RV in Mid Colorado
Want to take a vacation that will leave you with lifelong memories instead of just another trip to the same old spot where everyone goes their separate ways? A motorhome rental in Mid Colorado is the ticket! And using RVshare is the way to go.

When you get an RV rental in mid Colorado with RVshare, all of the forms are filled out beforehand. This means that when it's time to actually leave, you just pick up your keys and hit the road! And when your trip is over, you just gas up the RV and drop it off. Need a one way RV rental in Colorado? RVshare has plenty of those as well!
RV Rental Locations in Mid Colorado
If you're sold on an RV vacation, you probably have a few questions about safety and security. Fortunately, RVshare has the customer in mind. Every rental comes with a $10,000 peace of mind guarantee. In addition, every renter gets free 24/7 roadside assistance for their whole trip plus a 24/7 travel concierge at no additional charge.

Dreaming about an RV vacation? There's no better way to see what people love about RV travel than to get behind the wheel for yourself! If you want to learn exactly how the whole process works, head on over to our rental guide to see how peer-to-peer RV rentals work.
---
Search For RV Rentals
$100
Las Vegas NV
Sleeps 4 / Class C Motor Home
$39
Loveland CO
Sleeps 2 / Travel Trailer
$120
Morrison CO
Sleeps 6 / Toy Hauler