RV Rental in Cleveland, Ohio
Search For RV Rentals
---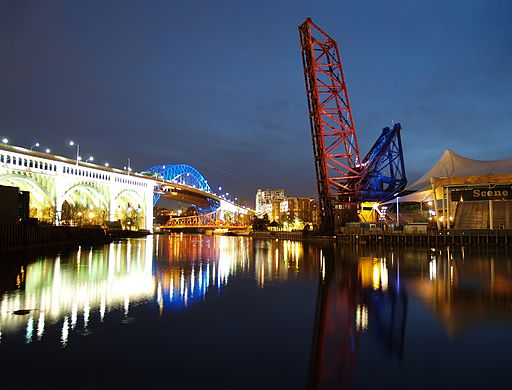 Cleveland, Ohio, is quietly becoming one of America's hidden gems. Visitors and locals alike embrace its growing food scene and reverence for rock and roll. Plus, the Cuyahoga River (that once caught on fire because of oil waste nearly 50 years ago) is now a 100-mile recreational playground teeming with fish and wildlife. At the same time, residents stay humble about their town's virtues.
Photo Credit: Ferris324 [Public domain], via Wikimedia Commons
Now, more than ever, is a worthy time to visit Ohio's second largest city. One of the most liberating ways to see the area may be by RV. Recreational vehicles give travelers the ability to move from place to place that hotels never will. They also offer a comfortable, affordable place to recharge after a long day of exploring. Discover a relaxing home away from home by renting an RV and make the most of Cleveland's limitless activities.
Camper Rental in Cleveland, Ohio
Planning an RV trip to Cleveland can seem daunting at first. From finding a campground or RV park to spend the night at to decide what to do during the day, there are many options available. On top of all that, you need to find a dependable, affordable place for a motorhome rental. Luckily, overcoming these hurdles is easy with the help of RVshare.
Here are a few tips to rent a camper in Cleveland for the best vacation possible.
Why Rent an RV in Cleveland, Ohio
A successful vacation starts with a bustling itinerary, and thankfully, Cleveland is known for many attractions. The city proves its status as the "Rock and Roll Capital of the World" with the famous Rock and Roll Hall of Fame & Museum. Consider visiting for an afternoon. You will learn more about rock and roll than you believed possible—including spotlights on artists, influential songs and one-hit wonders, and the genre's diverse inspirations.
You can also soak in the art scene with a trip to the Cleveland Museum of Art or a concert by the Cleveland Orchestra. More scientific minds can enjoy a stop at the Great Lakes Science Center. Take the kids to look at hippos at the Cleveland Metroparks Zoo.
When all the sightseeing leaves you hungry, the city won't disappoint. Cleveland is discreetly becoming a culinary destination for gourmands across the country. TIME magazine, for instance, lists Cleveland among the top 10 food cities in the United States.
Tantalize your tastebuds with a visit to the West Side Market, where stands offer meats, spices, and baked goods. The market started back in 1912, when it served growing immigrant communities. It's still going strong today. Conversely, you can salivate over Polish offerings at the James Beard award-winning Sokolowski's University Inn.
End your day with some jazz and blues at the BOP STOP at the Music Settlement or local beer at the Brew Kettle Taproom & Smokehouse. The Cleveland Hot List ranks both as the best venues in town.
No matter your nightlife, food, or art preferences, Cleveland has your back. With the help of an RV rental, the city is yours to explore. All you need to do is go.
RV Rental Locations Cleveland, Ohio
After you decide how you will spend your days, figure out where you'll spend your nights. With more than 100 camping sites close by, the options near Cleveland are abundant. State parks often have fewer amenities and require a longer drive, though they make up for their shortcomings with their natural beauty. More established RV parks offer more structured relaxation and convenience.
The American Wilderness Campground is among the closest campgrounds, just a convenient half-hour jaunt away from downtown Cleveland. The facilities boast restrooms, showers, on-site laundry and a dump station. Swim in their lake and fish in a stocked pond, or take in a volleyball game or a bike ride.
More rustic options include Mohican State Park and Hocking Hills State Park. They are perfect venues to relax with family and enjoy activities such as swimming, biking, and hiking. Hocking Hills also boasts an array of caves, horseback riding, and a zip lining.
Find Private RV Rentals Cleveland, Ohio
With a satisfying itinerary nailed down and a camping spot selected, the last major component to a successful vacation is renting the RV. Cheap RVs for rent can be hard to find. It can be tempting to search for a local shop or a dealership in your area. However, the fees associated with them can get staggering. Plus, motorhome options are limited, meaning you may not find the RV that suits your needs and desires.
Online rentals can be a better option. They often offer more variety in price and type, with just a click of the mouse. Furthermore, you can screen them easier for affordability, so you can make an informed choice on what rental works best for you.
As the world's largest RV rental market marketplace on the web, RVshare helps you find an RV rental by owner in the Cleveland area. How peer-to-peer RV rentals work is you scour hundreds of listings by entering the date and place you want to find your rental. You can also narrow down your results by RV class, price range and more. Then, all you need is to email the owner to ask if you can book their listing. You'll be behind the wheel in no time.
Take Your Motorhome Rental to Cleveland, Ohio
With its vibrant cultural scene and scrumptious restaurants, Cleveland is an unforgettable stop. Taking an RV means you have a peaceful, comfortable place to relax in between all the activities. Thankfully, RVshare is there to make finding a motorhome convenient, so all you have to focus on is your vacation.
---
Search For RV Rentals
$100
Las Vegas NV
Sleeps 5 / Class C Motor Home
$39
Loveland CO
Sleeps 2 / Travel Trailer
$120
Morrison CO
Sleeps 6 / Toy Hauler