RV Rental in Cincinnati, Ohio
Search For RV Rentals
---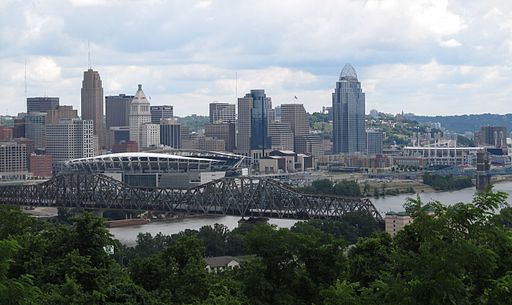 Chili. Baseball. Culture. People from across the country travel to Cincinnati, Ohio, for these attractions and more. The historic metropolis was the first major U.S. city founded after the Revolutionary War, leading some to call it the first purely American city. Winston Churchill once called it "the most beautiful of the inland cities of the union.
Photo Credit: Ynsalh via Wikimedia Commons
Today, Cincinnati remains a worthwhile place to visit. At least one local, Matt Hershberger, gushes on the Matador Network about how downtown Cincinnati has boomed in recent years. He points to the MOTR pub and Senate, a gourmet hot dog joint as evidence.
Despite its wealth of hotels and condos, Cincinnati is arguably best when visited by RV. Travel costs are lower overall, and recreational vehicles allow you to camp near the action, without worrying about skyrocketing costs or sacrificing comfort.
If you choose to rent an RV for your Cincinnati vacation, there are a few aspects of planning for:
A convenient and secure place to camp at night
A dynamic and interesting schedule of activities to fill your days
An RV rental that you love and afford
Why Rent an RV in Cincinnati, Ohio?
You have a plethora of options for sightseeing and other activities when visiting Cincinnati. Home to dozens of museums and historic sites, Cincinnati keeps you learning non-stop. Visit the former house of Uncle Tom's Cabin author and anti-slavery advocate Harriet Beecher Stowe. Marvel at signs throughout history at the recently expanded American Sign Museum. Take in art spanning 6,000 years at the Cincinnati Art Museum.
The Freedom Center is unforgettable. The zoo is a good place to take the kids.
On top of that, the sports scene is unparalleled. Cheer in the stands of a Bengals or Reds' game. Like many other aspects of the city, the Cincinnati Reds are notable for their age—they're the oldest Major League Baseball franchise.
If you can time your trip for September, only Munich, Germany, rivals local Oktoberfest celebrations. Festivals like the early summer Cincinnati Fringe Festival and July Ohio Valley Jazz Festival are also worth checking out.
Don't forget to take a stop for meat and produce at the historic Findlay Market, founded in 1855. Cool off with soft-serve ice cream from Putz's Creamy Whip. Taste some local flavor at a chili parlor like Camp Washington Chili or Skyline.
Renting an RV saves you the money to focus on the activities you yearn to try. In Cincinnati, you can do so much, including visiting museums, attending festivals and dining out at delicious restaurants.
Where to Camp Your Motorhome Rental Cincinnati, Ohio
After a jam-packed day, one of the most satisfying actions you can do is relax in your RV. However, it can be a challenge to figure out where the best place to camp is. Luckily, the great outdoors isn't too far away in Cincinnati, meaning you have a number of options for spending the night in your camper rental.
The city is close to a range of campgrounds with varying levels of service. For those who don't need a lot of amenities, the Steamboat Bend Campground offers 55 sites near the banks of the Ohio River. While the space doesn't offer showers or bathrooms, it does have 30-amp electric hookups and a dump station.
Winton Woods campground is perfect for those who prefer not to rough it. Amenities include wireless internet access, water and sewer hookups, and restrooms and showers.Another option is the Indian Springs Campground in North Bend, just six miles away from town. The venue has sites for big rigs, as well as a bathhouse, lake, and playground.
How to Find Private RV Rentals Cincinnati, Ohio
Once you have narrowed down the places you want to go and the things you want to do, finding an RV to rent at last can feel exhausting. Because Cincinnati is a highly trafficked area, the options for renting an RV seem endless. You could Google "cheap RVs for rent in Cincinnati, Ohio," and hope for the best. You could visit a local dealership or shop, and pay exorbitant, hidden fees and try to decipher convoluted contracts.
Or you could just try RVshare. Compared to other RV rental locations, the online marketplace makes it easy to search to rent a campervan in Cincinnati, Ohio. You rent from local RV owners directly, and you have the security of free roadside assistance, a $10,000 guarantee on secure payments and rewards program that sends you 5% back when you rent again with us.
Planning a trip to Cincinnati involves enough juggling already. Renting an RV online keeps at least one aspect of your vacation simple and straightforward, leaving you to have fun.
Do You Need a Small RV Rental in Cincinnati, Ohio?
On top of everything else, RVshare helps you find the recreational vehicle best suited to your needs and wants. Just input the dates of your trip and place you want to rent your R.V. You can then search using filters that include the class of RV, the price and other characteristics you want.
Whether you're looking for a luxury RV rental or a pop-up trailer, you have hundreds of options to choose from. Whether you are driving from across the country or across the state to Cincinnati, RVShare has you covered as the world's largest online marketplace for RV rentals.
Enjoy Your Camper Rental Cincinnati, Ohio
Cincinnati is bustling with sports, culture, and history. Renting an RV lets you explore them all, without breaking the bank. Because RVshare makes everything impossibly easy, what are you waiting for? Start planning your exciting journey to Cincinnati.
---
Search For RV Rentals
$97
Las Vegas NV
Sleeps 4 / Class C Motor Home
$39
Loveland CO
Sleeps 2 / Travel Trailer
$120
Morrison CO
Sleeps 6 / Sport Utility