RV Rental in Barberton, Ohio
Search For RV Rentals
---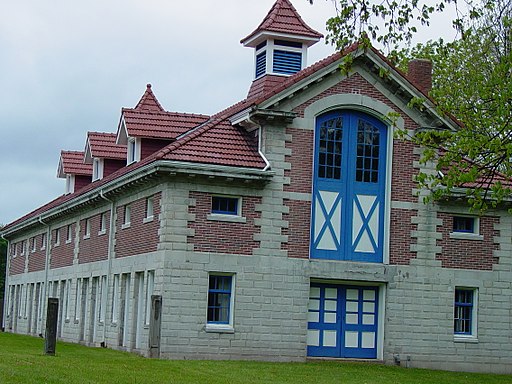 Do you live the world where a million little things demand your attention all at once? Maybe your agenda is packed, and you just want to get back to the root of what matters in life. Sometimes, a low-key vacation is all you need.
Photo Credit: Josh3736 via Wikimedia Commons
Those hoping to take a break in America's heartland need to look no further than Barberton, Ohio. Just a 15-minute drive away from Akron, the Rust Belt suburb gives you a moment to breathe with small-town charm and family fun.
The activities you do there will be ones that you curated. Maybe you will taste some of Barberton's famous Serbian-American-style chicken. Nicknamed "The Chicken Capital of the World," the town of 26,550 serves seven-and-a-half tons of the chicken a week. Perhaps you'll watch a play or read a book in a lawn chair beside Lake Anna.
The former industrial town makes you feel at home. Visiting in an RV helps you maintain that comfortable feeling without breaking the bank. After all, renting an RV may cost nearly 60 percent less than other travel options. Plus, finding a camper rental for a getaway to Barberton is surprisingly simple, especially using an online marketplace like RVshare.
Here's how to get started with planning your RV journey to Barberton.
Why Rent an RV in Barberton, Ohio
Without a major state road passing through town, Barberton is not a community that visitors stumble upon inadvertently. Yet, the "Magic City" is still a worthy destination. The town grew spellbindingly fast in the 1890s thanks to industrial workers arriving to work. Even today, Barberton's downtown remains charmingly old-fashioned.
At the same time, the city is reinvigorating itself. New retail shops have emerged in empty storefronts downtown, perfect for window shopping or picking up souvenirs. Plus, the town balances its history with a growing arts and theater scene that is 100 percent modern.
A vacation in Barberton puts you in the center of this quiet renewal. Taking an RV keeps things simple.
Campsites for Motorhome Rental Barberton, Ohio
Of course, deciding to visit Barberton is only the first step. You also have to find a place to sleep for the night. Thankfully, as AZCentral's Don Amerman notes, there are four camping spots to consider within 15 miles of Barberton. They vary in how developed they are.
Do you love water? Portage Lakes State Park has eight lakes, making it an ideal place to unwind if you or your family want to swim, boat, and fish. Know that although a dump site and showers are available, access to electricity is limited to just a few campsites.
If you are looking for a more luxurious experience, Clear Water Park and Clay's Park Resort both have access to full hookups, as well as recreational facilities. Clay's even has a sauna and live entertainment.
What to Do When You Rent a Camper Van in Barberton, Ohio
On its surface, Barberton is primarily residential, but there is no shortage of activities, nevertheless.
A trip there isn't complete without a visit to Lake Anna Park. Located right across from City Hall, the park is home to the annual Cherry Blossom Festival in May and semi-weekly concerts on Wednesdays and Fridays during the summers. A natural spring feeds the glacial kettle lake the park borders.
As Mayor William Judge tells the Akron Beacon Journal, "It's a beautiful and peaceful area that provides an opportunity for individuals and families to relax, walk or jog, have a picnic and just enjoy the outdoors."
Keep in mind Ohio's only national park, Cuyahoga Valley National Park is just 20 minutes away. There, you can enjoy watching birds, canoeing down the Cuyahoga River and hiking to the park's several waterfalls.
If all this exploring makes you hungry, you have several solid restaurant options. Belgrade Gardens has been serving the town's famous chicken for 80 years now. Remember to try the hot sauce. According to a poll by the Journal, Angie's Pizza is a local favorite for a slice.
At night, take in a play at the Magical Theater Company or a film at Lake 8 Movies. Or challenge your loved ones to a round of pool to the sounds of the jukebox at the Knotty Pine.
Find Private RV Rentals Barberton, Ohio
The itinerary is complete. You have a place to sleep. Now, the only missing piece is finding the RV that is right for your needs and wants.
It can be hard to know where to begin with finding a camper rental in Barberton, Ohio. RV rental prices at dealerships or local shops, for one, can quickly become unmanageable. Furthermore, you might not have the same level of choice you would have elsewhere. It may be easier to rent directly from an RV owner, and you can easily search for RV rentals with RVshare.
Even in a town as small as Barberton, you can easily find RV rentals online. Whether you want a luxury RV rental or pop-up trailer rental, you can filter your search to your specifications, so you get the recreational vehicle you both want and afford. Then, all you need to do is send a quick email to the owner to get the ball rolling on your vacation.
Don't Wait to Rent an RV in Barberton, Ohio
While Barberton isn't the flashiest vacation spot, the town can be extremely satisfying with its selection of outdoor activities and cultural events. Renting an RV is similarly simple, especially with RVshare, where you're only a few clicks away from taking your dream getaway. Both cut the frills, so you can focus on relaxing and having a good time with your family.
---
Search For RV Rentals
$100
Las Vegas NV
Sleeps 5 / Class C Motor Home
$39
Loveland CO
Sleeps 2 / Travel Trailer
$120
Morrison CO
Sleeps 6 / Toy Hauler