RV Rental Grand Teton National Park
Search For RV Rentals
---
RV Rentals at Grand Teton National Park
Grand Teton National Park is sometimes considered a mere afterthought to a trip to Yellowstone but this is a mistake. Grand Teton offers plenty to see and experience in its own right and travelers who visit the park will be richly rewarded for stopping by.

photo credit: roads less traveled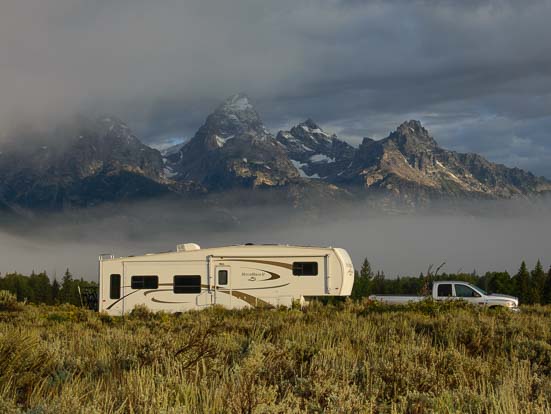 Featuring some of the most awe-inspiring vistas in the country, Grand Teton National Park occupies most of the Jackson Hole Valley and offers the visitor massive mountain peaks, pristine waterways, and abundant wildlife.
While much of the majesty can be viewed from your RV rental this park is best experienced on foot. Hiking opportunities range from short and easy strolls to multi-day backpacking expeditions. Whichever route you choose you can feel confident that you will experience breathtaking scenery and fantastic wildlife sightings.
Grand Teton National Park RV Rentals
The choice to rent an RV to explore the country's stunning national parks is gaining in popularity. RV rentals are more cost effective than many hotel stays but also allow visitors to actually camp in or near the national parks to fully appreciate their splendor.
Jackson Hole, the gateway to the Tetons, is an ideal location to pick up your RV rental with numerous options available. By entering into the peer-to-peer marketplace it is easy to find the ideal RV rental to suit your needs.
Luxury RV Rentals at Grand Teton National Park
The availability of full-hook-up RV parks and campgrounds near Grand Teton National Park makes this park a perfect destination for travelers who are most interested in renting a Class A luxury motorhome. Jackson Hole Campground offers full hook-ups that include shade trees, grass, campfire rings and picnic tables along with a store, laundry, and excellent facilities.
Another excellent choice is the Snake River KOA a typically well-equipped KOA campground offering travelers in RV rentals a serene camping experience that includes all of the must-have amenities.
Grand Teton National Park RV Rental Prices
The prices for RV rentals vary by size and amenities. When searching for rentals near Jackson Hole travelers will find a wide array of prices ranging from a mere $50/night up to over $300/night. To find just the vehicle it's best to determine what amenities are important to you and fix a budget. After that, you should have no problem finding exactly the right RV rental for your holiday.
One-Way RV Rentals Near Grand Teton National Park
One-way RV Rentals can be the perfect way to visit the national park system. In a region such as Grand Teton, you will find that several national parks along with a variety of other sightseeing highlights are in close proximity. By arranging a one-way RV rental it is easy to pick up in one location and drop off in another.
Jackson Hole is worth a visit for the wonderful National Museum of Wildlife Art, breakfast at Bubba's, or some white-water rafting down the Snake River. In addition, this is one of the best spots in the country to try your hand at fly-fishing by taking some lessons with some of the experts.
Cheap RV Rentals Near Grand Teton National Park
The Teton's are nature intensified and you may want to scale down on the type of RV rental you choose in order to take full advantage of actually camping within the park itself. Campgrounds such as Signal Mountain and Lizard Creek are extremely popular in the season for their location right in the heart of the action, however, they only allow vehicles up to 30 feet.
If you're looking for hook-ups while not wanting to be in an RV park you might want to look at Headwaters Campground at Flagg Ranch which is a bit more rustic in nature but still offers RV sites, a dump station, and shower facilities.
Campers for Rent in Grand Teton National Park
When you rent an RV rental near Grand Teton National Park you have easy access to explore all of the best sites this park has to offer. If you are visiting in the fall one place to make sure to check out is the National Elk Refuge. Just south of the park, every fall thousands of elk migrate here for the winter making for an unforgettable sight.
If hiking to see the sites isn't your thing never fear, the Teton Park Road is arguably one of the most stunning drives in the entire country. This 21-mile road has turnouts to safely pull over to view wildlife or simply take in the beauty around you. Drive slow and watch out for wildlife!
Rent an RV Near Grand Teton National Park
With your RV rental offering up so much comfort and convenience you might want to up your adrenaline a bit by adding some adventure to your holiday. One great way to do this is to arrange a rafting trip down the Snake River. Mad River Boat Trips can arrange white-water rafting or simply a scenic float but either option makes for a fantastic day on the water.
Hikers will appreciate the Jenny Lake loop. This moderate hike is 7.5 miles long but gains little in elevation and mostly meanders the shoreline of this scenic lake. Accessible to most members of the family, there is a reason this ranks as one of the most popular hikes in the park.
Now is a great time to find your own RV rental and hit the road. The national parks are an American treasure, each as unique and inspiring as the next. RV rentals, whether a Class A motorhome or a teardrop trailer, allow you to get out into nature and visit those areas made legendary by the likes of Ansel Adams and John Muir.
Inspiring and invigorating, the national park system is widely available to you with an RV rental so get out there and get exploring.
---
Search For RV Rentals
$90
Las Vegas NV
Sleeps 4 / Class C Motor Home
$39
Loveland CO
Sleeps 2 / Travel Trailer
$120
Morrison CO
Sleeps 6 / Sport Utility