Search For RV Rentals
---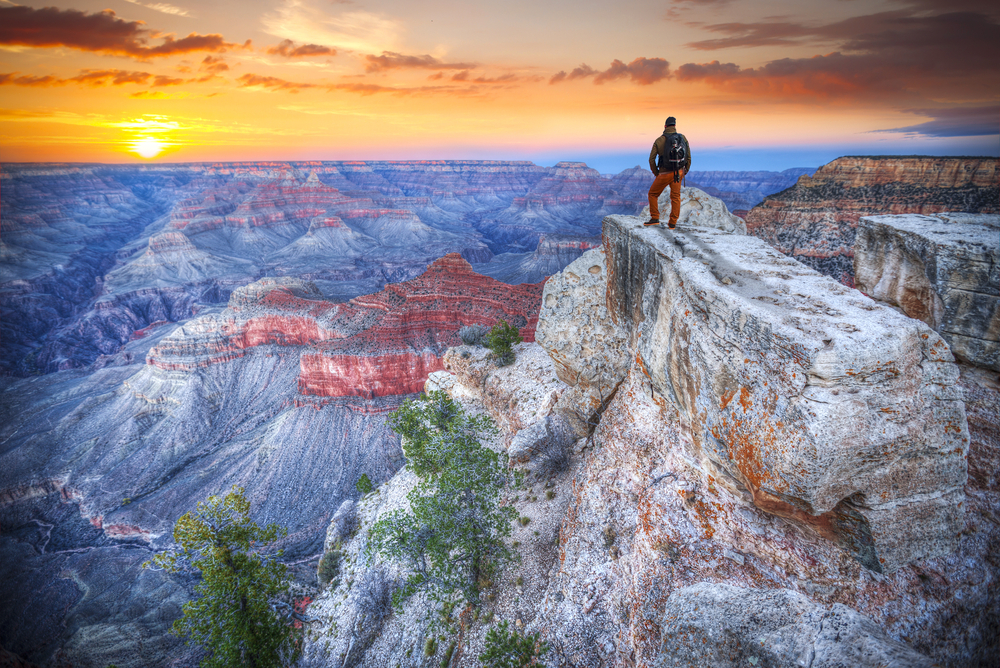 Where to Find an RV Rental Grand Canyon (And Where You Should Stay)
Each year, The Grand Canyon attracts millions of visitors from around the world. The local hotels offer some of the most breathtaking views in the country – views that come at a price. With an average starting around $200 per night, you can imagine how quickly the costs of a Grand Canyon vacation can add up. Why waste your money when there are more affordable options that offer comfort, privacy, and flexibility? RV rental Grand Canyon National Park will have you camping under the stars, away from the crowds and expensive hotel stays.
Your Options For an RV Rental Near Grand Canyon
An RV rental Grand Canyon area isn't hard to find – a quick online search will pull up hundreds of options in the vicinity. The trick, however, is finding the best option for your budget and your family's needs. Let's take a look at the three ways to rent:
Corporate rental companies are spread out across the United States. When you think of RV rentals, they're likely the first thing that comes to mind. They have two advantages: multiple branches allow for one-way rentals, and a widespread inventory almost guarantees that they're never fully booked.
Local rental companies are generally clustered around tourist hot spots, like the Grand Canyon. They're usually privately-owned and have unique offerings, like RV rental delivery and setup, or all-inclusive packages. You'll want to start searching early, as local companies book quickly, due to their limited stock.
Peer-to-peer RV rentals are a balance between corporate size and private customer service. RV owners across the country can list their RVs for rent and work with customers one-on-one. You'll have a nearly endless array of options for finding the best RV rental for Grand Canyon.
P2P – The Best Way to Find an RV Rental to Grand Canyon
We're going to talk a little more about peer-to-peer rentals and how they offer a new and improved way of renting an RV anywhere in the United States. The P2P model itself is a relatively new concept, made popular by sites like Airbnb, Uber, and Lyft. P2P RV rentals through sites like RVshare offer quite a few advantages over other rental options:
P2P inventories are incomparably massive. With hundreds of thousands of RV rentals across the country, other rental companies don't even come close to what RVshare offers! You can find RVs of all types, like pop-up campers, Class C's, Class A's, and even custom conversion vans. If you're looking for a specific type of luxury RV rental Grand Canyon, start with a P2P rental network.
Owners create the listings themselves, which provides a healthy variety of specials and deals. Prices are generally lower than company rental rates, and RV owners regularly offer long-term discounts, unlimited mileage, and other deals. Some owners may even offer free delivery and setup.
Customer service is a big selling point for P2P rentals. With large rental companies, customers often find they're treated like a number; not as a person. They tend to run into issues with security deposits and problems with the RV. With P2P rentals, you work directly with the RV owner, so problems are always dealt with personally and resolved quickly.
You'll still get all the insurance coverage you would get with a large company when you use a P2P site. RVshare offers up to $1 million in liability and collision coverage. We also offer free, 24/7 roadside assistance with every rental. Some RV owners may offer additional auto insurance for a daily fee.
Our rating and review system is a huge convenience to renters. You can search through real reviews of RV owners and RVs, right in the listing. That way, you can get to know the RV owner before you request a reservation.
Where to Stay on Your RV Rental Grand Canyon Vacation
You've found the perfect RV rental Arizona Grand Canyon – you're halfway there! The next step is to find the best place to park your RV. Don't get sucked into paying exorbitant rates for a luxury campground (unless you want to, of course)! Check out these popular and affordable campgrounds in the area:
The Grand Canyon is a National Park, and as such, has a few good options for RV camping. The first is Trailer Village, the only campground in the park with full hookups. They have paved, pull-through sites that can accommodate even the largest Class A RV rental Grand Canyon. They accept reservations, so make one as soon as you can to guarantee a spot! Rates start at $44 per night.
Your other option for camping right in the park is to rough it and camp without hookups. There are three sites in Grand Canyon National Park that allow boondocking: Desert View, Mather, and North Rim Campgrounds. All three sites accept RVs under 30 feet in length, so they're perfect for smaller campervan rentals Grand Canyon. Rates range from $12 to $25 per night depending on the campground. They do not take reservations, and all three campgrounds usually fill up by noon each day.
You can also camp just outside the park, at the nearby Grand Canyon Camper Village. They're just a few minutes south of the South Rim entrance, and the only campground within a 25-mile radius. It's a good choice if you prefer to be close to amenities, as there's a handful of places to eat and shop within walking distance. They accept reservations for RV sites, and summertime rates are $51/night for 30-amp service and $56/night for 50-amp service.
Start Planning Your Grand Canyon RV Vacation!
Now that you know your options for RV rentals and places to stay, it's time to lock in your plans! We hope we've helped you find the most affordable rate on an RV rental, along with a comfortable place to camp. Remember to start planning as early as possible so you can secure a lower rate on a nice RV. Most importantly, remember to stay safe and enjoy your trip! Happy camping!
---
Search For RV Rentals
$100
Las Vegas NV
Sleeps 4 / Class C Motor Home
$39
Loveland CO
Sleeps 2 / Travel Trailer
$120
Morrison CO
Sleeps 6 / Toy Hauler