RV Rental Eastern Florida
Search For RV Rentals
---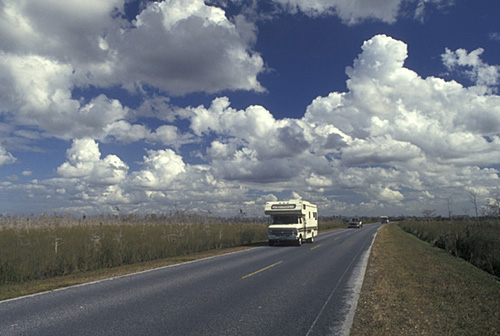 How to Rent an RV in Eastern Florida
If you think you'll enjoy RV travel because it gives you the chance to relax outdoors, you're not going to find a better spot to take a vacation than Florida. The state is filled with RV parks and attractions all up down the coast, and you'll likely never meet more welcoming people.

Are beaches are your thing? Then Florida is calling: whether it's a secluded beach where you can get away or a beach bustling with people and music, you can find it here. After all, they don't call it the Sunshine State for nothing.

Image source: Mark Groebel/Flickr
Motorhome Rental in Eastern Florida
While there's no shortage of sun, Florida has a lot more to offer too. Explore the heavens at Kennedy Space Center, fill your need for speed at Daytona International Speedway, step back into history with some of the nation's oldest settlements, or visit one of the oldest wetands in the world.

It may sounds cliché, but there really is something for everyone in Florida. So if you're dreaming of a family vacation without visiting a wallet-breaking theme park, Florida is where you need to be. And there's no better family vacation than an RV rental in eastern Florida.
The Top RV Parks in Eastern Florida
One of the best things about RV travel is that it gives you the beauty of tent camping while still having all the luxuries of home. Here are just a few of eastern Florida's best RV resorts.

Wekiva Falls RV Resort – 30700 Wekiva River Rd, Sorrento, FL
Between Orlando and Daytona is the Wekiva Falls RV Resort, one of Florida's best spots for RVers. It sits on the Wekiva River, and offers plenty of fun for the whole family. There are planned activities almost every day if that's what you're looking for, swimming in the natural sulfur spring, canoeing kayaking, a tiki bar and more. They even have their own water park that's open almost every day.

Miami Everglades RV Resort - 20675 SW 162nd Ave, Miami, FL
If you want to relax in a tropical paradise that's still near all the excitement, head to the Miami Everglades RV Resort. This resort has actually been named the best campground in Miami, and it's easy to see why: 34 acres of tropical camping in mango and palm trees and tropical flowers all around, but just a 30 mile trip to South Beach. Everglades National Park is only about 10 miles away as well.
RV Rental in Eastern Florida
Flamingo Lake RV Resort – 3640 Newcomb Rd, Jacksonville, FL 32218
At Jacksonville's Flamingo Lake RV Resort, campers can enjoy 17 acres of beauty. There's a lake with beach access, walking trails, water activities like kayaks and paddle boats and more. There's a variety of kids activities, including a bounce pillow and swimming pool, and there's live music every weekend. Dozens of events are held here throughout the year, including a motorcycle poker run, a cardboard boat race, and a barbecue cookoff.
The Top RV Destinations in Eastern Florida
Everglades National Park
Outside of the mouse house, Everglades National Park may just be one of the biggest attractions in the state. It's home to one of the oldest and the biggest wetlands in the world, and it hosts millions of species of wildlife. Everyone from birdwatchers, fishermen, boaters, and outdoor enthusiasts can find something to love about the Everglades, and that's not considering people who just visit to see the sights. Several endangered species like the manatee, the American crocodile and the Florida panther can be found here, and when you throw in the unique adventure opportunities like airboat tours, it's a must see.

St. Augustine
St. Augustine is America's oldest city, and plenty of people would say it's the most charming too. Whether you're looking for a romantic escape, a spooky ghost tour, a brush with history, or the "real" fountain of youth, this city is worth a stop. Like most places in Florida, there are even some great beaches here too. Take a stroll on the city's brick lined streets, stop in at one of the numerous art galleries, or take in some world class cuisine, and you'll see why so many people love to visit here.
Private RV Rentals in Eastern Florida
Discovery Cove
If you've ever wanted to swim with the dolphins, here's your chance. At this one of a kind park, visitors can come nose to nose with dolphins, feed tropical birds, play with otters, and walk on the Grand Reef floor. If you want adventure, you can find it here, or if you just want to unwind in a tropical paradise, you can do that here too. It's all inclusive, so bring the whole family you'll make memories that will last a lifetime.
Renting an RV in Eastern Florida
Many people already know that vacationing by RV is one of the least expensive ways to take a vacation, but once you browse the listings on RVshare and see all the cheap RV rentals in Florida, you'll realize just how much money you can save! And even better, RVshare has the easiest booking system.
Rent a Campervan in Eastern Florida
The state of Florida alone makes for a great family vacation or a vacation without kids, but taking an RV trip through Florida is even better. The vast majority of destinations in Florida are very RV friendly, and whether you want a small RV rental or a luxury RV rental in eastern Florida, RVshare is the best way to find exactly what you're looking for.
You'll find thousands of vehicles listed, and you can search by several factors, including the size of the RV, how much it costs, and the actual location it's in.
Rent an RV in Eastern Florida
If you want an easy vacation, getting a motorhome rental in eastern Florida with RVshare couldn't be easier. You'll handle most of the paperwork beforehand, so when it's time to leave for vacation, you simply pick up your keys and hit the road! When you're done, just fill up the RV with gas and drop it off. There are even hundreds of one way RV rentals from dealerships, meaning you can pick it up in one city and drop it off in another.
RV Rental Locations in Eastern Florida
Renting an RV for the first time can certainly be daunting, and RVshare realizes that. Every single one of their rentals is covered with a $10,000 guarantee. To make sure everyone is safe on the road, every rental comes with free 24/7 roadside assistance, plus a 24/7 travel concierge available by phone.

Sounds like a perfect vacation? It may just be. If you still have questions, head over to this guide to see how peer-to-peer RV rentals work.
---
Search For RV Rentals
$100
Las Vegas NV
Sleeps 5 / Class C Motor Home
$39
Loveland CO
Sleeps 2 / Travel Trailer
$120
Morrison CO
Sleeps 6 / Toy Hauler