RV Rental Eastern Colorado
Search For RV Rentals
---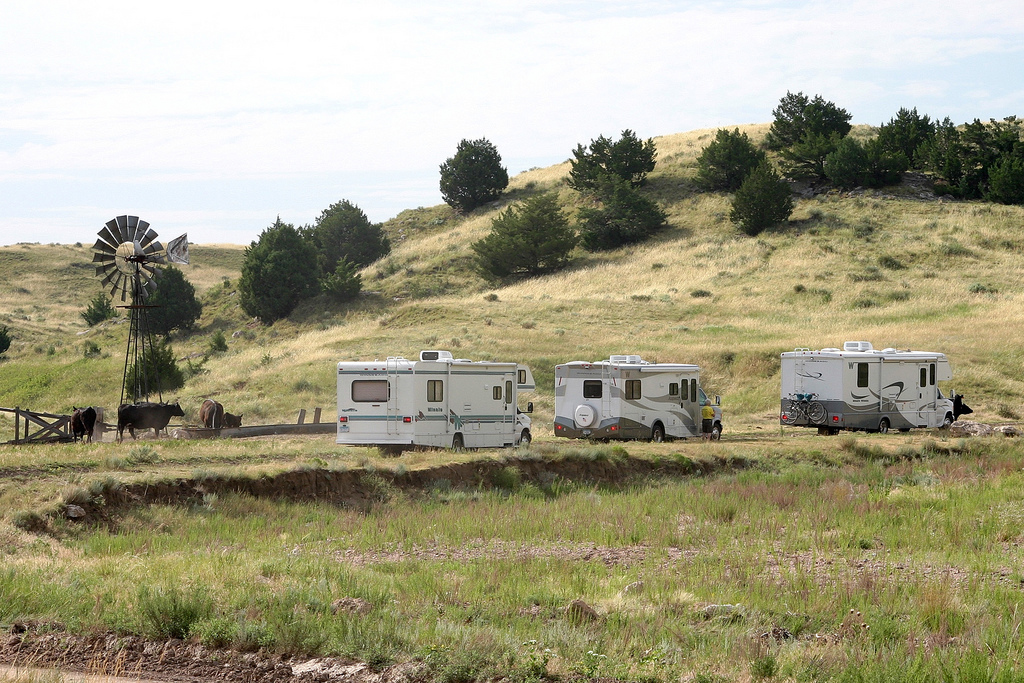 Rent An RV in Eastern Colorado
An RV trip can bring a family together like no other vacation, and if you want a journey through spectacular views and adventure at every turn, you might want to consider heading out to Colorado. While the Rocky Mountains might seem daunting, there's actually a lot more to this state than many people realize.

Image source: VickyFrank/Flickr
RV Rental in Eastern Colorado
Whether it's the stunning beauty of the Colorado National Monument or the ancient Native American cliff dwellings of Mesa Verde, there's plenty to see here. There's also plenty to do too, with opportunities for rafting, horseback riding, hiking, and cave exploring everywhere. And it doesn't matter if you're in a
camper rental or a luxury RV rental
, most stops in Colorado are very welcoming to RVers. Of course, many places in Colorado can get pretty treacherous in the winter, so if you rent a campervan in this neck of the woods, make sure you're traveling between pretty much April to October.
If you're ready to set out on the trip of a lifetime and make memories you'll never forget, get a motorhome rental in eastern Colorado and hit the open road. Just be warned though, even if you just get a travel trailer rental… you'll likely be hooked for life. A camper rental and the open road has hooked many a traveler!
The Top RV Resorts in Eastern Colorado
Grape Creek RV Park – 56491 CO-69, Westcliffe, CO
If you're in the eastern side of Colorado near Highway 69, you'll want to make a point to stop at the Grape Creek RV Resort. Situated on the Wet Mountain Valley floor, it's open May to November depending on the weather, and offers incredible views of the Sangre de Cristo Mountains. There are plenty of chances for recreational here, including fishing, hiking, and ATV trails. If you want to be a cowboy for the day, the nearby Music Meadows Ranch offers an authentic ranching experience, giving visitors the chance to move cattle to pasture, sort cattle that need medical care, and help brand new cattle.
RV Rental Locations in Eastern Colorado
Diamond Campground – 900 N Hwy 67, Woodland Park, CO
Located not far from Colorado Springs in the Pikes Peak area sits Diamond Campground. At 8,500 feet above sea level, it's a place to really sit back and relax. Since you're in the mountains, the temperature here is comfortable year round. Even in the summer, you likely won't need air conditioning. You'll see deer and other animals wander through the grounds on a daily basis, and the views of the surrounding area are second to none.
Rent An RV In Eastern Colorado
Prospect RV Park – 11600 W 44th Ave, Wheat Ridge, CO
This park is located just outside Denver, but if you stay a night here, you'd never imagine there's a major
metropolitan area nearby. This is the perfect destination if you're in town for a Broncos or Rockies game, or if you're here for the world class skiing. The United States Mint is a short drive away, as is Rocky Mountain National Park and the US Air Force Academy. If you need to get into town, this park is on the city's bus line, and there's a direct bus to Central City/Black Hawk gambling center just three blocks away.
The Top RV Destinations in Eastern Colorado
Garden of the Gods
With stone towers that soar 300 feet into the air and gigantic balanced boulders all across the landscape, Garden of the Gods is one of the most unique and surreal destinations in the country. There are miles of trails here, most of them fairly easily walked. Rock climbing is probably the most popular activity here, but there are plenty of spots for biking and horseback riding, and even some Jeep and Segway tours. There's a museum at the visitors center, and an on site café with spectacular views.
Small RV Rental in Eastern Colorado
Cheyenne Mountain Zoo
Touted as America's only mountainside zoo, the Cheyenne Mountain Zoo is home to one of the biggest herds of giraffes on the planet. There are a wide range of animals here (about 750 in all) like with any zoo, but no other zoo has the incredible views this one does. More than 30 endangered species call this zoo home, and it's one of the only zoos in the country that doesn't get any public tax support.
Motorhome Rental in Eastern Colorado
Colorado Railroad Museum
In the town of Golden, surrounded by soaring buttes, the Colorado Railroad Museum blends incredible natural scenery with a fantastic look at history. Over 100 locomotives, cabooses and cars are on display, with a functioning roundhouse and hundreds of artifacts, housed in a replica of an 1880s depot. There are train rides every Saturday through the year.
Renting an RV in Eastern Colorado
If it's scenery you want, Colorado makes for an absolutely jaw dropping RV trip. In fact, many first time RVers make this their inaugural trip. And if you're looking for a motorhome rental in eastern Colorado, RVshare is the number one way to find the perfect vehicle. An RV journey is already one of the most affordable vacations around (which is why so many people do them), but there are hundreds of cheap RVs for rent in eastern Colorado with RVshare.
Maybe the best thing about using RVshare though is that all the paperwork is done beforehand. When it's time to set out, you just pick up your keys and head on your way. And when you're done, you just drop them off again! You only pay for the days you actually have the RV.
Rent A Campervan in Eastern Colorado
RVshare lets you search camper rentals in eastern Colorado by class (size), by their location, and even by price. Both private RV rentals and ones from dealerships are included. There are even a lot of one way RV rentals in eastern Colorado, which means you can fly in to one side of the state, take a RV trip across, and fly out from a different city.
Private RV Rentals in Eastern Colorado
And of course, if you're renting an RV, especially for the first time, you likely have safety on your mind. RVshare covers that too, thanks to their "peace of mind" guarantee. You get $10,000 worth of coverage include in your rental, plus free 24/7 roadside assistance should you have any mechanical trouble, and a 24/7 travel concierge that's there to help should you need anything else.
Camper Rental in Eastern Colorado
Sold on an RV adventure in Colorado? Read our full rental guide for details on how peer-to-peer RV rentals work.
---
Search For RV Rentals
$100
Las Vegas NV
Sleeps 4 / Class C Motor Home
$39
Loveland CO
Sleeps 2 / Travel Trailer
$120
Morrison CO
Sleeps 6 / Toy Hauler