RV Rental Eastern California
Search For RV Rentals
---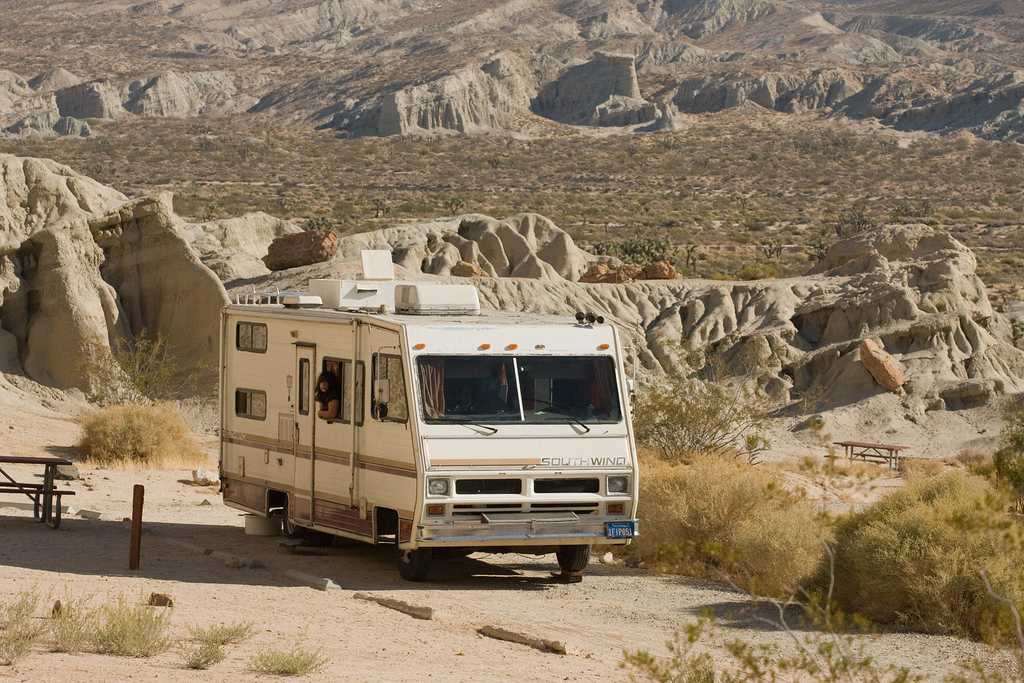 Camper Rental in Eastern California
Whether it's a secluded fishing hole, unmatched scenery, or the rolling hills of wine country, a road trip in eastern California can provide the vacation of a lifetime. And if you've decided to hit the roads of The Golden State, there's no better way to do it than with an RV from RVshare.
With all the natural beauty California has, it doesn't take much to find something for everyone. If you have just the slightest sense of adventure, this part of the country will have everything you need to have a vacation you'll never forget.

Image source: DavidO/Flickr
The Top RV Parks in Eastern California
Rio Bend RV & Golf Resort Park – El Centro, CA
Sitting in the beautiful Imperial Valley, the Rio Bend resort is a great place to relax and get away, but do so in luxury. This 120 acre resort is located on natural wetlands and a bird sanctuary, making it a premier spot for seeing wildlife. There are a number of incredible golf courses nearby, along with tons of other recreation opportunities. If you travel with pets, put this resort at the top of your list, as it's often named one of the most pet friendly resorts in California.
Small RV Rental in Eastern California
Emerald Desert RV Resort – Palm Desert, CA
The Emerald Desert RV Resort calls beautiful Palm Desert home, an area that has perfect weather pretty much year round. The amenities here rival almost any traditional resort, and there's always something happening on the events calendar. Massage experiences are available from Desert Massage Associates, something that's pretty rare and unique for an RV resort.
RV Rental in Eastern California
Golden Village Palms RV Resort – Hemet, CA
Like a lot of RV resorts in California, luxury is the name of the game here. In fact, this spot has been called one of the most luxurious RV parks in the entire state. The Hemet area is known for its natural occurting hot mineral springs, and the Diamond Valley is home to absolutely incredible fishing. If you're a wine lover, the Temecula wine region is just a short drive away, so rent a camper and make a day trip!
The Top RV Destinations in Eastern California
Death Valley National Park
The name may just be one of the most intimidating and iconic park names in America. But this park has more than just record-setting heat. It's the largest national park in the 48 states (as well as the hottest, lowest, and driest), parts of it certainly are desolate, so it's wise to map out your trip well. But with a little planning, you'll witness just how animals and plants have adapted to this harsh environment. Certain parts of the park do have a restricted vehicle length due to sharp turns.
Camper Rental in Eastern California
Sequoia National Park
If you don't want to take on the heat of Death Valley, make a stop in Sequoia National Park. It's known for the majestic giant redwood trees, which can reach as high as 300 feet tall. But beyond the redwood trees, you'll encounter soaring granite peaks, plunging gorges, and dozens of lakes and rivers. Also home of Mount Whitney, the highest mountain in the US outside of Alaska, Sequoia is probably the national park with the most varied terrain, so if you rent a motorhome, make sure it can handle all terrains.
Renting an RV in Eastern California
Things can be a little more expensive in California than in other parts of the country, but fortunately, renting an RV is a great way to save on expenses! There are dozens of cheap RV rentals in eastern California. RVshare has some of the most affordable vehicle rental prices in the industry, and one of the easiest booking systems anywhere.
Rent a Campervan in Eastern California
A California RV trip is one item that many people have on their bucket list, and it makes sense why. California alone makes a great family vacation, and doing it on the road together makes things even better.
Private RV Rentals in Eastern California
If you're a first time RVer, you won't find many places better, as most stops are very RV friendly, and you'll most likely run across plenty of fellow travelers. If you want a small RV rental or a luxury RV rental in eastern California, using RVshare is the number one way to get exactly what you're looking for. There are thousands of cheap RVs for rent in eastern California, all just a few clicks away.
And with RVshare, you can search by a number of different factors like how many people the vehicle holds, the actual location it's at, and the overall price.
Rent an RV in Eastern California
Just want the easiest option? Getting a a motorhome rental in eastern California using RVshare is simple. One of the best parts is that all the documentation is done before you leave. When it's time to go, you just pick up your keys and you're off! And when you're done, you just gas up the RV and drop off the keys. It really is that simple! And if you're looking for one way RV rentals in eastern California, there are tons of those available too!
Motorhome Rental in Eastern California
If you're using RVshare for your first time ever driving an RV, you probably have a few concerns. But with RVshare, you have the security of their "peace of mind" guarantee. Each and every rental has up to $10,000 of coverage included with the fees, plus free 24/7 roadside assistance should you run into any mechanical trouble. And in addition, you have a free 24/7 travel concierge, which means someone is ready to help should you need anything.
RV Rental Locations in Eastern California
Renting an RV may sound a little scary for a first timer, but RVshare makes it painless. If you've been California dreamin', make sure you don't miss your chance for the trip of a lifetime! You likely have a few questions about how it all works, and that's okay Visit out rental guide for a complete breakdown of exactly how peer-to-peer RV rentals work.
---
Search For RV Rentals
$100
Las Vegas NV
Sleeps 4 / Class C Motor Home
$39
Loveland CO
Sleeps 2 / Travel Trailer
$120
Morrison CO
Sleeps 6 / Toy Hauler