RV Rental Eastern Arkansas
Search For RV Rentals
---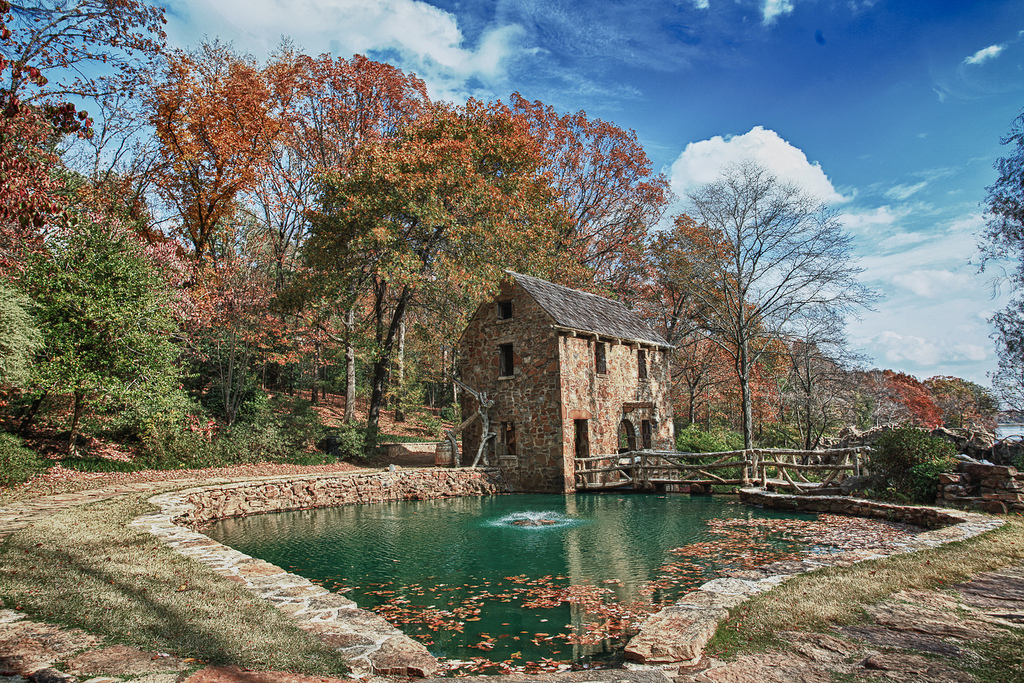 For a road trip to that includes some of America's beauty, you won't find many places better than Arkansas. This state is known as "The Natural State," and with good reason. Arkansas is home to over 600,000 acres of lakes and nearly 10,000 miles of streams. So if you're looking for somewhere you can relax by the water, or a place where you can sit at the foot of a sprawling mountain, you've found your destination. If you want a luxury RV rental in Arkansas, you'll certainly find plenty of places to take it.
Private RV Rentals in Eastern Arkansas
Image source: Steve Wright/Flickr
One word that sums up the landscape in Arkansas is "diverse." The state is known for sweeping vistas, winding mountain trails, and crystal clear waters. So no matter what your favorite thing in nature is, you'll come across it here.
The Top RV Parks in Eastern Arkansas
Ozark RV Park – Mountain View, AR
The Ozark RV Park at Mountain View is in an area that's famous for it's incredible folk music history. When you set it against a backdrop of the beautiful Ozark National Forest and Blanchard Springs Caverns, you get an experience that's hard to beat. If you're a folk music fan, the Ozark Folk Center is nearby. Get a popup camper rental in eastern Arkansas, and you'll be tempted to park it here for the weekend.
Small RV Rental in Eastern Arkansas
Pecan Grove RV Park – Lake Village, AR
Touted as "the most peaceful place you'll ever stay," that may just be true at Pecan Grove. As the name implies, this park is in a pecan tree grove that was planted back in 1903. The park has a great view Lake Chicot, Arkansas's largest natural lake, and has plenty of fishing with a dock and boat ramp at Lake Chicot.
RV Rental in Eastern Arkansas
Fairfield Bay Campgrounds – Fairfield Bay, AR
Sitting on Greers Ferry Lake, this RV campground is the perfect place to get away. You can rent a boat to fish for walleye, bass, crappie, or catfish, or jet ski and scuba dive on the same lake. If you just want to take in the lake's beauty, scenic dinner cruises are available. Two 18 hole championship golf courses are a short drive away (Mountain Ranch and Indian Hills), or you can take in an outdoor movie at the Bay View Club.
Rent an RV in Eastern Arkansas
The Top RV Destinations in Eastern Arkansas
Blanchard Springs Cavern – Fifty-Six, AR
Just two miles off Highway 14 sits Blanchard Springs Cavern, the only publicly available cave that's owned by the US Forest Service and the only government owned one outside of a national park. It's a three level cave system, two of which are open to the general population for tours. It's the second longest cave in Arkansas by total length, and the largest in terms of total volume. The rock formations inside are some of the most beautiful in the country, and it remains an actual living and growing cave thanks to tremendous care from the forest service.
Camper Rental in Eastern Arkansas
Toltec Mounds Archaeological State Park – Scott, AR
Also called Knapp Mounds, this area is a historic archaeology site from some time around 1000 BC to 1000 AD. All in all, there are 18 mound complex in the complex, some of which are believed to be the tallest remaining prehistoric mounds in the state of Arkansas. The mounds likely served several purposes in Native American culture, including housing for the chiefs, raised platforms for temples, or areas for public speaking.
Rent a Campervan in Eastern Arkansas
The Old Mill – North Little Rock, AR
Located in North Little Rock, T.R. Pugh Memorial Park's "Old Mill" is actually an authentic recreation of a water powered grist mill. It was built in 1933, but designed to look like it would have in the late 1800s. What this structure is most well known for though is for appearing in the beginning credits of the legendary 1933 film Gone with the Wind. In fact, it's believed to be the only building that still remains from the film as a lot of the set was burned. This spot is worth the trip both for film and history buffs.
Renting an RV in Eastern Arkansas
A road trip across Arkansas can be an excellent vacation for an RVer, but it's especially good for a fist timer. The roads in Arkansas are fairly easily navigated, and most destinations are RV friendly. And if you're looking for a small RV rental or a luxury RV rental in eastern Arkansas, RVshare is the easiest way to find what you need. With RV share, hundreds of cheap RVs for rent in eastern Arkansas are just a click away. Finding the perfect vehicle is simple, because RVshare lets users search by size, by location, and by price.
Rent an RV in Eastern Arkansas
It couldn't be easier to get a motorhome rental in eastern Arkansas using RVshare. All the work is done beforehand, so when it's time to leave, you just pick up your keys and head out! And when you're done, you just fill it up with gas and drop it off. There are even a lot of one way RV rentals in eastern Arkansas listed, which means you can fly in, drive the RV across the state, and leave from a completely different city.
Motorhome Rental in Eastern Arkansas
Of course, one of the biggest concerns with renting an RV is safety. What happens if something goes wrong? Fortunately, you're completely covered by RVshare's "peace of mind" guarantee. Each rental has $10,000 of coverage, plus free 24/7 roadside assistance and a 24/7 travel concierge, which means someone is always ready with help.
RV Rental Locations in Eastern Arkansas
If you're ready to hit the open road in Arkansas in an RV, you probably have some questions about the process. Head on over to our rental guide for a complete breakdown of
how peer-to-peer RV rentals work
.
---
Search For RV Rentals
$100
Las Vegas NV
Sleeps 5 / Class C Motor Home
$39
Loveland CO
Sleeps 2 / Travel Trailer
$120
Morrison CO
Sleeps 6 / Toy Hauler