RV Rental Crater Lake National Park
Search For RV Rentals
---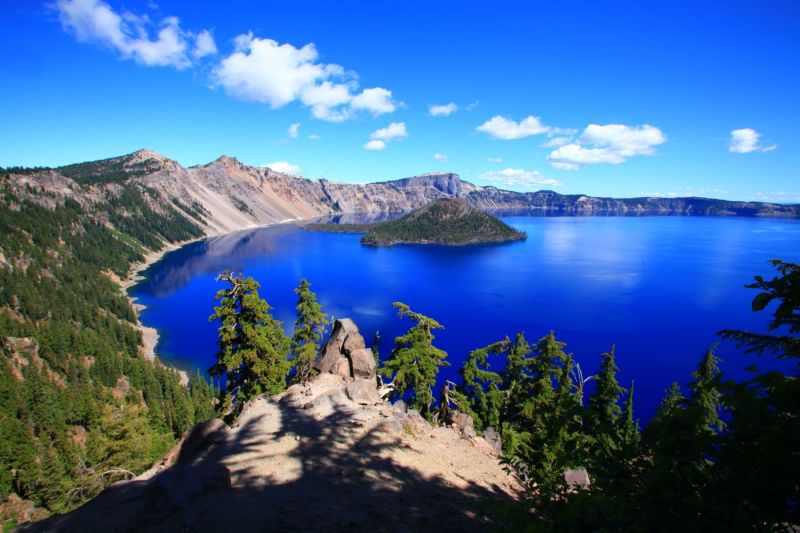 RV Rental in Crater Lake National Park
Crater Lake National Park was established in 1902 and is the only national park located in Oregon. It's the fifth-oldest national park in the U.S and covers an area of 183,224 acres in the southern region of the state.

Photo Credit: www.craterlaketrust.org
Crater Lake formed in what is known as a volcanic caldera (or sinkhole) and with a depth of 594 meters at its deepest point, it is actually the deepest lake in the United States.
Tourists love visiting Crater Lake due to its intense and picturesque blue hue, as well as other famous park features such as The Pumice Desert, Pinnacles, Mount Scott, the scenic route around Lake Crater (known as Rim Drive), and the Pacific Crest Trail (a 2,650-mile long-distance hiking and equestrian trail that passes through the park).
The national park is also home to plenty of interesting wildlife, including Canadian lynxes, bobcats, cougars, black bears, coyotes, deer, elk, badgers, foxes, and squirrels (just to name a few!).
Things to Do in Crater Lake National Park
Hiking
There are numerous hiking and walking trails in the national park, both for beginners through to the more advanced.
The Cleetwood Cove trail is one of the most popular trails in the park because it is the only one that accesses the lake's shoreline. It spans 1.1 miles (1.8 km) but is rated as a strenuous route due to the 11% grade experienced on the way back.
The Watchman Peak trail is another popular option, due to the breath-taking views you get from this hike. It is a steady uphill walk that's 0.8 miles (1.3 km) long and its located on the west rim of the crater. Visitors love the trail's wide views of Crater Lake and Wizard Island, as well as being able to look out at other famous landmarks within the park such as Mount McLoughlin, Union Peak, Mount Thielsen, Mount Scott and the Klamath Basin.
Other much-loved hiking trails within Crater Lake National Park include The Lightning Spring trail (where hikers frequently encounter grazing deer), the Castle Crest Wildflower Garden trail (the easiest track within the park, which also leads walkers to a wildflower meadow garden), the Plaikni Falls trail (which leads to the Plaikni Falls), and the Garfield Peak trail (known for its spectacular views of Phantom Ship island, Dutton Cliff, and Wizard island).
Rim Village
Located on Rim Drive, tourists will also enjoy visiting Rim Village for its souvenir shop and quaint café offering a quick bite to eat. The village also offers stunning views of Crater Lake.
Boat Tours
With Crater Lake's impressive volcanic history and status in America as the deepest lake, many take advantage of the option to experience it up-close via a boat tour. On these boat cruises, passengers learn about the history, geology, and cultural significance of the lake.
The only catch is that the boat dock is approximately a 1.1 mile hike via the Cleetwood Cove trail. Although the hike is a great experience, it's strenuous, and not recommended for anyone experiencing medical or physical difficulties.
Wizard Island Tours
Tours to this beautiful island depart both in the morning and afternoon. Visitors can either enjoy a full lake tour while visiting the island, or they can opt for the shuttle option and simply hike to the summit of Wizard Island to enjoy the phenomenal panoramic view. Wizard Island also offers fun activities such as fishing and swimming.
Camping
Crater Lake National Park also offers camping options, either in one of the park's two developed campgrounds, or in surrounding areas through obtaining a backcountry permit.
While the Lost Creek Campground is a first-come, first-served tent-only campground, the second campground, the Mazama Campground, offers sites which can accommodate both RVs and tents.
These campgrounds are only open during summer and they are both located south of Crater Lake.
Mazama Campground includes a range of facilities such as flush toilets, a dump station, and paid showers/laundry services nearby. The maximum RV length permitted in these sites is 50 feet. Additionally, site reservations are allowed and rates start at $22 - $31 per night.
Lost Creek Campground offers less facilities (such as toilets only) and costs $10 per night to set-up a tent here.
RV Parks Near Crater Lake National Park
For those who wish to stay near the national park, rather than in it, there are plenty of RV-friendly parks available nearby.
Crater Lake RV Park
Also known as Prospect RV Park, this RV-friendly campground offers full hookups with 20, 30 & 50 amp services. Free wi-fi and internet access are also available, along with hot showers, restrooms, individual fire pits, and the option of paid telephone access.
A one-night stay will cost $32.50, whereas discounts are applied when staying two nights or more. A one-week stay, for example, will set you back just $24.50 per night, per site.
The Crater Lake RV Park is easily accessible, as it's located on the Crater Lake Highway (Hwy 62) approximately halfway between Medford and Crater Lake National Park.
Diamond Lake RV Park
Located just 4kms away from the entrance to Crater Lake National Park, Diamond Lake RV Park offers 110 full hookup sites and 35 pull throughs. Laundry, public phone, toilet, and shower facilities are also available.
Reservations at this RV park are recommended and rates start at $43.00 per day for 30 amp sites. Discounts are offered, however, to Good Sam/AAA members.
Crater Lake National Park RV Rental
If you're thinking of taking a trip to Oregon, there are plenty of Crater Lake National Park motorhome rentals using RVshare that will get you there. These include Classes A, B, or C, as well as motorhome rentals of the travel trailer, sport utility, folding trailer, fifth wheel, or truck camper variety.
Rent an RV Near Crater Lake National Park
Want to rent an RV near Crater Lake National Park? You'll find RV rentals available across all of Oregon through RVshare, including motorhomes for rent within as little as 52.4 miles from Crater Lake National Park.
RV Rental Prices in Crater Lake National Park
RVshare offers a range of rental price options to suit every budget. Whether you're looking for luxury RV rentals or cheap RV rentals near Crater Lake National Park, you're sure to find the RV that's perfect for you.
Crater Lake National Park RV Rental Rates
With RVshare, you can find RV rentals for your trip to Crater Lake National Park starting at as little as $50 per night. The total cost of a Crater Lake National Park RV rental holiday will depend on factors such as how many nights you rent it for, as well as distance traveled (when adding on the price of gas).
Don't forget to also factor in the price you must pay to stay at campgrounds or RV parks. Despite this, Crater Lake National Park RV vacations can still prove to be an affordable and cost-effective holiday for the whole family!
One Way RV Rental to Crater Lake National Park
Did you know that some dealers on RVshare might be able to offer a one way RV rental to Crater Lake National Park? This means you won't have to worry about making a roundtrip back to drop it off again. Depending on your situation, this option can save you both time and money.
---
Search For RV Rentals
$100
Las Vegas NV
Sleeps 4 / Class C Motor Home
$39
Loveland CO
Sleeps 2 / Travel Trailer
$120
Morrison CO
Sleeps 6 / Toy Hauler