RV Rental Congaree National Park
Search For RV Rentals
---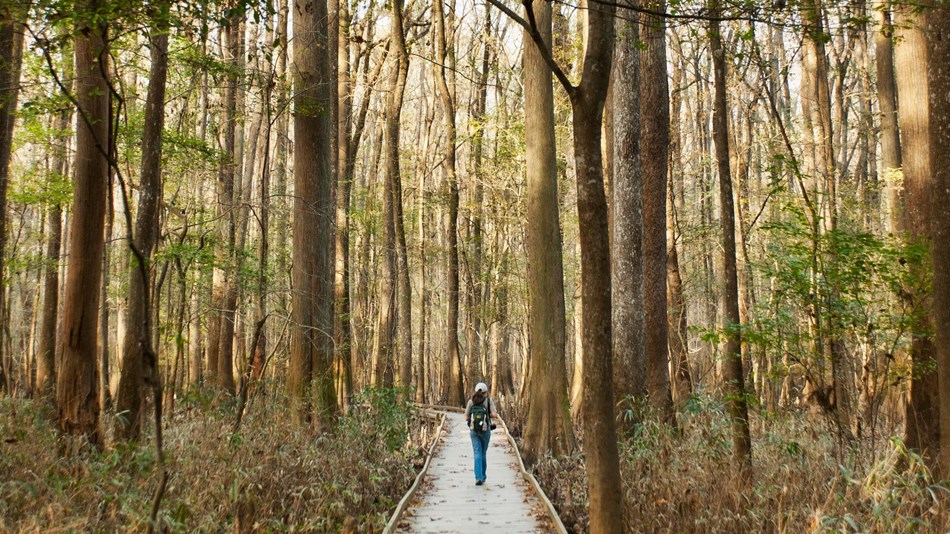 RV Rental in Congaree National Park
Located in central South Carolina, Congaree National Park is home to some of the tallest trees growing in the Eastern United States.

Photo Credit: www.nps.gov
Spanning a total of 26,276 acres, the park features the largest area of old growth bottomland hardwood forest left in the United States. Over half (57%) of the region has also been designated as a wilderness area to keep this zone preserved in its state of natural beauty.
There's a bounty of wildlife living among Congaree National Park, with visitors occasionally spotting raccoons, deer, opossums, and bobcat tracks. It is also recognized as a Globally Important Bird Area due to the abundance of bird species it houses.
Things to Do in Congaree National Park
There's plenty of fun activities to enjoy in the park, making it the perfect destination for RVers to plan a trip to. Numerous hiking trails will keep the whole family entertained, as will the abundance of kayaking and canoeing spots.
Hiking
With a wide variety of hiking trails available in the park, hiking really is a great way to experience all that Congaree National Park has to offer.
There are 20 miles of designated hiking trails in the park and these are designed for all levels of hikers. Plus, there's even a 2.4-mile boardwalk trail which is accessible for both wheelchairs and prams.
The Weston Lake Loop Trail is one of the most famous self-guided walks in the park. You'll stroll by Cedar Creek, known for its wide array of bird species, plus you might even spot some otters!
There are also plenty of guided walks within Congaree National Park and these are a great way to learn valuable information and history about the park by a Ranger. These guided programs are led on Saturdays year-round, but you can check out the calendar for more information.
Canoeing & Kayaking
If experiencing the national park via water is more your thing, then you'll be pleased to know that there are plenty of canoeing and kayaking opportunities.
The park boasts a 20-mile marked canoe trail on Cedar Creek. You can bring your own water equipment or kayaks and canoes can also be rented nearby in the Columbia, SC area.
Just keep in mind that the park floods frequently, especially in Spring, so always ask staff about water levels before pursuing these activities.
Camping
As mentioned, there is no RV and car access permitted into the national park, so if you're going to stay overnight in Congaree, you'll have to do it in a tent.
The good news is that there are two dedicated campgrounds inside the national park to choose from, both of which are inexpensive to stay at. Free backcountry camping is also an option if you obtain a permit.
Longleaf Campground costs $10 per night for a regular campsite and it features fire rings, picnic tables, and toilets. Running water is not available. It is located near the park entrance, making it the most accessible camping option.
Bluff Campground is located approximately one mile from the Longleaf Campground and must be accessed on foot via the Bluff Trail. It costs $5 per night for a regular tent site. While fire rings and picnic tables are also available at this campground, there are no toilet facilities or running water.
Senior and Access Pass holders receive a 50% discount on the nightly fees listed for each campground above.
RV Parks Near Congaree National Park
There are many places near Congaree National Park that you can park your RV rental, so while RV camping in the national park is not permitted, you can still stay within the vicinity of Congaree!
Magnolia Campground
If you want to get as close as possible to the national park but still enjoy the comforts of your RV, Magnolia Campground is perfect. It's one of the closest RV parks to Congaree, plus it's conveniently located just 15 minutes from Columbia.
It offers both 50 and 30 amp service and costs $30 per night or $355 for the month. Its sites can accommodate large campers with slide outs, but keep in mind they only allow a maximum of two persons per site.
Barnyard RV Park
Located closer to Columbia, Barnyard RV Park is based in Lexington, plus it's within walking distance to restaurants and grocery stores.
It provides full hookups and level sites, as well as Wi-Fi, bath and laundry facilities, 50 and 30 amp service, and a playground. Rates start at $31.19 per day for Good Sam, AAA, AARP, or Coachman members. Rates for non-members start at $34.65 per day.
Sesquicentennial State Park
Also located in Columbia, Sesquicentennial State Park is located about 45 minutes from Congaree National Park. It offers drive-in spaces, as well as water and electric hookups, campfire rings, restrooms, a playground, and pet area. Standard RV sites start at $19-27 per site, per night.
Congaree National Park RV Rental
If you're thinking of taking a trip to South Carolina, there are plenty of Congaree National Park motorhome rentals using RVshare that will get you there. These include Classes A, B, or C, as well as motorhome rentals of the travel trailer, sport utility, folding trailer, fifth wheel, or truck camper variety.
Rent an RV Near Congaree National Park
Want to rent an RV near Congaree National Park? You'll find RV rentals available across all of South Carolina through RVshare, including motorhomes for rent within as little as 12.7 miles from Congaree National Park.
RV Rental Prices in Congaree National Park
RVshare offers a range of rental price options to suit every budget. Whether you're looking for luxury RV rentals or cheap RV rentals near Congaree National Park, you're sure to find the RV that's perfect for you.
Congaree National Park RV Rental Rates
With RVshare, you can find RV rentals for your trip to Congaree National Park starting at as little as $45 per night. The total cost of a Congaree National Park RV rental holiday will depend on factors such as how many nights you rent it for, as well as distance traveled (when adding on the price of gas).
Don't forget to also factor in the price you must pay to stay at campgrounds or RV parks. Despite this, Congaree National Park RV vacations can still prove to be an affordable and cost-effective holiday for the whole family!
One Way RV Rental to Congaree National Park
Did you know that some dealers on RVshare might be able to offer a one way RV rental to Congaree National Park? This means you won't have to worry about making a roundtrip back to drop it off again. Depending on your situation, this option can save you both time and money.
---
Search For RV Rentals
$100
Las Vegas NV
Sleeps 5 / Class C Motor Home
$39
Loveland CO
Sleeps 2 / Travel Trailer
$120
Morrison CO
Sleeps 6 / Toy Hauler