Top RVs Nearby
Best American RV Hire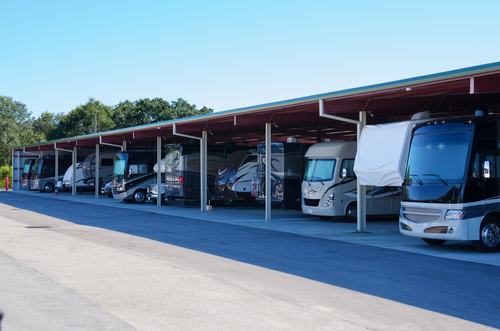 Are you looking for an for RV hire in North America? Then we may be able to help you find exactly what you're looking for. RVing isn't only becoming one of the most popular ways to travel here in the U.S., it's also becoming one of the easiest ways, thanks to the sharing economy and platforms like ours!
In this article, we're going to learn about different kinds of RVs, the RVshare platform, and how you can save precious time and money on an RV hire for your next road trip across America.
Differences Between RV Classes
In this section, we're going to talk a little bit about the differences between the main types of RVs, as well as discover some of their pros and cons. This is a great area to start with if you're interested in RV travel, but don't know what you want quite yet. This information will make it a lot easier to sort through our hundreds of options of RV rentals.
Class A - These units are the largest and most expensive of all the classes of RVs. They're the ones you see on the road with a flat front, that looks like a bus. Because of being so hefty, class A RVs are best for long highway driving, as opposed to a shorter trip, or driving through hard to access areas. Class A RVs can be extremely luxurious, coming with things like leather interiors, wooden floors, relatively massive live-in areas, stainless steel finishes, widescreen TVs, space for upwards of eight to twelve people, and compartments for all the cargo you can possibly bring. If you're looking for an America road trip RV hire such as this, you'll definitely be traveling in luxury and style.
Class B - These little campervans are usually the least expensive of any RV hire, no matter where in America you find them. If you've got a small group and are going for low prices, a class B may be the perfect fit. They're made to resemble vans so they're very easy to drive, don't require any special storage, and have great fuel economy. Class B units are best if you're going on a shorter trip. They don't have crazy amenities like a class A, but they've got all the basics you need for a comfortable trip.
Class C - These rigs are some of the most popular kinds of RVs to rent and own. They have a truck look to them and their sizes are between a Class A and B. They're easy to handle on the road and some of the smaller sizes don't take up much more than a standard parking spot. Class C RVs are considered to be safer than class A RVs because of their shape. If you want more space, and more luxury, but don't want to drive something as hefty and expensive as a Class A, this can be your best option.
Travel Trailer - These trailers are towable RVs with plenty of living space. Unlike the other units we've mentioned so far, travel trailers need to be attached to a tow vehicle. Per foot, they've got more interior space than a motorhome, since they don't have a cabin, but a con is that you have to be stopped in order to access it. The beauty of travel trailers is that you can leave them at camp once you set up, and drive around town with your vehicle detached. They can be pretty convenient if you've got a truck to pull it. The problem with travel trailers, however, is that they're considered to be more dangerous to drive than the other RVs, and require a decent size storage space when not in use.
Fifth Wheel - Like travel trailers, fifth wheels are also towable RVs. They're larger than the former and can be just as luxurious as class A RVs. They're considered to be safer and easier to drive than travel trailers, because of their design. They're even easier to pack up and have the most storage space of any towable RV. Fifth wheels require large trucks to transport them, so be aware of that. Fifth wheels make sense for families who have that sort of vehicle and want that extra space and luxuriousness that come with class A RVs, without having to dish out class A money.
RV Hire Across America with RVshare
RVshare is the world's largest peer-to-peer RV rental marketplace. We have literally hundreds of options of any RV you can imagine, located everywhere in the United States. Unlike traditional RV rental companies, when you rent through us, you're renting directly from RV owners and enthusiasts. Cutting out the middleman helps you get more choices, in more places, for lower prices!
The process to rent is made easy. All you need is your dates, rental location, the number of travelers and you're free to spend as much or little time as you want to find the perfect unit for your family! When you find what you like, simply "Request To Book" and the rest is cake.
Now that you know all of the different RV types, it makes it much easier to navigate through the site and find exactly what you're looking for. You can customize your search to show the exact RV style you're interested in only. Save hours by filtering your search by class, space, year, and even price.
Every rental comes with insurance options, 24/7 roadside assistance, and a tutorial from RV owners when you pick up the rig. Prices vary depending on RV class, but our rates start from only $10 per night. Many RV hires, depending on where in the USA, come with unlimited miles. Taxes and any deposits or fees will be disclosed up front.
American Road Trip RV Hire
All in all, a high-quality RV rental in the USA for one-way or a round trip can take only minutes to book. With RVshare there's no need to leave the comfort of your own home to search for the perfect rental for your family. See for yourself why renters keep coming back!