Top RVs Nearby
Rent an RV USA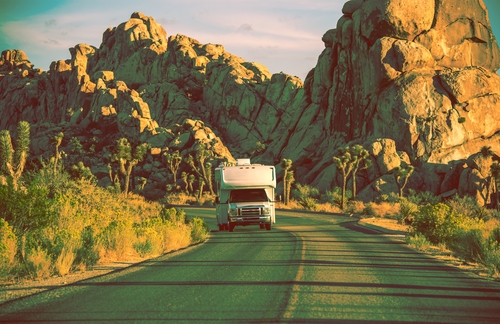 You're looking to rent an RV with unlimited miles. You've got high standards when it comes to quality, price, availability, and more. With so many options all around you, how can you find the best place to rent an RV?
RVshare can be the solution to all of your RV rental needs! In this post, we're going to learn a little more about RVshare, how to find the best RV for your family, and more!
How to Rent an RV: Which One is Best for Me?
RVs come in all sorts of shapes, sizes, and styles. One of the first things you should consider when you rent an RV trailer is which style you're looking for. From small pop-up campers to humongous class A buses, it can be hard to choose. How can you figure out which RV is best for your family?
Start by answering basic questions about what your unique needs and requirements are. How many people are going to be traveling with you? How much extra space do you need? Do you need a kitchen? Are you going to be traveling somewhere that's easy access or will you be trekking through rough terrain? What does your budget look like? What sort of amenities do you need? Do you need a luxury unit or a basic camper?
Those questions are just a few of the many that you should consider when deciding what kind of RV you need. Three of the most popular RV classes people like to rent are class A, B, and C RVs. Each has their own pros and cons.
Class A RVs are massive motorhomes that come fully loaded. They truly are homes away from home. These motorhomes have enough space for upwards of 12 people and all the storage you can possibly need. Class A motorhomes are the most luxurious of all RVs with a price tag to match. If you can overcome how intimidating they are to drive, class A RVs can make for an incredibly comfortable road trip.
Class C RVs are medium size and medium price. They're perfect for an entire family. Class C motorhomes have toilet and shower facilities, a kitchen, dining area, and even an extra storage spot (or sleeping area) on top of the driver's cabin. They've got decent fuel economy and are much easier to drive than Class A RVs, plus they take up much less space while parked.
Class B motorhomes are the smallest of the three most popular classes. They're glorified vans and only come with the basics for a comfy trip. Toilets and showers are usually in one space, and unlike the first two RVs, they don't have kitchens, although some come equipped with a few burners. Class B motorhomes are considered the safest to drive of the three classes and they're great for getting around hard to access areas. Class B motorhomes are a good choice to rent if you're staying at a campground.
Of course, there are more RVs than just these classes, but the three we talked about are some of the most widely rented and available, they all have the advantage of being motorized, are able to accommodate at least a family of four, and come with all basic living amenities.
Places to Rent an RV Near Me
Here's the exciting part. RVshare is the world's largest RV sharing marketplace. We've got hundreds of selections of all sorts of high-quality rigs, from the most ubiquitous to the most unique. No matter where you live, you can rent an RV for cheap (as little as $10 per night), because we're located all across America, in all 50 states.
If you're asking, "Can I rent an RV?" the answer is yes. Using the site is really easy. From the page you're on, you can get started on the search for your dream RV, without getting up from your couch. Here are the steps.
On the search bar, enter your dates and the location you want to pick up your unit.
Filter your search by using the handy tools provided. You can customize your search by RV class, the number of travelers, or price. You can really mix things up by choosing the year, length, and distance as well.
When you see one you like, check out an overview of the entire thing.
Here you can see pictures of the inside and out, read a detailed description about the rig, what's included, any rules owners may have, and even see if your pet is allowed to come! In this section, you'll also be able to view the price to rent an RV, including if there's a minimum number of nights required for renting, taxes, deposit amounts, availability, and last, but certainly not least, customer reviews.
Enter your dates again and you'll get your final total. If it works for you, "Request to Book" and we'll notify the owner.
You can connect with the owner to ask any questions you have about their rig. You can even try to work out any special arrangements you may need.
Want to rent an RV with unlimited miles? You're in luck. Most RVs listed on our platform come with unlimited mileage. Whether you need to rent an RV for one-way or a round trip, rates are the lowest in the industry. Avoiding holidays and high seasons helps gets you lower rates, so try to be flexible with dates.
Rent an RV Cheap
To conclude, with as many options out there as there are, it can be a pain to figure out where to start, when searching for an RV rental. However, finding a motorhome to rent doesn't need to be hard and boring work if you do it right. Search through thousands of listings easily, from the comfort of your own home. Remember, before your search, ask yourself questions like the ones we covered, and see how smooth and fun of an experience you can have finding an RV when you're using a platform like ours!