Search For RV Rentals
---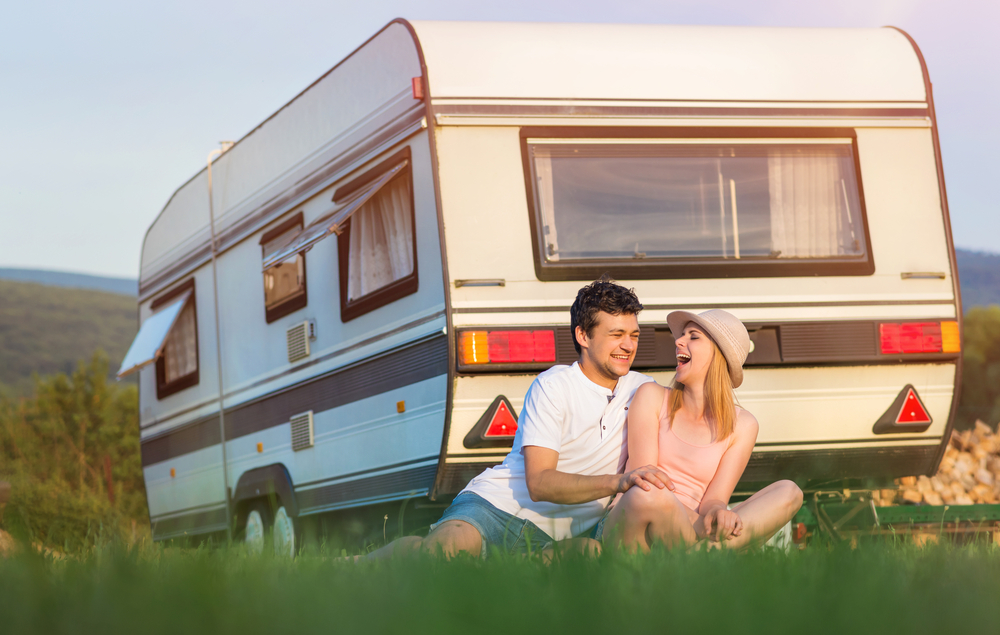 Rent a RV Trailer – The What, Where, and Why
Renting an RV for vacation is a smart decision. You'll save money on hotels and flights, and you'll be able to travel with all the amenities and appliances you could need to feel right at home. Most importantly, you'll get to enjoy being on the open road and exploring towns and cities along the way. RV rentals aren't just for vacation, either. People rent trailers for wedding accommodations, music festivals, temporary housing, and even relocating! If you're one of the millions of people who will rent an RV this year, congratulations! You're going to have a good time.
What Type of RV Rental Trailer is Best for You?
RV rental trailers are the most versatile RVs of the bunch. They come in a variety of shapes and sizes – everything from tiny teardrop trailers to giant 45-foot fifth wheels. As such, they can be used for a variety of purposes. If you're hoping for a budget trailer rental, be on the lookout for smaller, older rentals, which will save you some money. Take a look and see what type of rental trailer is right for you:
Teardrop and A-frame trailers are the smallest in their class, ranging from 8 to 15 feet in length. Obviously, the smaller sizes are just right for individuals and couples who don't mind the close quarters. Larger sizes can have enough room to sleep up to four people comfortably. Their small size and light weight make them easy to tow, even with a regular car, so they're great for renters who are new to RV rentals.
Standard mid-sized RV trailers usually measure between 16 to 25 feet in length. Inside, you'll find enough amenities to make you feel at home, like a queen or king bed, kitchenette, a bathroom with a shower, and a small entertainment center. Trailers of this size can sleep up to six people without feeling too crowded. A lot of modern trailers are made with lightweight materials so that you can tow them with a car or SUV. Otherwise, you may need to rent a pickup truck from a company like Hertz trailer rental.
Large trailer rentals are perfect for large families or groups of friends traveling together. Travel trailers attach to a hitch behind your tow vehicle and can be anywhere from 25 to 35 feet. Fifth wheels attach to a hitch inside the bed of your truck, right over the axle. This is to keep them steady and secure on the road because they are intimidatingly large - up to 45-feet long! Trailers of this size will come better equipped than most peoples' homes! With features like two separate bedrooms, residential sized kitchens and living rooms, washer-dryer combos, and even fireplaces and big screen TVs, you won't be feeling homesick anytime soon.
Toterhomes are a class of trailer all their own. They come in both travel trailer and fifth wheel style, though most families prefer the fifth wheel setup. This is because toterhomes are very large and very heavy; they're big enough to carry ATVs and outdoor vehicles in the back, and that's exactly what they're made to do! The garage in the back is equipped with stain resistant flooring and has a separate entrance so that you can keep dirt and mud out of the rest of the RV. Often, the garage section can be converted into a bedroom or living room once you take the vehicles out.
As you can see, there are many different types of truck and trailer rentals for a number of applications. Just remember that towing a trailer gets more difficult as you go up in size. It's essential that you have a tow vehicle that's appropriately equipped and powered. If not, you might want to consider renting a truck from Enterprise trailer rental. It might also be helpful to watch online tutorials for towing large trailers and fifth wheels.
Can I Rent a Camper Trailer Near Me for Moving?
Vacation isn't the only reason to rent an RV! Trailer rentals are also an affordable and convenient way to relocate, especially if you're moving out of state or across the country. Moving trucks are expensive to rent and uncomfortable to drive. Add that to the cost of having to stay in hotels as you make your way to your new home, and you can see how stressful moving can be on you and your wallet.
Instead of getting a moving truck or Penske trailer rental, why not get a toterhome or large trailer? You'll have room to pack your belongings the back of the trailer and your tow vehicle and have a comfortable place to sleep at night. If you're bringing a lot of furniture, you might want to consider getting a Ryder trailer rental box truck and towing a small RV behind it.
Where to Find Affordable RV Rentals
Whether you're looking to rent an RV for vacation, relocation, or any other purpose, you probably want to save as much money as possible, right? After all, who doesn't like saving money? Commercial rental companies often have high rates and a handful of hidden fees you don't discover until it's too late. Thankfully, peer-to-peer networking offers an alternative.
When you rent with RVshare, you'll search our nationwide inventory of RVs, including travel trailers, fifth wheels, and toterhomes. Rates vary widely depending on the size and age of the RV, but you can often find trailer rentals for as little as $50 per night! When you find the rental you're interested in, you'll work directly with the RV owner to flesh out the details. You won't have to worry about hidden fees or unclear policies – everything you need to know is right in the ad. During your trip, you'll be protected by up to $1 million in liability coverage, and you'll have access to free, 24/7 roadside assistance.
RV Rental Trailers for All Your Needs
Families and individuals love renting travel trailers because of their versatility. They offer enough space and amenities to keep even the most discerning traveler comfortable. Whether you need temporary housing, a space for your guests at an event, or you just want to make a getaway this weekend, a trailer rental is a perfect solution. When you rent with RVshare, you'll get lower rates and better customer service. Plus, it's always nice to help out a fellow RV lover, right? Happy trails!
---
Search For RV Rentals
$100
Las Vegas NV
Sleeps 5 / Class C Motor Home
$39
Loveland CO
Sleeps 2 / Travel Trailer
$120
Morrison CO
Sleeps 6 / Toy Hauler