Top RVs Nearby
Mini RV Rental in the USA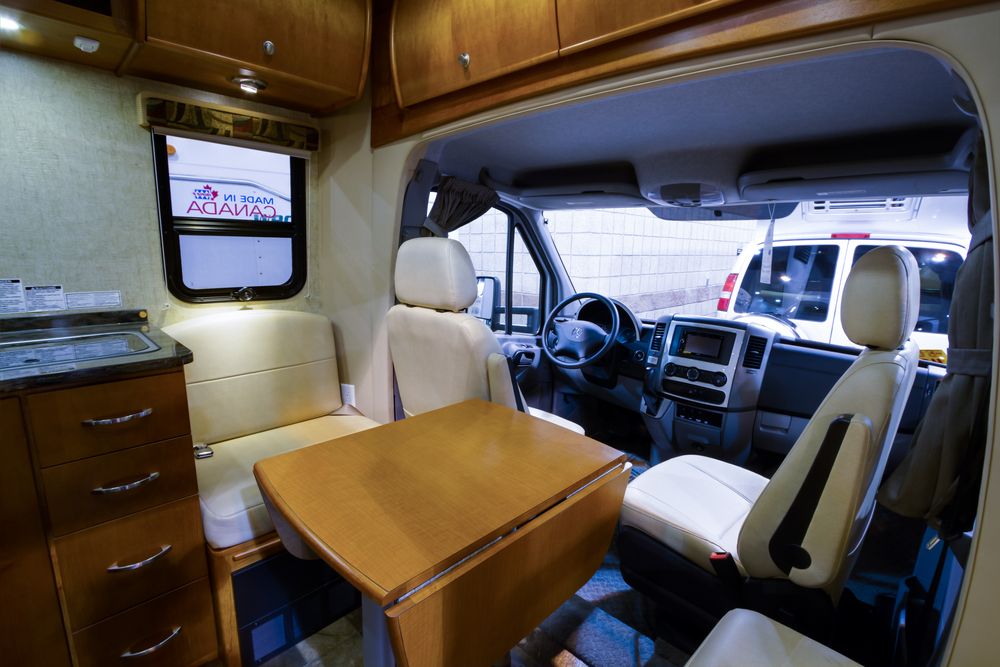 We live in a time where minimalism is a growing trend. More and more people are recognizing the benefits of living small. From tiny houses to tiny cars-minimalistic, compact designs are the new big thing.
This trend extends into the RV world a well. A growing number of people are choosing to take their vacations in smaller RVs. In this article, we'll take a look at some of the pros and cons of traveling in a mini camper trailer rental, as well as explore a few of the tiny RVs that are on the market.
Small RV Trailer Rental
There are many advantages to choosing a compact RV rental for a trip through the USA. One of the biggest advantages, of course, is the economical advantage. Large RVs tend to be gas guzzlers, which can cause you to spend a fortune if you're taking a long road trip. Not only that, the larger the RV, the more expensive the average rental rate will be. A mini RV trailer rental will typically have lower rates and have much better fuel economy.
Along with saving you money, compact RVs tend to help keep your vacation simple and to the point. You'll spend less time stressing over minor details about your rental, and more time enjoying it! It's also a great way to spend better bonding time with your family.
These little motorhomes are not without disadvantages, however. The most obvious being the lack of space. You might have to travel light to truly enjoy a small RV, otherwise, you may begin to feel cramped. They're also not ideal for traveling with more than a couple people, so they're not the best choice for a large family trip.
Best Small RV Rental
When you're looking for a small RV, there are two main classes you should search for. There's a motorized small RV, the Class B motorhome, and a non-motorized trailer, the pop-up camper.
Class B motorhomes are motorized RVs built on a van chassis, giving them a compact design that gets better gas mileage than the other motorized options. They're perfect for someone who wants to travel light and compact, while still keeping the modern amenities you would expect in a full sized motorhome. Class B is the smallest RV with a shower and a toilet, so these are perfect for traveling with convenience and comfort.
The best non-motorized RV for a minimalistic trip is without a doubt the pop-up trailer. These lightweight, compact units collapse for easy transport. Unlike most other forms of non-motorized RVs, the pop-up trailer doesn't require a large truck to tow it; almost any vehicle will do the job! These units are great for a relaxed vacation to help you connect with nature.
Small RV Rental Cost
What are the average mini RV rental rates in the USA? This will depend on a few different factors, such as where exactly you want to look for your motorhome, the length of your trip, and the time of year you plan on traveling.
Out of the two small RV choices, we went over briefly, the class B motorhome is more expensive, as it offers more amenities than the popup trailer. The average cost of a small luxury class B RV rental is around $100 to $200 per night. On the other hand, a pop-up trailer will typically only cost around $50 to $100 per night.
The cost may be a big deciding factor when choosing which RV you want to rent, but remember that there is a price difference for a reason. If you will feel cramped or uncomfortable without modern amenities in your camper, a class B sleeper travel van rental may be worth the investment.
Mini Camper Rental USA
If you've decided that a compact RV is what you're looking for, where can you find these tiny campervans for rent? You might think of turning to your local RV dealership to search for rentals, but they often won't have a large selection of mini motorhomes for rent. And even if they do, they're usually filled with hidden fees and long, confusing contracts. Is there a better place to look?
This is where online rentals can come into play! RVshare is the world's largest online peer-to-peer RV rental marketplace. With thousands of listings all over the country, you'll be sure to find your perfect mini campervan rental anywhere in the USA.
Not only do we offer a plethora of rental options, we also provide secure payments that are backed by a $10,000 peace of mind guarantee, and a rewards program to give you 5% cash back every time you book a rental online. Along with that, we offer free 24/7 roadside assistance, so you're never alone in a time of need.
How exactly does renting through RVshare work? It's simple, you can have your vacation planned in as little as four steps! You can even start your search from this very web page!
The first step is to enter the location that you want to find a rental in. Once you do this, you'll be provided with potentially hundreds of listings in that area.
The second step is to filter your search. You can filter the results by price range, RV class, the number of travelers, and more. This will help you streamline the process of finding your perfect motorhome rental.
After you've browsed through the options and found a listing you're interested in, the third step is to send the owner a quick email with a quick request to book their unit.
The fourth and final step is simple- just pick up the keys, get a short tutorial from the owner, and hit the road in your brand new mini RV rental!
Mini RV Rental 
The demand for small, compact RVs is on the rise! If you'd like to take a road trip that helps you bond with family, feel closer to nature, and experience a simpler way to travel, mini motorhomes may be the choice for you. Here at RVshare, we have hundreds of listings all over the country, ensuring that you will be able to find your perfect small RV with affordable rental rates. Your tiny RV is only a click away!