Search For RV Rentals
---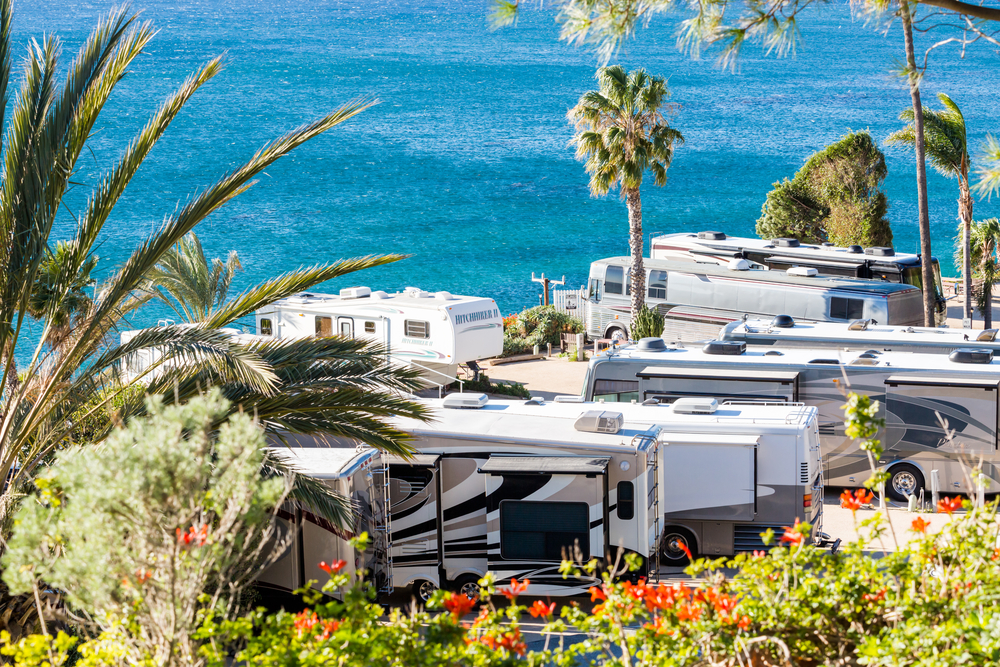 Luxury RV Rental USA - Where to Find One and Where to Camp
If you've traveled in an RV before, then you know how cozy, convenient, and affordable it is. You're able to avoid crowded airports and hotels, all while you relax and take in the sights on the road. Plus, you'll save hundreds on airline tickets and hotel rates – RV travel can save you up to 59% on vacation costs. But, if you're looking for something a little more high-end, you might want to splurge on a luxury RV rental USA. It might cost a little more, but you'll notice the difference the moment you step inside.
What is a Luxury Campervan Hire?
Luxury doesn't just mean big; luxury RVs come in all shapes and sizes. What sets apart luxury RVs from their standard counterparts are the amenities and the overall quality. Regular RVs serve well as a comfortable home base where you can cook, clean up, and get some rest after a long day of exploring. Stay in a luxury RV, though, and you'll never want to leave. Let's take a look at some examples of what you get with a luxury RV rental in the USA:
Luxury motorcoach rentals are the biggest motorized RVs on the market. These behemoths can be anywhere from 26 feet to 45 feet long! Whether it's a luxury Winnebago hire USA, or a high-end bus conversion, like a Prevost, you'll enjoy all the amenities of a million-dollar home. Leather seating, residential-sized kitchens, washer dryer combos, and fireplaces all come standard on these RVs.
Class B and Class C rentals are compact and are built on truck or van chassis', making them much easier to drive than Class A motorhomes. Look for Mercedes Sprinter or Dodge Chassis, which offer superior quality and ride. Class B vans are the smallest, measuring between 10 to 22 feet, while Class C's can be up to 30 feet long or more. Inside, you'll find designer interiors and high-end amenities. Most small luxury RV rentals will also have outdoor showers, kitchens, or entertainment centers.
Travel trailers and fifth wheels offer the most space since there's no need for a driving cab. These luxury towables can be anywhere from 10 feet to 45 feet in length. Think of it like you're towing around an upscale condo equipped with one or two bedrooms, a designer living room and kitchen, and a high-tech entertainment center for hosting movie nights. Totorhomes will even have space for you to bring along your outdoor gear and vehicles.
How to Rent a Luxury Motorhome
Luxury motorcoach rentals aren't hard to find; they just require a little extra digging. There are thousands of companies across the U.S. that specialize in luxury RV rentals of all sizes, though Class A rentals are the easiest to find. If you're looking for a specific type of RV, like a luxury Class C RV rental, check with RVshare first. Our nationwide inventory features hundreds of thousands of RVs, from vintage campervans to converted tour buses. You'll work one-on-one with the RV owner, so you won't have to sift through pages of fine print or getting hit with surprise fees.
How Much Does an RV Rental USA Luxury Cost?
As with any RV rental, the rental rates will vary based on location, age, and size of the RV. Of course, if you want a luxury RV, expect to pay for it. After all, it's a lot like staying in a high-end hotel, but with more freedom and no crowds. Luxury RV rental prices tend to fall into these ranges:
Class A motorhomes cost between $300 to $500 per night or more.
Expect to pay anywhere from $200 to $400 per night for a Class C rental.
Class B luxury vans can cost up to $350 per night.
Depending on size, travel trailers and fifth wheels can cost between $200 to $350 per night.
Where to Stay in Your Luxury RV Rental
Now that you've found your perfect luxury RV rental, the next step is figuring out where you're supposed to park it. You may have the freedom to camp just about anywhere, but that doesn't necessarily mean you want to, right? Thankfully, there are hundreds of luxury RV resorts across the country, all of which offer first-class amenities and unbeatable views. Here are a few of our favorites:
Bella Terra is an award-winning luxury RV resort on Alabama's Gulf Coast. It's just minutes away from sandy beaches, and has its own stocked, private fishing lake. Amenities include an infinity edge pool, jacuzzi and sauna, a private movie theater, a putting green, and more. There are daily events and activities, in addition to an on-site concierge who can help you if you want to make plans outside the resort.
Polson Motorcoach Resort is the top-rated RV resort in the state. You'll need a Class A RV if you want to get in, though - this is one exclusive club! Situated on Flathead Lake in Montana's Mission Mountains, the resort offers panoramic views of and plenty of outdoor activities. Amenities include private BBQ pits and fireplaces, a pool and hot tub, mini golf, and high-end bath houses.
Motorcoach Country Club in Indio, California is more like a community than a campground. Amongst its immaculately manicured grounds, you'll find private patios and grills, three swimming pools and spas, a club house and on-site restaurant and much more. Waterfront lots feature private docks with access to more than 2 miles of waterways. Guests can also relax on the golf course, play tennis, or work out at the fitness center.
Ready for Your Dream Luxury RV Vacation?
There's nothing quite like camping in a luxury RV. You'll enjoy the freedom to travel anywhere you want while having access to amenities that most people don't even have in their homes! Plus, if you stay in one of the top 75 luxury RV parks in the country, you'll get to experience resort living at its finest. If you're looking for nearby luxury RV rentals USA, check with RVshare first. Trust us - whether you rent a compact luxury van or an oversized motorcoach, you'll never want your vacation to end. Happy camping!
---
Search For RV Rentals
$100
Las Vegas NV
Sleeps 4 / Class C Motor Home
$39
Loveland CO
Sleeps 2 / Travel Trailer
$120
Morrison CO
Sleeps 6 / Toy Hauler