Top RVs Nearby
Last Minute RV Rentals USA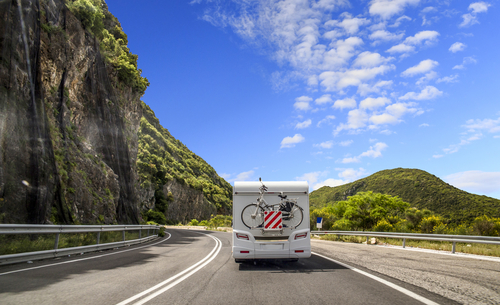 Sometimes life can throw us curveballs, and we don't always get to plan everything ahead like we might want. You might get time off of work that you weren't expecting, and decide to take a trip. Maybe a friend invites you to go camping with them last minute. Or maybe you simply get a sudden hankering for travel that you just can't shake.
These things happen, for better or for worse. But how can you throw together a road trip last minute, when you normally would have spent weeks, or even months planning for it?
Will you be able to find transportation? Where will you stay? If you're at a loss for ideas, luckily there is a solution to both of these problems.
Last Minute Motorhome Rental
One of the best things to do in a situation like that is to look into renting an RV. It's a quick solution, and it's one of the most exciting ways to travel.
In a recreational vehicle, you get to experience the open road like never before. You still get the freedom of traveling down the highways of America, but you don't have to give up the comforts of home. It's no wonder why RVing is quickly becoming one of the more popular ways to vacations!
The good news is that renting an RV doesn't have to require a lot of planning either. In fact, you can do it from the comfort of your own home! Websites like RVshare make it easier than ever to book a vehicle for your vacation.
The concept of RVshare is simple. It's a peer-to-peer marketplace that makes finding the perfect RV a breeze. With its team dedicated to keeping customers happy, 24/7 roadside assistance, and secure payments, it makes finding last minute RV rentals anywhere in the USA a simple, stress-free task.
But how exactly does all of this work? In this article, we'll take a closer look at how RVshare can be beneficial to you when looking for quick rentals, how to find the best RV rental deals, and how to find last minute rentals in your area.
Last Minute RV Rental Deals
When it comes to finding the best deals, it really depends on what type of RV you're interested in. If you're trying to find a rental quickly, you might not have time to become an expert on all things RV. But you can still learn the basics of the RV classes so that you know what type of unit works best for your trip.
There are six basic classes of RV, which can be split up into two groups: motorized and non-motorized. We'll start by taking a closer look at the three classes of motorized RVs, classes A, B, and C.
Class A is the largest and usually most expensive motorhome. It is built on a bus chassis and gives you plenty of space. It's the pinnacle of luxury when it comes to looking for an RV rental in the USA.
Class B is a campervan, which is smaller, but also easier to drive and less costly. If you're on the last minute budget, it's a good idea to look into camper van rentals.
motorhomes are in between A and C. They're a great middle ground if you're unsure of what you want.
Next, we have the three types of non-motorized RVs. These are towable trailers, so they require a vehicle to tow them.
The travel trailer is a camper that can come in many different sizes and looks somewhat like a mobile home. It requires a vehicle capable of towing a large trailer, so if you're planning a last minute trip and don't already have a truck, this might not be the best option for you.
A fifth wheel is very similar to to the travel trailer, except it's easier to drive with because of a weight distribution design. But this trailer requires a special hitch to be able to tow it, so once again, this may not be the best choice for a last minute trip.
Finally, there is the pop-up trailer. The pop-up trailer is small, lightweight, and relatively cheap compared to the other RVs. It can be towed by practically any vehicle, so it would be suitable for a last minute vacation. The only drawback is that they're pretty small, so it wouldn't be the best for bigger groups.
Once you've decided on what RV fits your needs, you can start searching for a motorhome rental that meets your needs when it comes to prices and accommodations. Let's learn how you can do that with RVshare.
Last Minute RV Rentals Near Me
When you're ready to look for your perfect RV, you'll find that it's a fast and easy process. You may be surprised at how many listings there are in your area.
First things first, you enter the type of trailer that you want, as well as the dates you want to pick up and drop off your rig. Then you'll be able to filter the results to your needs.
The next thing to do is browse through the numerous results until you find something you like. If you've found something that you're interested in for your last minute trip, you can examine the RV rentals rules set by the owner, as well as reviews for that RV.
Then all you have to do is book your RV, pick up your keys, get a quick tutorial, and enjoy your trip!
Last Minute RV Rentals by Owner
Planning a vacation can be stressful, even if you've got plenty of time to plan it. We here at RVshare know how that stress doubles under a time crunch. That's why we have a quick solution to all your RV rental needs.
Even if you're running short on time, there's no need to worry. We've got plenty of owners listing their RVs for rent -- you'll be able to book in no time at all. Once you've picked out your trailer, there's nothing stopping you from enjoying your vacation.