Top RVs Nearby
Coastal RV Rentals is not associated with RVshare. This page is simply a resource, providing more information on all RV rental options, including Coastal RV Rentals.
How Much is an RV Rental in the USA?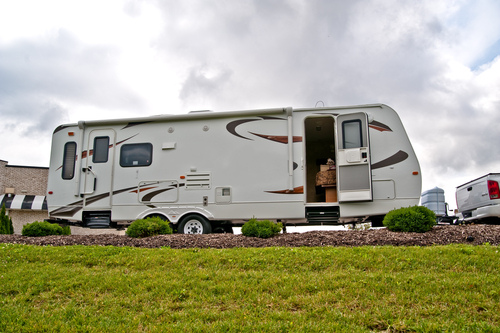 RVing is one of the best ways to explore the country. Sitting back behind the wheel of a Recreational Vehicle, while knowing all the comforts of a home are with you at all times is hard to beat. Even with the obvious benefits, many families simply can't afford their own rig. What other option is there? Renting of course.
Renting comes with many benefits that owning isn't able to give you. Specifically when it comes to pricing. How much does an RV rental cost? It depends. Read on and find out how you can get the best RV rental rates.
Typical RV Rental Cost
Many people don't realize that RVing is actually a very cost efficient way to travel. Yes, there are obvious expenses such as gas, small maintenance, and other daily needs, but overall, RVing is one of the cheapest ways to travel.
The cost of flights, hotel rooms, eating out, and other incidentals are always going to be much more expensive than traveling via RV and/or staying at an RV park. Realizing this valuable information, lots of families around the country invest in purchasing their very own RV.
However, although buying a motorhome may be less expensive than other ways to vacation, RV ownership still comes with its fair share of baggage. For example, there are monthly payments, the cost of maintaining your rig throughout the years, and cost of keeping in storage. Besides money, there are other factors to consider with ownership as well, like taking the time to make sure your rig is kept clean.
Renting provides all the pros of RVing with almost none of the cons. The cost of an RV rental is much lower than owning since you only have to pay for the time you're actually using. As long as you take care of the RV while it's in your hands, you're virtually only responsible for nightly rates and gas.
Standard RV Rental Rates
Although renting is clearly a lot less expensive than owning an RV, it takes a little effort to actually rent an RV cheap since most places tend to overcharge. The reason why they do this is that the overhead of some brick and mortar businesses is just too high. They don't only have to pay for the building, the storage, and maintaining rigs, they've also got to worry about their dozens of employees.
The average rental cost estimate at a standard dealership cast be upwards of $200 to $300 per night, plus other fees. Fret not, there is a better alternative to renting from them. Before we get into that, however, let's go ever what kind of factors may affect your motorhome rental prices.
RV Rental and Prices
How much is the cost of an RV Rental? It depends on what exactly you're looking for. Certain factors can affect how much you're paying nightly and weekly. Naturally, you'll want to figure out where you're going, how far it'll be, how long you'll be staying and how many people are traveling with you.
If you'll be traveling a long distance, you'll most likely need an RV for a longer period of time than if you were going just a couple of hours away. In that scenario, it's best to look for cheap RV rentals with unlimited mileage to save you the most money.
If you're traveling with two people, maybe you'll only need a small to mid size RV. A Class B may be the perfect fit. It's built on the chassis of a van and comes equipped with all the basics you'll need for your getaway. Amenities may include a burner, microwave, toilet, sink, and shower.
However, if you know that you'll be traveling with a large group, or you prefer a little space and luxury, a Class A RV may be your best bet. They're built from the chassis of buses and come loaded with all the bells and whistles. Class A RVs are comfortable for groups of four and upwards up 12 or more people.
Average Cost of RV Rental
Now that you know the advantages that come with rentals and you have a better idea of what you're looking for in an RV it's time to find the best rental out there!
We're RVshare and we're the world's largest peer-to-peer RV rental marketplace. From the smallest of campers to the largest trucks and buses, we've got any RV you can possibly imagine. They're unique, high-quality, and best of all, our rates start at only $10 per night. How's that for a discount RV rental?
At RVshare, you rent directly from owners and enthusiasts. Every rental booked through our secure platform is backed with a $10,000 peace of mind guarantee, and free 24/7 roadside assistance.
Average nightly rates are as follows:
Class A - $150 to $250 per night
Class B - $75 to $125 per night
Class C - $125 to $175 per night
Besides nightly rates, you'd be responsible for taxes and a refundable security deposit.
Of course, prices vary on when you rent and how long you rent for. The monthly RV rental cost largely depends on what kind of deal you can make with the owner. But usually, the longer you rent, the less your nightly rate is.
Having a sharp eye and being flexible with your dates is also another way you can save money. For example, some owners price their RVs to cost more on holidays, while other owners run specials discounts on holidays.
How Much Does it Cost to Rent a Travel Trailer Conclusion
If you're excited to go on an adventure around the country but don't own an RV, there's never been a better way to rent one!
With RVshare you can save as much money as possible while still getting a high-quality RV for as long as you need. Try out platform out today and we guarantee that RVshare will be your company of choices every year you go camping!