Search For RV Rentals
---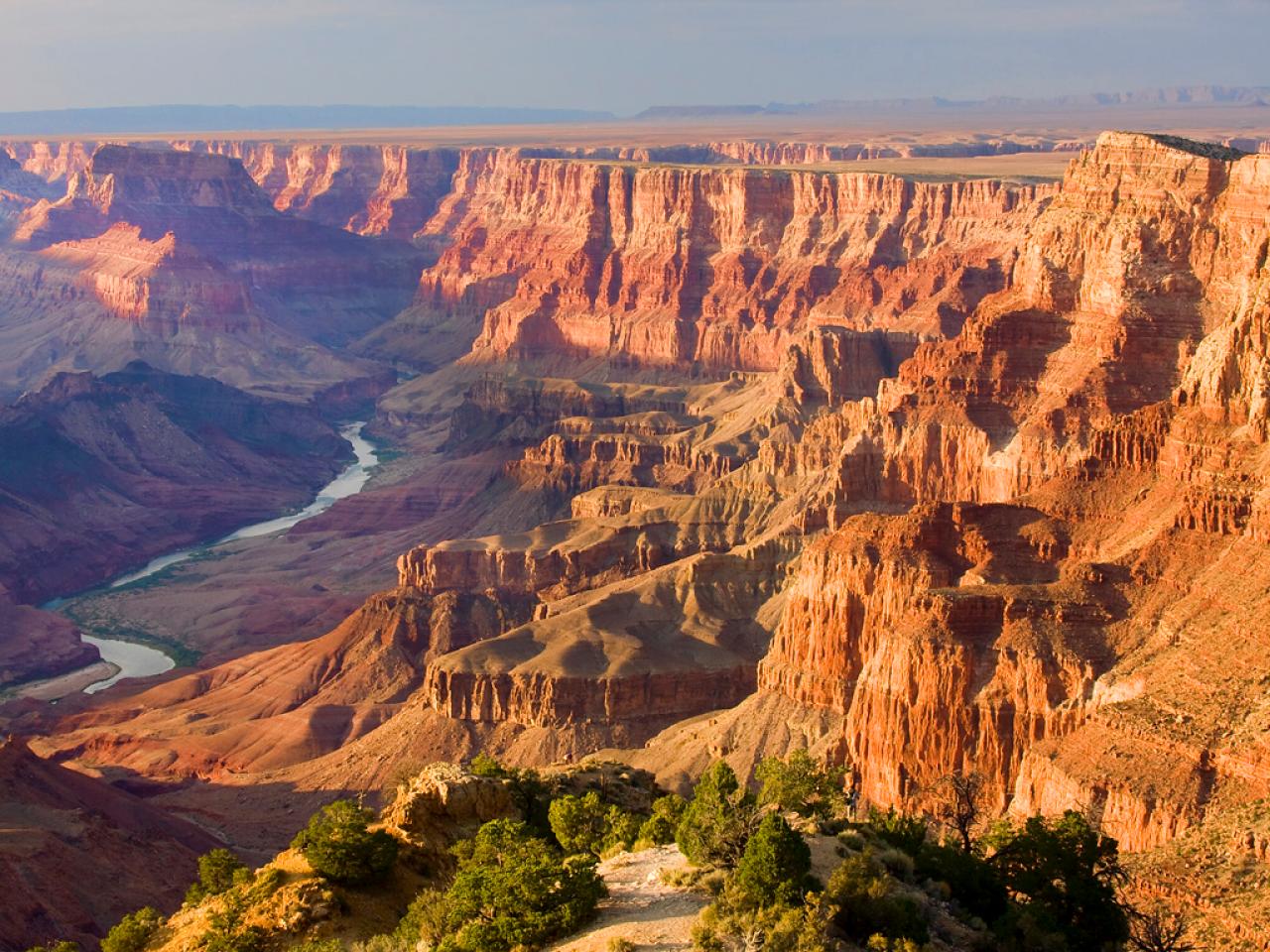 Rent an RV Near Grand Canyon National Park
Grand Canyon National Park RV vacations are an American tradition, and one everyone should have the opportunity to take part in at least once. The sweeping vistas, frothing whitewater rapids, and breathtaking views that make up the Grand Canyon are something that must be seen to be truly appreciated.
Therefore, it is always a good idea to find an RV for rent near Grand Canyon National park, so pack up and hit the road for the adventure of a lifetime in this vast and gorgeous canyon landscape.
Image source: travelchannel.com
When to Visit With Your Grand Canyon National Park RV Rental
Summer in the Grand Canyon is hot and crowded. Meanwhile, the mid-winter months bring bitterly cold temperatures and a possibility of snow. For this reason, the ideal time to rent an RV near Grand Canyon National Park is the spring or fall, when temperatures are warm but not hot, and the crowds have thinned out. During these times, even something as simple as a Grand Canyon pop-up camper rental will leave you feeling comfortable throughout the night and day.
What To Do After Finding an RV for Rent Near Grand Canyon
Learn Something New
Whether you decide to check out the visitor center or one of the park's museums, you are sure to learn something new during your visit. The orientation video shown in the visitor center is a great way to begin your trip after parking your Grand Canyon motorhome rental, and the many museum exhibits will keep you entertained for a few hours as well.
Take in the View
One of the very best things about a visit to the Grand Canyon is the incredible view. Be sure to savor this view by heading out of your Grand Canyon camping trailer rental and hopping on a bike, hitting the trails, or taking a scenic bus tour.
Hire a Mule
Another amazing way to take in the glory of the Grand Canyon is on the back of a mule. Mule trips are offered year-round and leave from the South Rim. Be sure to make reservations in advance because this is a very popular activity!
Ride the Water
Whether you prefer a thrilling trip through rapids or a calming half-day venture on top of the waters of the Grand Canyon, there is an option available for you in this national park. Be sure to line up your Grand Canyon camper rental first though, as you'll definitely want a comfy place to return to after your adventure.
Join a Ranger
Walks, hikes, and talks are just few of the activities offered by rangers in this national park. Therefore, you'll want to download a schedule of offerings during your trip just as soon as you rent a motorhome in Grand Canyon National Park.
Affordable Camping to Match the RV Rental Prices in Grand Canyon National Park
One of the very best things about camping is just how cost-effective it is. For this reason, many people who are looking to camp search for the lowest Grand Canyon RV rental rates and the most affordable campground fees out there. Fortunately, there are plenty of inexpensive campgrounds and cheap RV rentals near Grand Canyon National Park, making it easy for anyone to afford an exciting adventure of their own.
Federal Campgrounds
North Rim Campground — The only in-park camping option in the North Rim, North Rim Campground is open mid-May through October and is a great place to park your Grand Canyon camping trailer rental. The sites at this location do not have hookups, but there is a water refill station and a dump station available. Additionally, coin-operated laundry and shower facilities are nearby.
Mather Campground — This is the most popular of the three federally owned in-park campgrounds. Therefore, reservations are highly recommended during the high season. While there are no hookups available in Mather Campground, there are restrooms and showers nearby.
Desert View Campground — Desert View Campground provides visitors with the perfect rustic camping experience. With so many campers for rent in Grand Canyon National Park, you are sure to find one that can keep you comfortable in this simple, hookup-free campground.
Private Campgrounds
Trailer Village RV Park — Although it is located in the park, this full-service RV park is privately owned. It offers guests full hookups, pull-through sites, year-round camping, and an amazingly convenient location. This is the perfect place to book after finding your travel trailer rental in Grand Canyon National Park if comfort and convenience are important to you.
Grand Canyon Camper Village — This campground is located just 25 miles from the entrance of Grand Canyon National Park. It offers full hookups at an affordable nightly rate. Best of all, the campground also offers clean showers, a laundry room, and a camp store. If you are looking for comfort and value, this is the place to go after you rent a camper near Grand Canyon.
Kaibab Camper Village — The only RV park with full hookups on the North Rim, this is the place to take your Grand Canyon RV rental for a peaceful and relaxing camping experience. Kaibab Camper Village is nestled amongst trees, making it a lovely place to stay.
Campers for Rent in Grand Canyon National Park
By now you are probably wondering how to get your hands on a camper rental in Grand Canyon National Park. You might also be wondering about camper availability and RV rental prices in Grand Canyon. Fortunately, we here at RVshare can answer all of these questions and more.
Check out the listings below for a small sampling of what you might find on our site.
One-Way RV Rental to Grand Canyon National Park
One-way RV rentals to Grand Canyon National Park are something that a good number of travelers look out for. If this is something you also want, you might consider having this 21-foot trailer delivered to your site.
Cheap RV Rentals Near Grand Canyon National Park
Are you short on cash and looking for something a bit easier on the wallet? This toy-hauler trailer might be just the thing. At just $100 a night, it's hard to beat the value offered by this little RV.
Luxury RV Rental Grand Canyon National Park
This incredible class-A is an amazing example of a luxury RV rental near Grand Canyon National Park. By renting this beautiful rig, you'll be plenty comfortable and content for your entire trip.
Grand Canyon National Park RV Rental Rates & More
Want to learn more about the cost to rent an RV in Grand Canyon National Park, as well as additional details on the rigs we have available? Be sure to run a search on our website and gather all the info you could possibly need.
---
Search For RV Rentals
$100
Las Vegas NV
Sleeps 5 / Class C Motor Home
$39
Loveland CO
Sleeps 2 / Travel Trailer
$120
Morrison CO
Sleeps 6 / Toy Hauler