Top RVs Nearby
Get an RV from an RV Rental Agency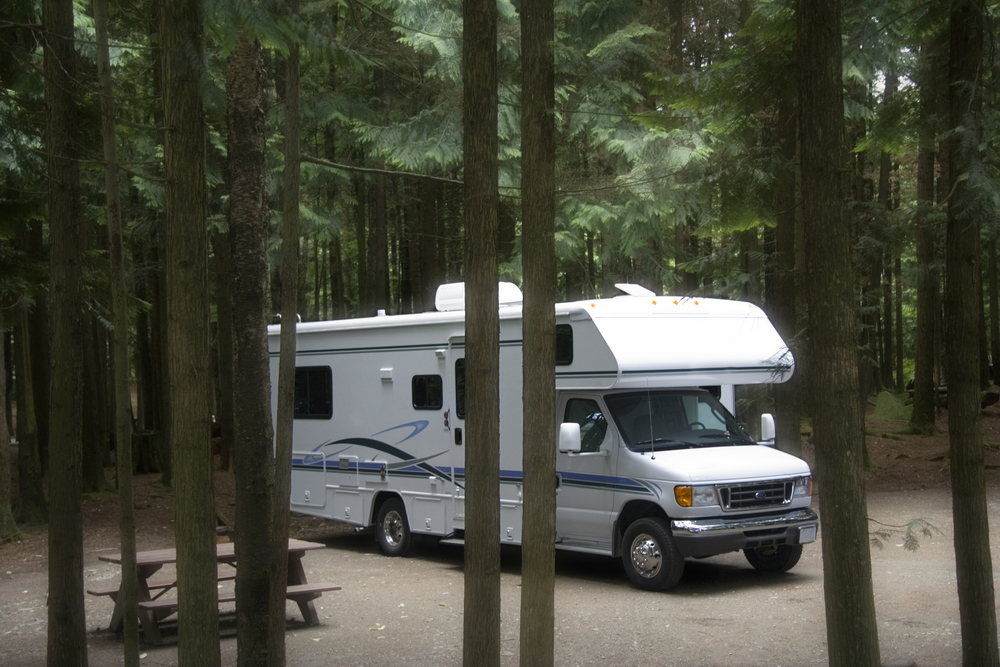 Road trips are an increasingly popular way to explore the country. With a road trip, you can explore the open road, experience new things, and see beautiful sights; all at your own pace. One of the best ways to travel the road is by taking your trip in an RV.
Recreational vehicles first gained popularity in the 1950's, and have since been a staple of the American road trip. Recently, however, the RV industry has been booming like never before. More and more people are realizing the benefits of the RV lifestyle.
Traveling in an RV lets you experience all the benefits of a road trip, without losing any of the modern comforts you're used to having at home, and at a fraction of the cost of other forms of travel! In this article, we'll delve into the RV market to learn about all the options so that you can know exactly how to find the best deal on an RV.
RV Rental Companies
First things first, you need to decide what method you want to use to get an RV. Buying an RV might be the right choice for some people, but most people simply can't afford the costs of ownership. Owning a motorhome comes with monthly payments, maintenance and repair costs, and the stress of finding a place to store such a large vehicle.
A better option for most people is to rent an RV. Instead of making monthly payments on a unit you may only end up using a couple times a year, you can pay only when you need it. This can save you quite a bit of money. In fact, renting an RV can save you up to 57% on vacation costs compared to other forms of travel.
So, you might be wondering "Where can I find an RV rental agency or association near me?" There's always local RV rental companies, but these usually only have a few models available for rent, so your choices might be limited. On top of that, they often have hefty hidden fees, and contracts so confusing that you'd need to look over them for hours before signing.
You could try searching through the different RV motorhome rental companies all over the USA, or you could save time and money by turning to online rentals. This will allow you to avoid wasting time shopping around at different dealerships trying to find a motorhome you like. Where can you find online rentals?
RV Rental Association
RVshare is the world's largest online RV rental company, with thousands of rentals listed by owner all over the USA. That means you can find motorhomes for rent anywhere in the country that you want, at a price that won't break the bank.
There are more perks to RVshare than just the plethora of listings though! We offer free 24/7 roadside assistance, so you'll never feel lost if something goes wrong on your trip. When it comes to paying for your rental, RVshare guarantees secure payments, backing them with a $10,000 peace of mind guarantee. Along with that, we have a rewards program that will give you 5% cash back towards your next rental every time you book with us.
RV Rental Agency Fees
How much does renting from RVshare cost? The exact price depends on which rental you choose, but there are never any hidden fees. We have the best RV rental rates available, with listings starting as low as $10 per night!
To find a rental, all you have to do is use our simple, user-friendly search tool. In only a few minutes, you'll have a motorhome camper rental booked for your vacation. In fact, you can start your search from this very web page!
The first step is to enter the location you want to search for you RV. You'll then be provided with potentially hundreds of motorhome listings in the area you chose. Next, you can start to narrow down your results.
Simply filter the listings to streamline the process of finding your perfect unit. You can filter them by price range, the number of travelers, type of RV, and more. Then you'll only have to browse through campers that meet your every need.
You can find more details on an RV by looking at the description. There you'll find information such as the minimum age requirement, whether or not the motorhome is pet-friendly, and if smoking is allowed or not. If you have any concerns or questions, all you have to do is send the owner a message and they'll get back to you promptly.
Once you've found the rental you would like to use for your trip, all you have to do is send a quick email to the owner with a request to book their listing. If you're up to it, you can even try your hand at negotiating the price.
Once the owner has accepted your request, all you have to do is pick up the keys! The owner will give you a quick tutorial so that you know all the ins and outs of your rental. You can ask any questions you may have, and then you'll be ready to hit the road.
After you've enjoyed your vacation, all you have to do is fill up the tank and return the rental. Then you'll be ready to start planning your next trip!
Using an RV Rental Agency
There's nothing quite like traveling on the open road in an RV. Feeling the wind in your hair as you drive down the highway, sleeping under the stars, sightseeing and bonding with family-RVing is truly an exciting way to vacation. And the best way to do that is to rent a motorhome.
RVshare is one of the top RV rental companies in the world. With our easy to use search tool, you'll be able to find your dream camper with ease. You'll be ready to hit the road in no time at all!