Top RVs Nearby
Get a Mid Size 30 Foot RV Rental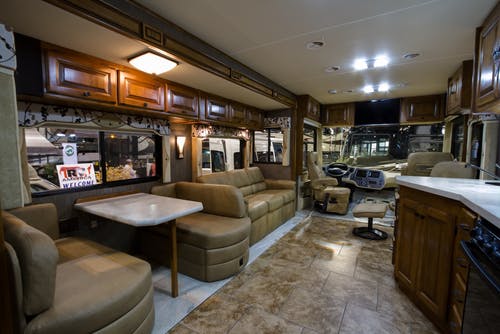 RVing has become one of the most popular ways to travel in recent years. If you're interested in joining the road trip trend, how can you choose the right RV? Will you need a large motorhome or would a small trailer be a better fit? There are a few things that can determine what size RV is right for you.
In this article, we'll take a look at the factors that can determine what size RV you should choose, as well as examine some of the RV types to help you make a more informed decision.
Best RV Size
Some factors that will determine which RV is right for you, include how many people you plan on traveling with, how long of a trip you plan on taking, and where you plan on camping.
If you plan on taking a large group of family or friends on your trip with you, you'll need a larger RV to fit everyone comfortably. Class A motorhomes and travel trailers are good choices for large groups. Class A motorhomes are RVs built on a bus chassis, and often have slide outs, so there is no shortage of space. Travel trailers are a less luxurious, but more affordable option. They are towable trailers that can come in a variety of sizes.
On the other hand, if you're only traveling with a few people, a smaller unit would be advisable. Smaller trailers are typically more affordable than larger RVs. An example of smaller motorhomes would be the class B unit, which is built on a van chassis.
RV Size Limits
The campgrounds you choose to stay at can also affect your RV rental size. Many campgrounds allow any type of RV, but some sites have RV size restrictions. Because of this, it's a good idea to call ahead to make sure your motorhome is an acceptable size for their campsites. But when it doubt, it may be best to go with a small-to-medium sized rig.
Small Luxury RV Rental
If you decide that a small motorhome is a better fit for your needs, it's a good idea to learn more about the different small trailers, as well as find out the average small RV rental rates and prices. We'll explore two different types of small motorhomes; a more luxurious motorized RV, and a more primitive towable trailer.
First up, we have the class B motorhome. This is a motorized campervan that has a few of the modern amenities, such as a small kitchenette and a bathroom. The average price for a small Class B campervan rental in the USA will typically be around $100 to $200 per night.
Next up is a great choice if you prefer a more primitive camping experience. The pop-up trailer is a small, lightweight trailer that collapses for easy transport. What is the cost of this small RV rental? On average, it will be less than $100 per night.
30 Foot RV Rental USA
Small RVs definitely have their place, but sometimes you just need a little extra space. Maybe you're traveling with your entire family, or perhaps you want to bring some friends along with you. A 30ft RV rental could be just what you need! They've got the mobility of smaller RVs, while also having the storage space, amenities, and luxury of larger motorhomes.
A popular option for a 30-foot motorhome is an RV travel trailer. These RVs are towable trailers that must be towed by a separate vehicle. They have enough space to travel with a large group, and usually, a 30-foot motorhome like this will have open floor plans to keep everyone comfortable. The only downside to a travel trailer is that it might take a bit to get used to towing one.
What will a 30 foot RV like this cost when it comes to rental rates? The specific price will vary by location, model, and year; but on average, a travel trailer will have an average rental rate of $50 to $125 per night.
Now you might be wondering, "Where can I find a 30 foot RV rental near me?" Luckily, there's an easy way to find any type of RV that you're interested in!
RVshare is the world's largest online RV marketplace. That means that you'll be able to find thousands of RVs listed directly by their owners, at affordable prices. In fact, we have rentals starting at just $10 per night!
Along with the low prices, we also offer secure payments, backed by a $10,000 guarantee, a rewards program that gives you 5% cash back towards your next vacation every time you book a rental online, and free 24/7 roadside assistance.
So how exactly does RVshare work? Well, with our easy to use search tool, you can find your perfect RV in a matter of minutes. There are only a few steps to starting the vacation of a lifetime.
The first thing to do is enter your location, or the location you want to pick up your RV Rental. You can enter this into the search bar from the be page that you're on now! Once you've done that, you'll be provided with potentially hundreds of listings.
Next, you can start to filter your results to better match what you're looking for. You can filter the price range, RV class, and RV size to streamline the process of finding your perfect match.
Once you've found an RV you're interested in, all you have to do is send the owner a quick email with a request to book their unit. After they've accepted your request, you'll meet them to pick up the keys and receive a quick tutorial. Then you'll be ready to hit the road!
RV Rental Size Conclusion
Choosing the right RV for your vacation may seem like a hard decision, but once you know what you're looking for, it's a piece of cake. With RVshare, you can easily find exactly the right motorhome for any type of vacation you have in mind. In just a matter of minutes, you'll be ready to hit the road in the perfect size RV for all your needs.