Top RVs Nearby
Fifth Wheel RV Rental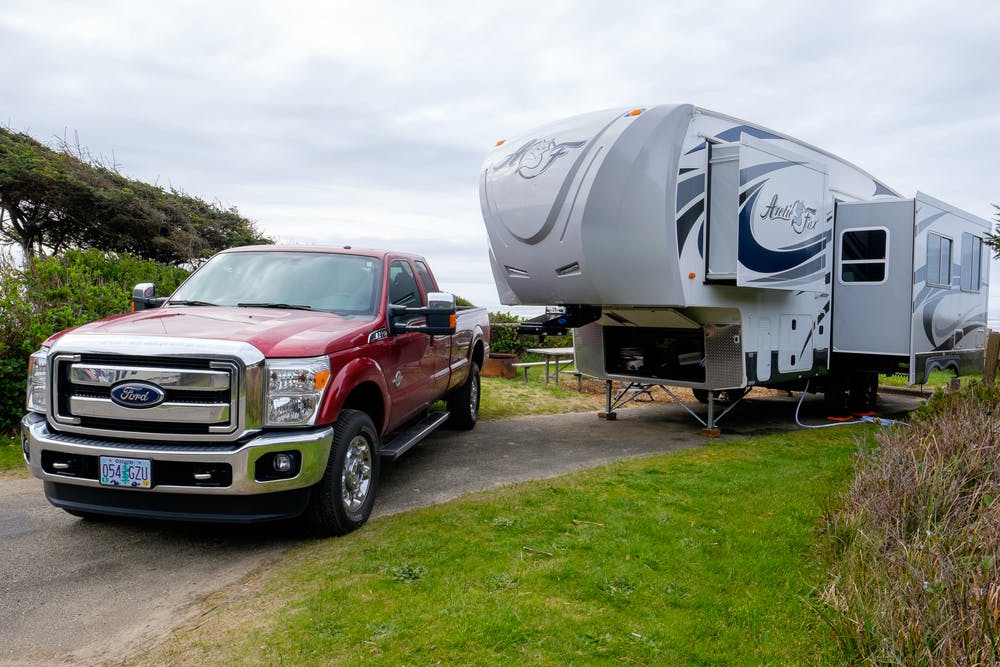 If you've been planning your road trip for a while, you're no doubt excited. Your family is probably getting anxious to hit the road, looking forward to all the stops you've planned to see. But there's one important decision left to make; how are you going to make the trip?
You've done your research and decided that renting an RV is the route you want to take. You're just not sure which RV would best suit your vacation. In this article, we'll take a look at the fifth wheeler, one of the most popular and economical RV classes, to help you decide if it's a good fit for your vacation.
Fifth Wheel Camper Rental
So what exactly is a fifth wheel RV? It's a towable travel trailer with a fifth wheel hitch. These trailers generally have lots of roomy living areas, since they don't need space for a driving cab. With a long body and high ceiling, they can give you ultimate comfort on your trip. Most fifth wheels come equipped with a fully working kitchen and bathroom, and some more luxurious models even have washers and dryers! So how can you decide if a fifth wheel is right for you? Let's take a look at some of their pros and cons to help you make a decision.
There are many advantages to traveling in a fifth wheel RV trailer rental. One of the main advantages being that fifth wheels are perfect for ultimate comfort. With the roominess that comes with their size, you'll never have to worry about feeling cramped, and you can travel with the entire family!
The fifth wheel camper is a great choice for a beginner RVer, as they're considered a safer trailer option. Along with that, many people find them easier to drive, since the fifth wheel hitch distributes the weight of the RV more evenly.
Another huge advantage to these trailers is the price. The average fifth wheel rental will cost much less than any motorized RV. You can even find a new, luxurious model for the same price or less than a basic motorized trailer!
That's not to say that a fifth wheel camper isn't without its disadvantages though. The number one being that if you don't have the proper towing vehicle, you won't be able to attach your trailer. If you don't already own a truck with a fifth wheel hitch, buying or renting one is another huge cost to add to your trip.
While the size of these trailers allows for comfort and relaxation, it can also pose a problem. Finding somewhere to park such a large trailer can be difficult. It also requires a bit of extra effort when planning which campground or RV park you'll want to stay at; you need to make sure the site doesn't have any size restrictions.
Fifth Wheel Toy Hauler Rental
Some fifth wheels are also what is known as a toy hauler. What does that mean? A fifth wheel toy hauler has a garage area in the back of the trailer that comes equipped with heavy-duty floors and seating. This allows you to bring outdoor toys and vehicles such as bikes, ATVs, and go karts on your trip with you. A fifth wheel toy hauler rental is the perfect way to enjoy your outdoor vehicles anywhere in the USA.
Fifth Wheel Rental Cost
If you've decided that a fifth wheel trailer is the right fit for you, there's still a few questions to answer. You might be wondering, "Where can I find a fifth wheel RV rental near me? How much will it cost?" Believe it or not, the best place to find cheap camper trailer RV rentals is online!
RVshare is the world's largest online peer-to-peer RV rental marketplace, meaning that you can find a rental listed directly by the owner, anywhere in the country. How does it work? You can find fifth wheel campers for rental in only a few clicks of a mouse!
Enter the location you want to find a rental. You can even do this from the very web page you're on now! You'll then be provided with a list of all the rentals in that area.
Filter your results based on price range, the number of travelers, class, no more. This will help narrow down the options so that you don't waste time looking through listings that won't fit your needs.
Send the owner a quick email with a repeat to book their rental. You can also ask them any questions you may have about their RV.
Once the owner approves your request, just pick up the keys, receive a short tutorial, and you'll be ready to hit the road!
So how much does it cost to rent through RVshare? That depends on a few factors, such as the RV model you choose, what time of year you're vacationing, and how long your trip will be. But in general, a fifth wheel RV rental will cost around $60 to $150 per night.
Long Term Fifth Wheel Rental
You can save money on nightly costs if you're planning on taking an extended vacation. Many RV owners will offer a discount if you rent their RV long term! All you have to do is ask them about discounts when you send them an email. If you are planning an extended trip, your best bet is to rent a 5th wheel camper. They offer the most luxury out of the cheaper RV options.
RV Fifth Wheel Rental
If you're looking for an RV to take your family on the ultimate road trip, a fifth wheel trailer is a great option to look into. They offer comfort, luxury, and affordability all in one unit! They're great for family trips, or long term rentals.
RVshare is the best place to find a fifth wheel camper for rent. With low prices and plenty of options, you'll be able to find your perfect RV match in no time at all. Starting your vacation is only a few clicks away!