Top RVs Nearby
Discount RV Rental in the USA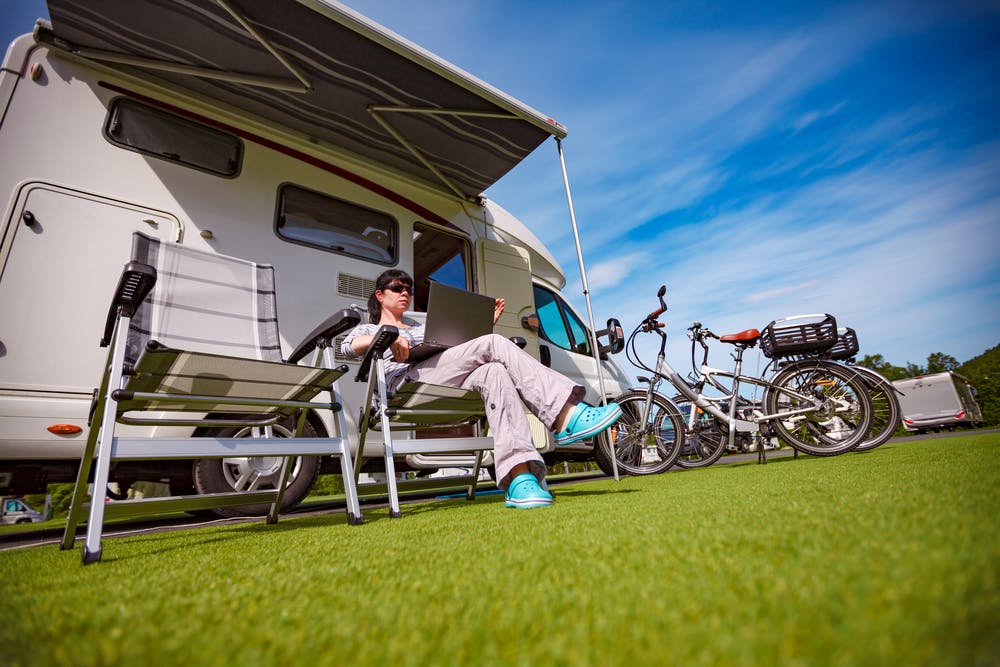 Planning a vacation is an exciting time, especially if that vacation is a road trip! There's nothing quite like exploring the country from the freedom of the open road, and the planning period is the time you start to get truly excited and anxious to start your trip. However, it can also be stressful, especially if you're on a budget.
It might seem like it takes forever to find the best deals, especially when it comes to finding affordable ways to travel. But it doesn't have to be that way! Let's explore how you can plan an inexpensive road trip with ease, and where to look to find the best deals.
Inexpensive RV Rental
One of the most exciting and convenient ways to travel also happens to be one of the most adorable ways to travel! RVing is a great way to explore the open road in comfort without spending a fortune. But what's the best way to find an RV for your road trip?
Buying an RV may be the first thing many people think of, but it's certainly not the most affordable choice. RV ownership comes with monthly payments, maintenance and repair costs, and the expense of finding a storage space for such a large vehicle. What's a better way to find an RV?
The cheapest way to find an RV for your vacation is to find a rental. Renting an RV allows you to enjoy all the perks of ownership, without the massive expenses. Instead of paying monthly for a motorhome that you might only use one or two times out of the year, renting allows you to only pay for the camper for the duration of your trip.
Where can you find a cheap RV to rent? Your local RV dealerships may offer rentals, but they may not have the best RV rental deals and rates. These businesses often have many hidden fees, and long, confusing contracts. On top of that, they usually don't have very many rental options available.
So now you might be wondering "Where can I find cheap RV rentals near me?" The answer is simple - online!
Cheap RV Rental
RVshare is the world's largest peer-to-peer online RV rental marketplace. This means that we have cheap RV rentals to fit anyone and everyone's needs- from cheap RV rentals with unlimited mileage to a discount one way RV rental, there's an affordable option for everyone. With rentals starting as low as $10 per night, you'll be sure to find what you're looking for.
Here at RVshare, we understand the importance of sticking to a budget, which is why we offer certain perks to help keep your vacation running smoothly. For instance, we provide free 24/7 roadside assistance, so that you won't have to pay more than necessary if something were to go wrong on your trip. We also offer a rewards program that gives you 5% cash back towards your next rental every time you book an RV through us.
How exactly does renting through RVshare work? Well, in only a few simple steps, you can book your cheap, hassle free campervan RV rental. In fact, you can start your search from this very web page!
The first thing to do is enter the location that you want to find a rental in. You'll then be provided with all of the listings in that area. You can browse the options here, or move onto step two.
Step two is simple. Just filter your results based on price range, RV class, the number of travelers, and more. This will help narrow down your options so that you're only looking through rentals that meet all of your needs.
Once you've found your perfect RV rental deal, all it takes to book it is a short email with a request to the owner. After the owner has approved your request, you'll be ready to pick up the keys from the owner at the time and place you agree upon. There, they'll give you a quick tutorial so that you know all the ins and outs of your rental. After that, you're ready to hit the road!
RV Rental Specials
What are the average motorhome rental prices? This will depend on factors such as where you're renting from, what time of year you're renting, and most importantly, what kind of RV you're renting.
Typically, the bigger the RV, the more it will cost. This is not always true, but it's a general rule of thumb. On average, however, these will be the price ranges you can expect from the different motorhome classes.
Class A $175 to $275 per night
Class B $100 to $200 per night
Class C $150 to $200 per night
Travel Trailer $50 to $125 per night
Fifth Wheel $60 to $150 per night
Pop Up Trailer $50 to $100 per night
There are a few ways you can save even more money on your rental. If you find a listing that offers unlimited generator usage and mileage, you won't have to worry about any overage charges. You can also try your hand at negotiating the price with the owner if you're feeling it! In fact, most owners will offer a discounted price for longer rentals if you're planning on taking an extended vacation. It's always a good thing to ask about!
Rent an RV Cheap 
Road trips in RVs are vacations unlike any other. Nothing else can give you the freedom that you get from the open road while enjoying all the comforts and amenities you're used to having at home. Planning a road trip should be a time of excitement, not a time of stress and panic.
Having a good budget in place is one way to alleviate stress, but keeping a budget can prove to be a difficult task. Renting an RV is the perfect way to eliminate extra costs, such as hotels, from your budget. Here at RVshare, we provide world class motorhomes that can fit any price range. You can finish planning your vacation by booking a rental in only a few minutes. Let the planning come to an end, and the road trip begin!