Search For RV Rentals
---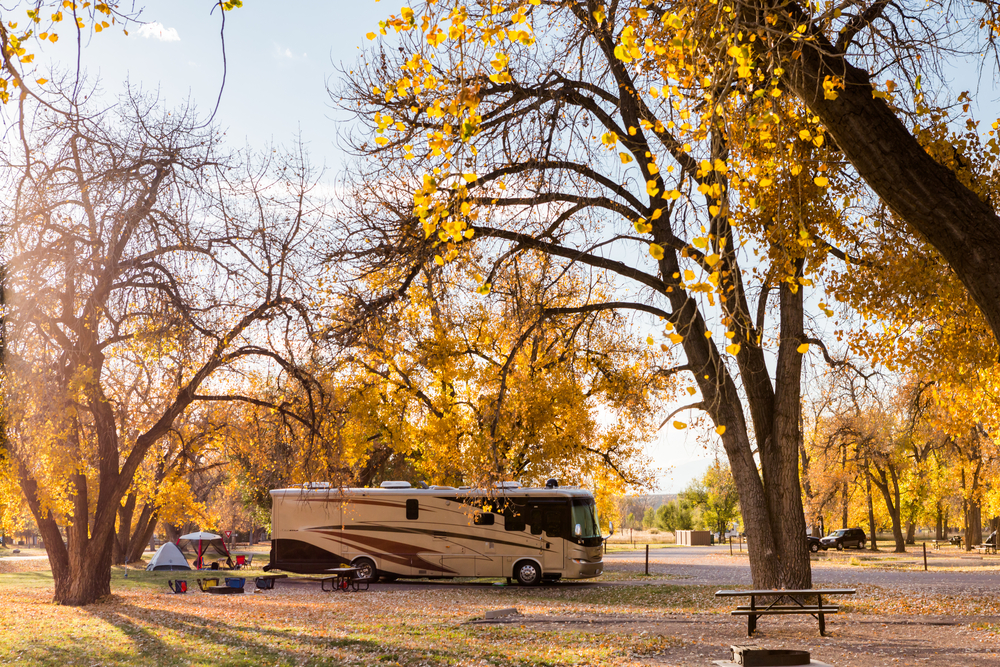 Looking for a Deluxe RV Rental?
RVs rentals are an affordable and comfortable way to camp. Whether staying deep in the woods or at a seaside lot, RVs keep you off the ground and out of the elements. But some people want a little more out of their home on wheels. Luxury RVs may be expensive, but they're worth the cost if you can afford it. They're the show-stoppers of the RV world and are guaranteed to draw attention wherever you go. What's more, you don't have to spend hundreds of thousands of dollars to buy a luxury RV – there are plenty of premium RV rentals available across the United States.
Deluxe Motorhome Rental – Finding the Right Size for Your Needs
Camping in a luxury RV vacation rental is a magical experience. Once you do, you'll never want to camp any other way again. With all the amenities of a state of the art home, luxury RVing is like bringing a five-star hotel with you wherever you go. High-end RVs come in all shapes and sizes, from small luxury vans to gargantuan diesel motorhomes. You'll need carefully consider which size you'll choose, as it affects price, maneuverability, and where you'll be able to stay. Keep the following in mind:
If you're looking for the height of luxury, the diesel Class A is it. With sizes as long as a whopping 45 feet, there's more than enough room for the whole family. Executive RV rentals like Class A's are chock full of every amenity you could want. Washer/dryers, dishwashers, residential sized kitchens, and large entertainment centers all come standard with luxury Class A's. The only thing you'll have to worry about is prying yourself away from the RV to enjoy the outdoors for a bit.
Luxury RV van rentals are compact, motorized conversion vans. The high-end models are usually built on Mercedes Sprinter chassis', though there are others built on Dodge and Ford chassis' as well. Vans are the smallest in the motorized category, ranging from 16 to 22 feet or more. Most budget-friendly vans don't have bathrooms, but you can bet that a luxury van will. With impressive features like leather seating, custom wood finishes, outdoor entertainment centers, and more, camping in a luxury van is far different than "living in a van down by the river."
Campervans, also known as Class C RVs are mid-sized motorized RVs. Smaller than Class A's but bigger than conversion vans, deluxe campervan rentals range from 25 to 30 feet or more. They're perfect for big groups as the larger sizes can comfortably sleep up to ten people. Their midrange size makes them easier and more natural to drive, which is great for beginners. If you rent a luxury Class C, you'll have plenty of space to kick back and watch TV, entertain a few guests around the outdoor kitchen, or get some shuteye in the plush master bedroom.
Luxury travel trailers and fifth wheels offer a different way to camp. Since they're towable, they're easy to unhitch if you need to take your truck into town for groceries or a night out. Don't be fooled, though; they're just as spacious as motorized RVs; some luxury fifth wheels can be as long as 43 feet! And, since there's no need for a driving cab in the trailer, you'll get extra space for a second bedroom or hangout area. Even better, second bedrooms usually have separate entrances - a huge plus if your kids want privacy, or if you want to keep muddy footprints out of the main living area.
The Best of the Best: Custom RV Rentals
One of the best things about VIP camper rentals is that they're often custom built. Many have unique features and finishes, like hand-carved wood trim, designer fabrics, porcelain floors, and much more. Stepping into a luxury RV is like stepping into a multi-million-dollar home (since that's pretty close to how much they cost to buy). Finding a deluxe RV for rent may not be as easy as finding any regular old RV rental, but it's certainly not difficult. Search for premium RV rentals near me to find nearby local businesses that specialize in luxury RV rentals.
Or, if you're looking for a particular class of RV, take a look through RVshare's online inventory. We have thousands of RV rental listing across the country, all for rent by owner. Once you type in your location, you can filter the results by price, size, and RV type. When you've found the perfect RV, you'll work directly with the owner to sort out the rental costs. You'll be able to meet the owner face to face when you pick up the RV; they'll give you a walkthrough and show you how everything works. There's a lot of variety in our inventory, so have fun searching and picking out an RV that's just right!
Luxury RV Rental Rates – How Much to Rent a Luxury RV?
You may be looking at luxury RV rentals, but hey, everyone like to save a little money when possible! Luxury RV rental costs vary based on size and several other factors, but you can expect rentals to fall into these ranges:
Class A's, obviously the most expensive, can be anywhere from $600 to $1,200 per night. Prevosts and other motorcoach conversions can cost upwards of $3,000 per night.
High-end Class B's tend to cost between $250 to $450 per night. Sprinter vans are the most expensive, with Dodge and Ford conversions coming in second.
Luxury Class C's start around $300 per night for smaller sizes, and $450 to $500 per night for larger sizes.
Travel Trailers, Fifth Wheels, and Toy Hauler rental prices are the most varied of the bunch. Depending on size, you can find rentals from $300 to $1,000 or more per night.
The Perfect VIP RV Rental is Just a Few Clicks Away!
From custom Sprinter vans to high-end motorcoaches, luxury RVs offer the most in comfort and class. Their stunning array of amenities and designer finishes are like no other in the industry. Whether you want a little slice of heaven or a massive palace on wheels, a luxury rental of any size will have you traveling like royalty. Start searching our inventory to find luxury RV rentals one way or round trip now!
---
Search For RV Rentals
$100
Las Vegas NV
Sleeps 5 / Class C Motor Home
$39
Loveland CO
Sleeps 2 / Travel Trailer
$120
Morrison CO
Sleeps 6 / Toy Hauler