Top RVs Nearby
Darien Lake RV Rentals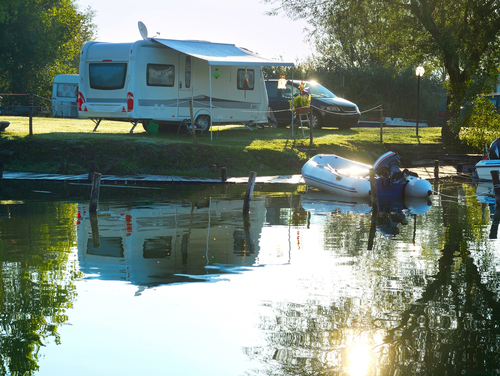 Few things are as exciting as dropping the hustle of life, rounding up the family, and taking a fun trip out to a theme or water park. There's no wonder the industry generates over $55 Billion directly to the economy.
Although brands like Disney or Universal normally come to mind when thinking of theme parks, New York has a hidden gem called Darien Lake, where your whole family can enjoy some much-needed excitement.
The only thing that can make the theme park trip better, though, is blending it with the thrill of an RV camping experience. Mix the two and you're sure to come back home with happy memories that'll last a lifetime!
In this article, we're going to learn about Darien Lake camping and lodging, prices, and where you can find a great deal on RV rentals near Darien Lake.
Camping at Darien Lake
Before you pack your bags, it's important to learn a little about Darien Lake and what it has to offer.
For starters, it's an amusement park resort that also has its own water park. Besides that, Darien Lake features on-site lodging and a campground.
It's been around for quite some time. Its official opening was back in the 1980s but has been adding more land, more attractions, and more fun ever since. Today, some of their attractions include thrill rides such as Rolling Thunder, a seven-story steel loop, Red Hawk, an 180-foot flight simulator that swings you at speeds of over 60mph, and Ride of Steel, a 208-foot coaster that reaches speeds of up to 75mph. If you're not one who enjoys losing your gut, Darien Lake is also known for its rock concerts, in park shows, and color run.
Of course, you can't forget about the water park side of the resort, with attractions like the Brain Drain, that propels you over 300 feet in 10 seconds. For those who just want to relax in a little water, there's also Crocodile Isle, a 600,000-gallon wave pool.
Now that we've briefly talked a little about what Darien Lake is and what kind of things there are to do there for the family, let's cover information about camping there.
Their campground is located just a short walk from their main entrance, so camping out at Darien Lake is super convenient when spending time there. RV camping at Darien Lake is great because they've got pull-through sites and full hookups on their sites, for easy set up (even for larger RVs).
Darien Lake lodging amenities include restrooms, shower facilities located throughout the campground, a laundromat, arcade, general store, a gift shop, and a pizza place. Feel free to bring your four-legged friends, as your pets are welcomed at their facility.
All sites are equipped with electric and water, which adds, more convenience and reasons for staying. On top of that, people who camp out there get free parking every day, and unlimited park admission for the entire stay!
Something to keep in mind when making arrangements is that check-in time is at 2 pm and check-out time is at 1 pm. Nightly rates start $109.98 for a full hookup site and park admission.
Many families are having epic times visiting Darien Lake. These are some of the RV rental TripAdvisor Reviews.
"We came here for a family trip and it was a fun experience. The rides, as well as the waterpark, was nice." - Michelle
"We love Darien Lake, our favorite roller coaster was the ride of steel. The water park is better than the dry park." - Anne
Darien Lake RV Rentals - What to Bring
After learning about how perfectly Darien Lake accommodates its campers, you're convinced that it's exactly where your family should be staying to get the most out of your RV trip. Although a huge factor, finding a place to stay is only part of the planning. Now you've got to make sure you remember to bring all of the essentials. Here are some tips.
Bring clothing for all types of weather. Remember that as much research as you've probably already done, weather can be completely unpredictable. So bring bathing suits, but also bring jackets. Packing for the weather also includes bringing umbrellas, hats, sunscreen, and other essentials.
The Darien Lake area has multiple eating options, but why buy every single meal, when you can pack some of your own food. We recommend bringing some non-perishables on your trip. Don't forget any cooking supplies that may go with them!
Last, be sure to pack at least a small emergency kit. Flashlights, candles, a first aid kit, and any medicine anyone is currently on can be a lifesaver.
RV Rentals at Darien Lake
If you're looking for a great deal on a high-quality RV rental, we've got you taken care of. RVshare is the largest peer-to-peer RV rental marketplace in the entire world. From humongous luxury class A buses to small class B camper vans for small families, you're guaranteed to find exactly what you're looking for in our listings.
The process is as easy as can be:
-Enter your dates and pick up located in the search bar
-Customize your results with our detailed search tools. Filter what you see based on RV class, year, number of travelers, size, and even price
-Read about RV details, owner rules, and final pricing after total nights, taxes, and any fees
-Meet with the RV owner, get a brief tutorial, and enjoy your stay at Darien Lake
-Bring back RV to the owner with the tanks dumped and gas replaced
Darien Lake RV Rentals Final Thoughts
You've been working hard and so has the rest of your family. It's finally time to start planning what as a group you guys look forward to the most; a vacation, fun, and quality time to spend together.
Now that you know more about Darien Lake, what they offer as far as RV accommodations, what it costs to stay out there, and how to find the perfect RV rental, it's time to make the adventure of your lives a reality. Happy travels!