Class B RV Rental Near Me
Search For RV Rentals
---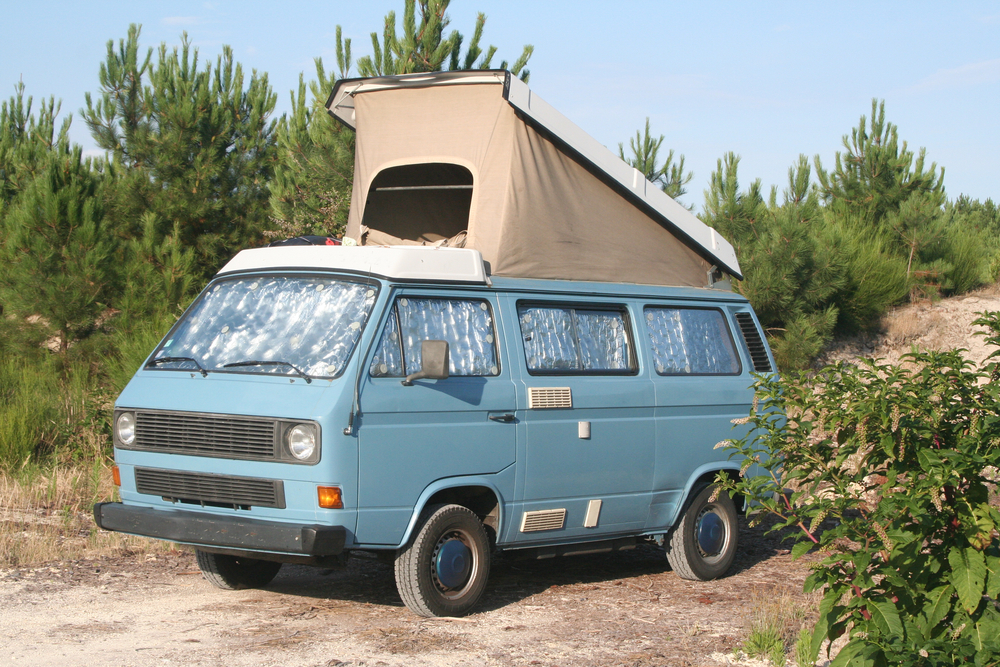 Where Can I Find Class B RV Rental Near Me?
Class B RV rentals are all the rage these days. From vintage Vanagons to brand new Sprinters, there's a wide selection of Class B rental RVs to suit every type of traveler. However, the tough part is finding one – and finding one that fits your budget. Chain rental companies rarely carry Class B rentals, and local rental services that specialize in conversion vans are few and far between. So where are you supposed to find one? We've put together this article to help you find the best Class B RV rental USA to suit your budget and travel needs.
What is an RV Class B Rental?
Class B RVs are the smallest in the motorized category. Ranging in length from 12 to 20 feet or more, they're perfect for travelers who want to stay unnoticed and out of the way. Essentially, they're vans that have been converted into RVs, outfitted with amenities like sleeping areas, kitchenettes, and bathrooms. Larger models often have a wet bath or separate shower and lavatory. Some models come equipped with features like solar panels, outdoor cooktops, or outdoor showers. Pop-top vans have an expandable roof with a sleeping area underneath, leaving more floor space in the van for other features. Despite their small size, RV rental Class B's are often fully contained. They can fit up to four or five people, though it's more comfortable to travel with just two or three in a Class B.
Within the Class B category, there are a few different styles of van. Vintage models, like VW Buses and Vanagons, usually have Westfalia (pop top) conversions, though some newer models have them as well. Restored vintage vans will have their original features, while custom remodels mix old and new for a unique, yet functional conversion. Newer Class B's usually have a Sprinter van as their base, which offers plenty of space for high-end amenities. You'll find features like leather seating, Corian countertops, and wood flooring. With so much variety, you can see how there's a perfect Class B for every style and budget.
How to Find a Class B RV Rental by Owner
As previously stated, it can be tricky to find a Class B RV rental near me. There are hundreds of commercial rental services throughout the United States, but few of them carry Class B rentals. Other rental companies may specialize in luxury RV rental Class B's, but their prices can be a bit on the expensive side. Thankfully, peer to peer sites like RVshare have the answer. When you work with RVshare, you'll work directly with RV owners in your area. Here's what makes it so great:
RV owners list their RVs themselves. They set their own rates, so you'll often find that Class B RV rental rates are much cheaper than renting from an alternative service.
We have hundreds of thousands of listings in our nationwide inventory. Whether you're looking for an old VW bus or a luxury Class B, you'll find what you need on our site.
During your search, be sure to check out the rating and review systems. Previous renters can rate the RV and the owner, so you can make sure you'll have a great experience before you commit.
Once you find the perfect Class B diesel RV rental, you can message the owner directly with questions. For example, if you want to negotiate a deal for renting long-term, all you have to do is ask!
We offer liability coverage and free, 24/7 roadside assistance with each rental, so you don't have to worry if there's a breakdown or accident. We also give you 5% cash back each time you rent so that you can save up for your next vacation!
Perhaps one of the biggest advantages of renting an RV from its owner is the personalized experience you'll get. The owners are usually families and individuals who just don't have the time to use their RVs as much as they'd like to. They're thrilled to be able to share their RV with like-minded individuals, and love to hear stories about how much you enjoyed your trip. (So don't forget to say thanks!)
Class B Motorhome Rental Rates
Class B rentals vary widely in style and amenities. As such, Class B RV rental prices vary widely, too. The base rate will always depend on the RVs age, location, and size, but you can expect prices to fall within these parameters:
Older Class B RV rental prices tend to range between $80 to $120 per night. Usually, the budget-friendly models are older than 10 years of age and are built on Ford or Chevy chassis'.
Classic Vintage Class B's, like VW Vanagons and Westfalia Campers, rent for around $150 to $200 per night. The price is worth it – you'll definitely turn heads in a retro van.
New Class B's, like Roadtreks and Airstreams, are considered luxury RVs, and rent for anywhere from $200 to $300 per night or more. This is because they're built on the Mercedes Sprinter chassis, which makes them reliable and innovative.
Whatever your budget, there are a lot of options for Class B RV near me prices. Stick with older RVs if you're looking for a simple place to call home at the end of a long day outside. Or, if you want to travel in style and luxury, look for Sprinter vans and custom vintage conversions.
Budget and Luxury Class B Rentals – Where to Find a Class B RV Rental Near Me Today?
From budget-friendly to upscale, RVshare has Class B RV rentals for every type of traveler. If you're looking for a nearby, last minute rental, check with RVshare first. Just put in your zip code and travel dates to get started. You can sort the results by RV type, price, age, and more, so you don't have to worry about sifting through thousands of listings. Once you find the perfect RV, it takes just a few clicks to reserve your spot. Happy hunting!
---
Search For RV Rentals
$100
Las Vegas NV
Sleeps 5 / Class C Motor Home
$39
Loveland CO
Sleeps 2 / Travel Trailer
$169
Buda TX
Sleeps 6 / Class C Motor Home