Search For RV Rentals
---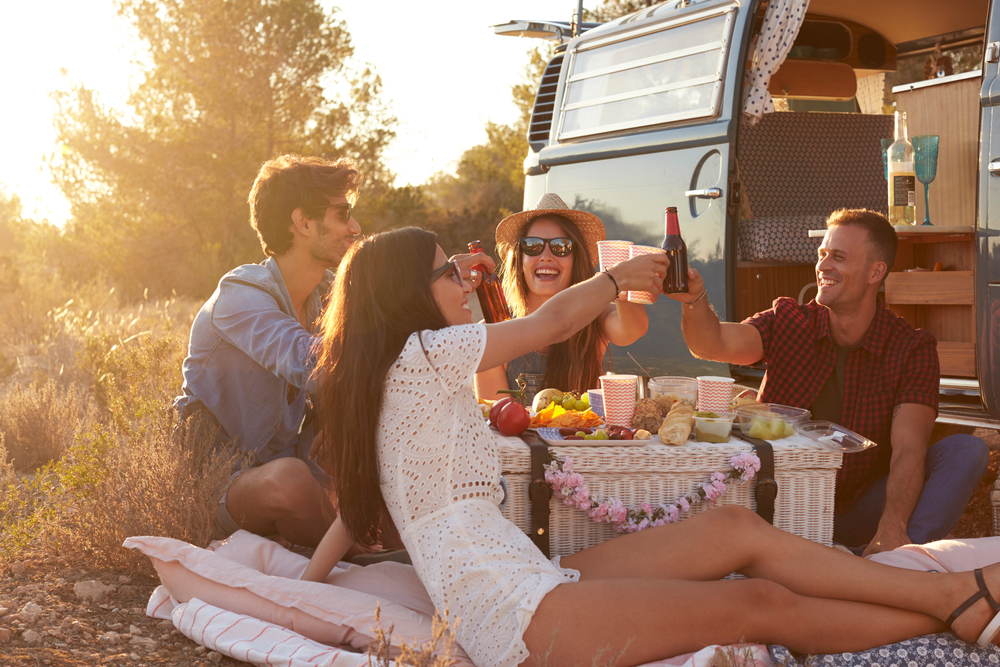 Where Can I Find Camping Rentals Near Me?
It's the perfect time to go camping, and you've started organizing your friends and planning the trip. You got time off from work, you have a beautiful destination in mind, and things seem to be coming together. But then you remember that you got rid of your old camper years ago, and buying a new one isn't exactly feasible right now. Luckily, there's an affordable solution: camping rentals. Peer-to-peer sites like RVshare have thousands of rentals in your area, even if you need one last minute.
Tent Camping Alternatives - What Type of Camper Should You Rent?
Chances are, if you're fine with camping in a tent, you're probably more of an outdoorsy type of person. You'll likely spend most of your time hiking or hanging out around the campfire on your trip, right? All you need is a comfortable place to sleep that's not going to gouge your bank account. But, what if you could have a roof over your head and a few amenities for the same price as a camping tent rental near me? Whether you want to be protected from the elements, or just want to be off the ground, there are several rental options that are just as affordable as a tent rental. Let's take a look:
Popup campers are the perfect balance of exposure and privacy. The canvas sides let in the sounds and smells of nature but keep out the bugs. The hard roof keeps you dry should a nasty rainstorm come rolling in. Best of all, they're easy to tow, since they're essentially boxes that you unfold once you arrive at the campground. Most popups have enough room for four or five adults, and some of the larger sizes can fit more. Pop up camping rentals go for as little as $30 per day – split that between four people, and it's basically pocket change.
For campers who want more privacy or amenities, truck campers are a great alternative to tents. They slide effortlessly into the back of your pickup truck and don't require any additional setup. Inside, you'll find all the amenities you would get in a full-sized RV, including a kitchenette, bathroom, and shower. They're best for a traveling couple or individual, though some truck campers can fit up to four people. Rental rates vary, but you can expect to find truck campers between $50 to $100 per night.
If you're not concerned about space, tiny travel trailers are the way to go. They're lightweight and small enough that you don't need a truck to tow one, a regular old sedan will work just fine. The smaller sizes (about 9 to 15 feet) are perfect for a traveling couple or small family. Just like truck campers, travel trailers have all the amenities you could need to feel at home just about anywhere. Rental rates for small travel trailers range from $70 to $150 per night.
Where Can I Rent a Tent Near Me?
If you're adamant about renting a tent, there are plenty of ways to rent one, along with a few ways to rent camping gear. A quick internet search will pull up local businesses offering camping rentals near me for a multitude of occasions. These include backpacking, group camping, and hunting. Some companies also specialize in glamping and offer beautifully decorated tent rentals for music festivals, weddings, and other events.
Rental rates vary depending on the size and type of tent you rent, but you can expect anything from $100 to $500 for a three-day package. Keep in mind; you'll need to check the rental policies and rules to make sure you don't incur excess fees for damage or violations. You may also need to rent additional camping supplies, which can add up quickly. As you can see, for some people, renting a small travel trailer or popup camper might be the better decision.
Why Rent With RVshare?
Peer-to-peer sites like RVshare are the new way to rent RVs and campers easily and affordably. There are hundreds of thousands of RV owners throughout the United States who are looking to rent out their RVs when they're not using them. Thanks to P2P networks, owners can now list their RVs and renters can find them, all in one place. Renting from an individual RV owner has quite a few benefits over renting from a company, like:
Cheaper rental rates. Most of the RV owners that list with us are unable to use their RVs as much as they would like, yet they're still paying for them. They rent them out to try and offset these costs. Unlike large rental companies, individual RV owners don't have tons of overhead costs, so they're able to offer lower rates.
Better customer service. Working with a small company or an individual is always better than working with a large corporation, don't you think? You'll get more personalized customer service, quicker response time, and who knows – you might even make a new camping friend.
Larger inventory. RVshare has almost any kind of RV you can imagine. You'll be surprised at what you find in our inventory, from tiny trailers to motorcoach conversions and everything in between. There's also a huge selection of older RVs, which is a great way to find a rental on a budget.
Real reviews. Each one of our listings features an integrated rating and review system. Whenever someone rents an RV, they're encouraged to leave a review of their experience with the owner and the quality of the RV. The reviews are easy to find, but most importantly, they're from real people.
Ample insurance coverage. RVshare offers up to $1 million in liability coverage, plus free, 24/7 roadside assistance. If you need to get additional auto insurance, you might be able to get it through the RV owner for a small daily fee.
Start Searching to Find the Perfect Camping Rental
Whether you're an outdoorsman, a thrill seeker, or just someone who want to get away from the busy city life, there are plenty of ways to rent a camper and spend a weekend under the stars. We have rentals that can accommodate any taste, from basic tent camping to glamping. What's more, you can find RVs to fit any budget, even some RVs that are cheaper than tent rentals! So, what are you waiting for? Find the perfect rental and hit the road!
---
Search For RV Rentals
$100
Las Vegas NV
Sleeps 5 / Class C Motor Home
$39
Loveland CO
Sleeps 2 / Travel Trailer
$120
Morrison CO
Sleeps 6 / Toy Hauler