Campervan Rental San Francisco
Search For RV Rentals
---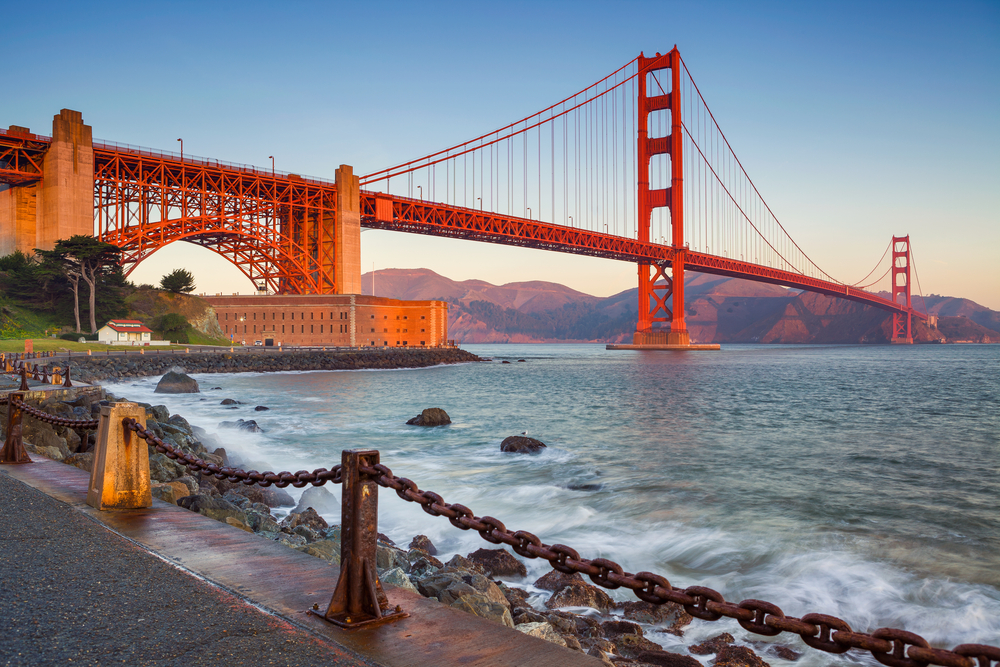 Where to Find a Campervan Rental San Francisco and Travel on Budget
Let's face the facts: San Francisco is expensive. Even visiting the city for a few days can take quite a toll on your wallet. From flights to hotel stays, dining and entertainment – you could easily spend thousands of dollars on the trip. So, what's the alternative? Each year, thousands of families and individuals save money on camper rentals San Francisco. RV rentals are much more affordable than staying in a hotel, yet still offer the same amenities. What's more, you'll get to enjoy your privacy and have the freedom to go wherever you want.
Where to Find a Campervan Rental San Francisco
Campervan rentals are aplenty in the San Francisco area. From companies specializing in vintage bus rentals to music festival rentals, there are ways to rent just about any kind of camper you desire. One of the easiest ways to find a campervan rental San Francisco Bay Area is to search a peer-to-peer network like RVshare. Here's how it works:
Enter your location or your destination to see a list of nearby RV rentals. It's a convenient search tool if you want to find a campervan rental San Francisco airport, so you can fly in and pick up the RV. You'll search through a massive inventory of privately-owned rentals. Our inventory includes RVs of all shapes and sizes, for all budgets.
Once you find an RV that piques your interest, check out the ad to see if there are any promotional specials. RV owners usually offer seasonal specials, long-term discounts, free unlimited mileage, and other deals. You can even use the messaging feature to try and negotiate a better price!
Don't forget to read the ad for policies and rules, and to see if there's anything extra included. Unlike large rental companies that bury their rules in fine print, RVshare members include all pertinent information right there in the ad. No more surprise fees!
When you're ready, you can pay your security deposit using the secure system. This will lock in your camper van rental San Francisco. You may also need to pay a damage deposit, which you'll get back when you return the RV clean and free of damage.
RVshare offers up to $1 million in liability coverage and free, 24/7 roadside assistance. You'll need to get additional RV rental insurance, which you may be able to get from the RV owner. They'll add you to their policy for a small daily fee, usually around $25/day.
When it's time to pick up your RV, the owner will give you a walkthrough and a demonstration of how all the systems work. If you've never driven a campervan rental USA before, you might want to watch a few online tutorials to familiarize yourself. Then, you'll be more than comfortable when you finally hit the road!
Campervan Rental California – San Fran's Top Campgrounds
San Francisco is the most visited city in the world - don't hesitate on booking your campground stays! When you rent campervan San Francisco, you'll notice that campground space is limited and they fill up fast, so try to plan your trip as far in advance as possible. Luckily, there are a handful of campgrounds throughout the area, all of which are convenient to popular tourist attractions. Here are a few of the closest campgrounds:
Candlestick RV Park is the closest you're going to get to RV camping in San Francisco proper. The park is right on the Bay and has 165 sites with full hookups. Amenities include a grocery store, laundromat, and a game room with a big screen TV. They also offer shuttle service to downtown San Francisco, which is a quick 15-minute ride away. If being close to the heart of the city is at the top of your list, candlestick is your best option.
Head a little farther south, and you'll find San Francisco RV Resort, an upscale resort offering oceanfront RV sites. Their amenities are top-notch and include a pool and hot tub, store, playground, and clubhouse. Best of all, they're just 15 miles from downtown so that you can be close to the city without all the noise and crowds. Don't worry if your San Francisco campervan rental is a big rig; the resort can accommodate motorhomes up to 45-feet in length.
Treasure Island RV Park is a residential park that offers a few of their spaces for vacation rentals. In other words, if you can find an available rental here, book it right away. They're just ten miles outside of the city, which is one of the reasons the park books up quickly. Rates include water, electric, and access to their brand-new bath houses and laundry facilities. Though they may be lacking in extra amenities, they make up for it in their proximity to the BART train, which offers an easy ride into the city.
Head about a half hour south of the city, and you'll find the picturesque Pillar Point RV Park. Situated right on the Pacific Ocean, the park offers breathtaking views of the sea and the park's many beautiful gardens. The park is walking distance to local shops, restaurants, and the Pillar Point Harbor, where you can attend local festivals and indulge in delicious, fresh seafood. It's important to note that the park only has 49 sites and all sites are first-come, first-served. Check their website to see how many spots are available on any given day.
Find Affordable Campervan Rentals San Francisco and Save on Your Next Vacation
Visiting San Francisco has never been more affordable. Whether you're traveling on a budget or would just rather spend your money on food and entertainment instead of fancy hotels, a campervan rental San Francisco cheap will help you save some extra dough. What's more, the oceanfront campgrounds offer better views than you'd find at most hotels! You'll enjoy the sights and sounds of sleeping next to the sea while still being just a few minutes away from San Francisco attractions. Start searching now to find cheap RV rent San Francisco. Happy camping!
---
Search For RV Rentals
$100
Las Vegas NV
Sleeps 5 / Class C Motor Home
$39
Loveland CO
Sleeps 2 / Travel Trailer
$120
Morrison CO
Sleeps 6 / Toy Hauler