Top RVs Nearby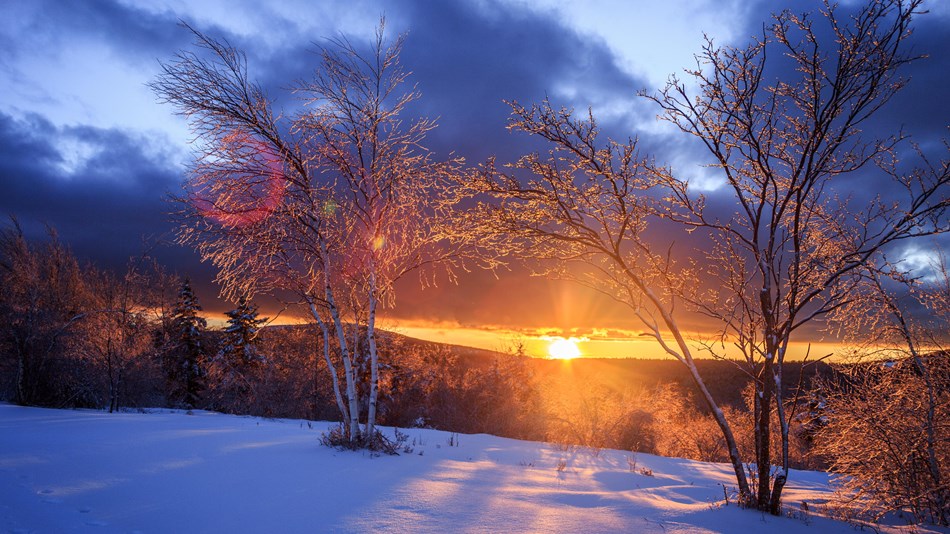 Rent an RV Near Acadia National Park: Where Beauty is Always in Season
Whether a person is looking for an escape from the summer heat or a quiet winter haven, Acadia National Park RV vacations are the perfect way to get away and enjoy nature.

Images source: https://www.nps.gov
This 47,000-acre park is located almost entirely on Mount Desert Island near Bar Harbor Maine. It was first established in 1916 as the Sieur de Monts National Monument and was the first national park on the east coast. It's seen two name changes since then, but otherwise remains almost completely unchanged.
When to Visit With Your Acadia National Park RV Rental
Maine, like so many other northern destinations, is best visited in the late spring, summer, and early fall. During these times, the weather's absolutely gorgeous and generally sunny, but never too hot, meaning it's the perfect time for an Acadia National Park RV rental.
That said, because the weather is so nice during this time, summer's the busiest time of year for the park. Therefore, many people prefer to brave the winter. These people will rent a camper near Acadia that is well insulated and take advantage of a quieter, more peaceful park, as well as the opportunity to take part in winter activities.
What To Do After Finding an RV for Rent Near Acadia
Go on a Hike or Ride a Bike
Because this park has so much to offer in the way of gorgeous scenery, a hike or bike ride is always nice. The park boasts over 125 miles of hiking trails and about 45 miles of carriage roads, meaning it'd be difficult to explore everything the place has to offer.
However, by choosing to rent an RV near Acadia National Park, a person could cover many of these pathways knowing they have a comfy place to return to. 
Splash & Swim
There are two beaches in Acadia National Park. One is a freshwater beach, while the other is on the Atlantic coast, offering salty ocean water. Both are ideal for swimming and splashing, and many people will spend an entire day on one of these lovely beaches.
Others prefer to stay above water to canoe or kayak—both popular activities in Acadia.
An Acadia camper rental is nice to have after these water-based activities in order to shower off and get ready for the next adventure.
Take on the Winter
For winter visitors, there are a number of completely different outdoor activities to discover and enjoy. Many wintertime guests enjoy snowshoeing through the bright white snow that often fills the park in winter. Others use the snowy situation to go snowmobiling.
Whichever activity a person chooses, it's always nice to head back to camp after such chilly fun and make a cup of cocoa in an Acadia National Park camping trailer rental.
Visit a Museum
There are a good number of visitor centers on the Acadia grounds. While some of these are simple welcome centers offering only restrooms and maps, others have exhibits and activities to help educate guests on various aspects of the park. Some of the best exhibits can be found in the following locations:
Sieur de Monts Nature Center
Rockefeller Welcome Center
Islesford Historical Museum
Hulls Cove Visitor Center
Join a Ranger
During the warmer months, park rangers offer a variety of organized activities for guests to participate in. From guided nature walks to informational boat cruises, these knowledgeable staff members entertain and educate visitors of all ages. Talks and amphitheater programs are also frequently found on the agenda. Additionally, Junior Ranger Programs are available for the youngest visitors.
Affordable Camping to Match the RV Rental Prices in Acadia National Park
Of course, no trip to a National park is complete without a few nights of camping, and staying in one of the many campers for rent near Acadia is the way to go for both convenience and comfort.
Luckily, the cost to rent an RV in Acadia National Park is low, and the Acadia area offers a variety of RV camping options. From federal campgrounds to private RV parks, there are plenty of places to stay when visiting Acadia National Park with an RV.
Federal Campgrounds
Below is a list of all the federally owned campgrounds in Acadia National Park:
— The most popular of the three Acadia campgrounds. It gets quite crowded during the summer, and whether a person is staying in a motorhome or a travel trailer for rent near Acadia, reservations are highly recommended.
In addition to being the most popular of the three, Blackwoods is also the only one open during the less busy winter months. However, it's important to note that only a limited number of sites are available on a first-come, first-serve basis during this time. Additionally, only walk-in camping is available between December and March.
— The second most popular campground in Acadia is Seawall Campground. This location is a bit quieter than Blackwoods, making it ideal for laid-back campers. Seawall is open from May through September, and it is a good idea for guests to make reservations as soon as they book their RV for rent near Acadia National Park. 
— The newest of the three campgrounds, Schoodic Woods is located on the Schoodic Peninsula. This campground is open from late May until Columbus Day and offers a variety of sites. As with all Acadia campgrounds, reservations are recommended.
Private Campgrounds
There are numerous private campgrounds in the Acadia area. Below are some highly rated options:
— Located on Mount Desert Island, Smuggler's Den is a family-friendly campground with plenty of amenities. It offers a swimming pool, playground, Wi-Fi, and full RV hook-ups, making it the perfect place to park an Acadia pop up camper rental or any other RV a person might choose.
— Rent a motorhome near Acadia National Park and reserve a spot at Old Quarry for an amazing vacation. Offering kayaking lessons, a seafood restaurant, boat tours, and more, Old Quarry Ocean Adventures campground is the ideal place to set up camp. This campground is located in the Isle au Haut area, meaning you'll have easy access to Acadia in addition to all the adventures offered by the park. 
Mountain View Campground — With full hook-up sites, water-view sites, and an amazing location, Mountain View campground really has a lot to offer RV campers. What's more, this beautiful Schoodic area campground has incredibly reasonable rates making it the perfect place to park cheap RV rentals near Acadia National Park in order to save a few bucks.
Campers for Rent in Acadia National Park
Obviously, anyone planning on RVing is going to need an RV. Fortunately, there are plenty of campers for rent in Acadia National Park and the surrounding areas. Check out some of the amazing options that are currently listed on RVshare.
One Way RV Rental to Acadia National Park
This is gorgeous 2014 Jayco bumper-pull trailer is just 35 miles from Acadia and has everything a person could possibly need for a successful trip. Moreover, the owner of this sweet rig is willing to deliver or pick up, meaning you can make it a one way rental to Acadia National Park.
Cheap RV Rentals Near Acadia National Park
Worried about RV rental prices in Acadia National Park? Want something a bit easier on the wallet? Check out this cute little 2010 Viking pop-up camper. At just $80 a night, the price can't be beat, and the small size of this trailer makes those shorter RV sites more easily accessible.
Luxury RV Rental Acadia National Park
For those who'd rather spend their nights in an easy-to-drive, Acadia National Park motorhome rental, this 2016 Thor class-C is perfect! Maneuvering this RV into a spot is a cinch, and the living space and amenities it offers are amazing. What are you waiting for? Book your luxury RV rental in Acadia National Park today!
Acadia National Park RV Rental Rates & More
These are just a handful of all the wonderful RVs available to rent. For more information, including Acadia National Park RV rental rates, please take a look at all the RVs listed on RVshare.