Kings Canyon National Park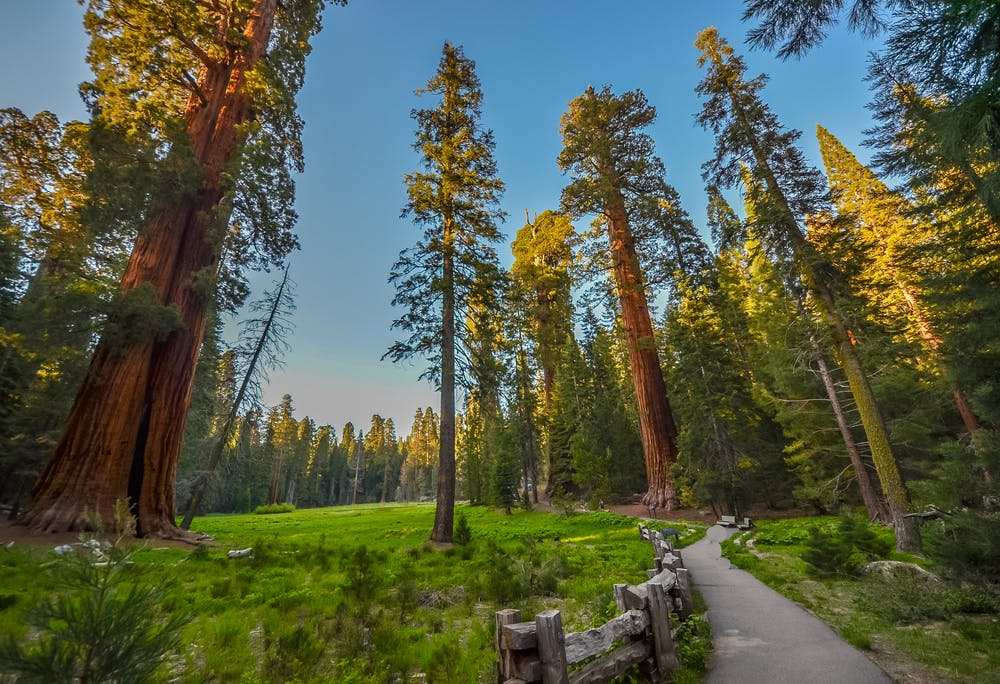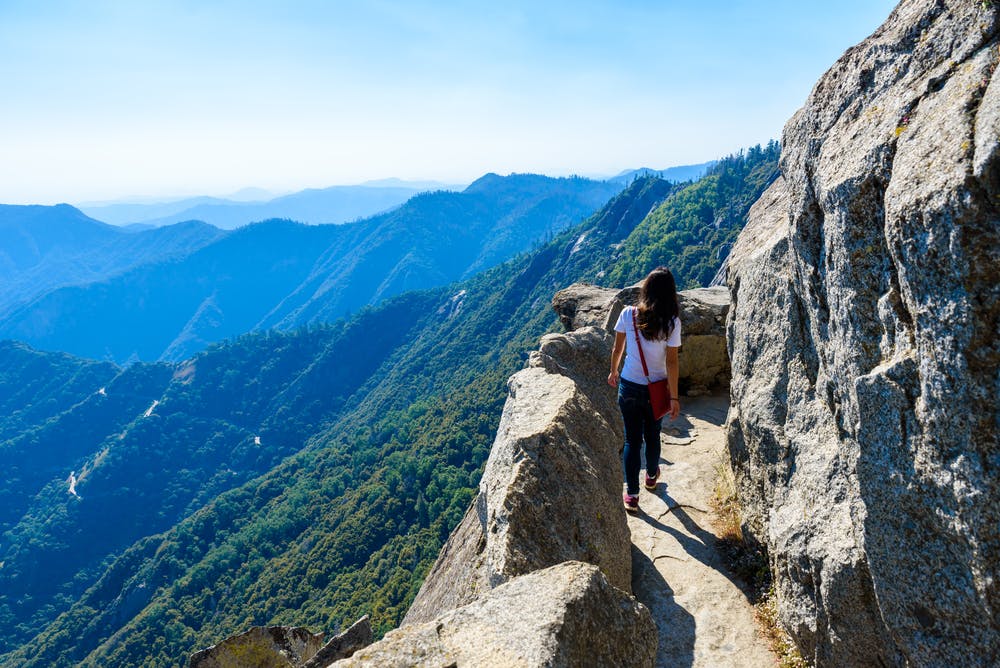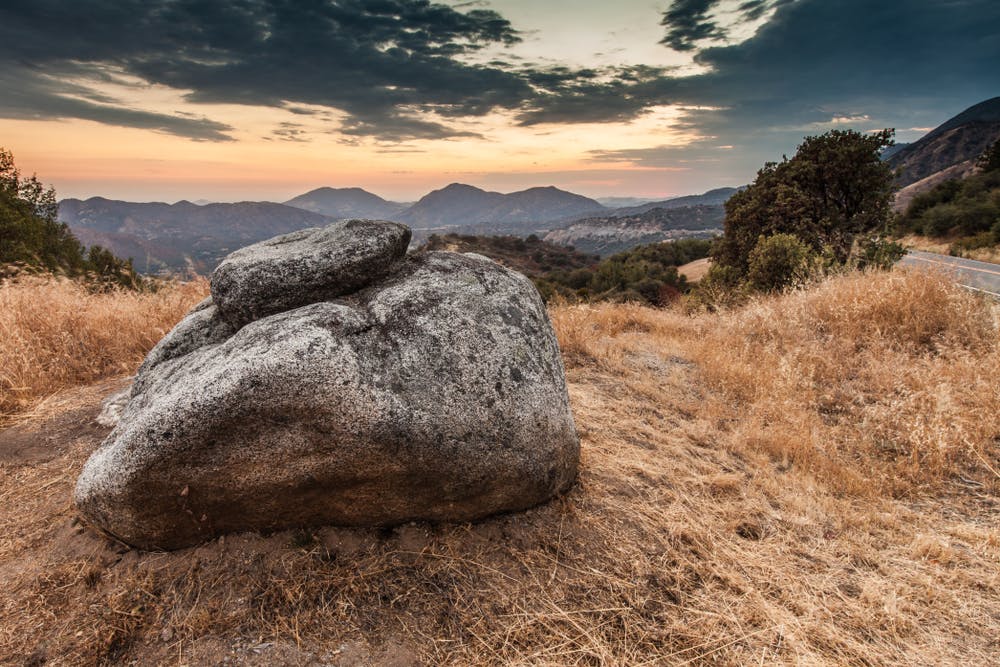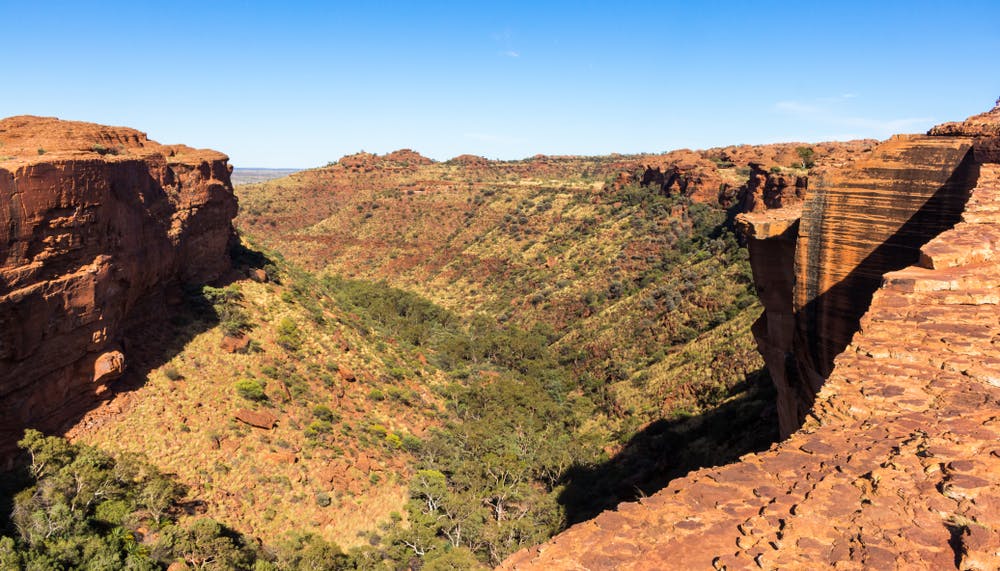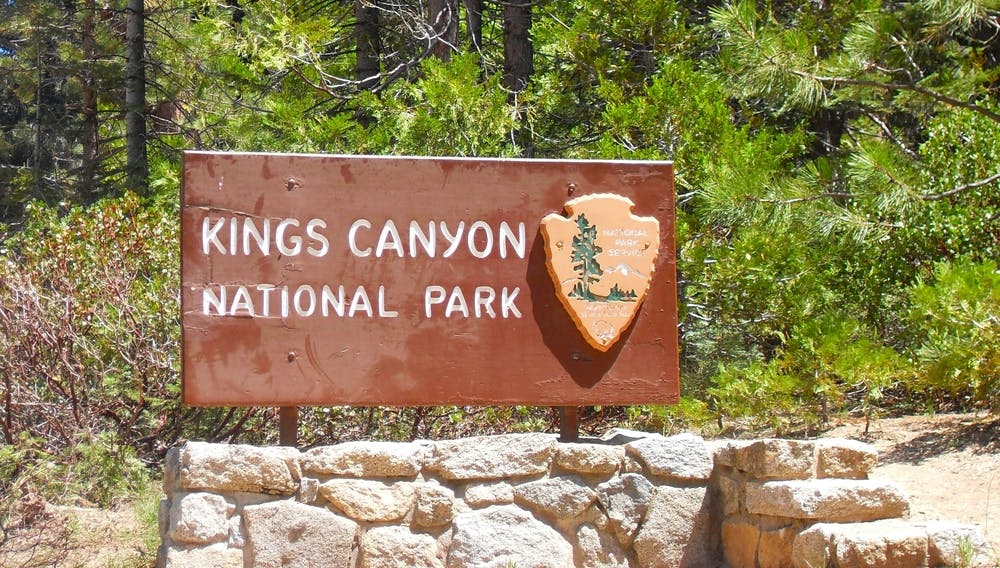 >

Kings Canyon National Park
Kings Canyon National Park
is adjacent to Sequoia National Park, and like Sequoia, Kings is home to giant, impressive-looking sequoia groves. The park is best known for the General Grant Tree, proclaimed by President Coolidge as "The Nation's Christmas Tree." These trees, along with stunning views of the Sierra Nevada mountain range, and sparkling mountain lakes and streams, promise an exciting adventure when you visit.
But there's also a rich and complex human history here that all too often is overlooked by tourists baffled by the endless natural beauty. The lands now known as Kings Canyon National Park and Sequioa National Park are the ancestral homelands of the Mono (Monache), Yokuts, Tübatulabal, Paiute, and Western Shoshone people. Learn about their history here.
Because the park has such a wide range of elevation, the weather varies greatly depending on where you are. Summer temperatures in the sequoia groves are comfortable while the shadeless foothills are hot and dry. Snow stays in the mountain passes well into the summer. During the winter, you'll find snow in the sequoia groves and rain in the foothills.
Kings Canyon is near several towns, including Clovis and the big city of Fresno. When you're through exploring the sequoias and the rest of the park, head into a neighboring town for some tasty Mexican food, or to see the fascinating underground grotto built by one resident to escape the sweltering valley heat.
There is plenty to do inside Kings Canyon as well, including guided hikes and ranger-led programs. You can find an entire calendar of events here. Visitors can do many self-guided things on their own as well, including rock climbing, backpacking, touring the sequoia groves, horseback riding, and more.
Weather
Spring 40-45 F
Summer 65-70 F
Fall 55-65 F
Winter 30-35 F
Nearby Cities
Fresno, CA
Trip Planner
Use our FREE RV trip planner to begin customizing the perfect RV trip.
Continue
RV Resorts & Campsites in Kings Canyon National Park
There are many public campgrounds within the park, and some private ones in the nearby towns as well. Check to make sure the campground is open during the season when you want to visit, and make reservations to be sure you have a spot.
Public Campgrounds
Private Campgrounds
RV Rentals Near Kings Canyon National Park
Nearby RV Rentals
Hit the Trails
There are many different kinds of hikes within Kings Canyon National Park. Wander through shady sequoia groves, hike the foothills, or stroll along a raging river to a beautiful overlook.
Grant Grove Trails
General Grant Tree
Distance: 1-mile round trip
Terrain: This paved trail gives you a closer look at one of the world's largest living trees. Also along the hike, stop by the historic Gamlin Cabin and the Fallen Monarch.
North Grove Loop
Distance: 1 ½ mile round trip
Terrain: Quiet path through meadows and creeks, through a sequoia forest.
Buena Vista Peak
Distance: 2 miles round trip
Terrain: The hike up this granite peak gives you a 360° view over the sequoias in Redwood Canyon, along with the Buck Rock Fire Tower and the Sierra Mountains beyond.
Big Baldy Ridge
Distance: 4 miles round trip with a 600-foot elevation gain
Terrain: The trail offers great views of Redwood Canyon from the summit.
Redwood Canyon
Distance: 16 miles of trails
Terrain: This canyon is one of the largest of all sequoia groves. There are sixteen miles of trails, from short walks to overnight backpacking trips through the forest.
Cedar Grove Trails
Roaring River Falls
Distance:
Terrain: This paved path offers a short, shady walk to a mighty waterfall racing through a granite chute.
Zumwalt Meadow
Distance: 1.5 miles round trip
Terrain: he trail begins with boardwalk and gives way to formerly hardened surfaces that were washed away during a flood. Some spots are now difficult for wheelchair travel. The trail passes high granite walls, meadows, and the Kings River.
Sheep Creek Cascade
Distance: 2 miles round trip with a 600-foot elevation gain
Terrain: A somewhat strenuous hike along a forested trail, with views of the Monarch Divide, which ends at the shady glen of Sheep Creek.
Mist Falls
Distance: 8 miles round trip with a 600-foot elevation gain
Terrain: Sandy trail that follows South Fork Canyon through forest and chaparral, past rapids and cascades, to one of the largest waterfalls in the park.
Lookout Peak
Distance: 13 miles round trip with a 4,000-foot elevation gain
Terrain: This strenuous, all-day hike heads past Sheep Creek, you can climb to Lookout Peak, which offers beautiful vistas of the park's backcountry.
Giant Forest & Lodgepole Trails
General Sherman Tree
Distance: 1/2 mile round trip
Terrain: The trail includes some stairs and if you're not used to the 7,000-ft elevation you may want to rest on the benches along the path.
The Big Trees
Distance: 2/3 mile round trip
Terrain: This paved trail circles Round Meadow and has panels describing sequoia ecology.
Moro Rock
Distance:
Terrain: To reach the top of the granite dome, climb a 300-ft stairway. You'll be greeted by beautiful views of the Great Western Divide and the western part of the park.
Tokopah Falls
Distance: 3.4 miles round trip
Terrain: An easy walk along the Marble Fork of the Kaweah River to the granite cliffs and cascading waterfall at Tokopah Canyon.
What to Do at
Kings Canyon National Park
After you've wandered through ancient forests and hiked the mountains of Kings Canyon, you may be ready to try some other things nearby. See the tallest mountain in the lower 48 states, swim in a mountain lake, or shop Native American art made by local artisans.
Type: Steak and fish
Location: Sequoia National Park
Type: Seafood
Location: Three Rivers
Type: Burgers
Location: Three Rivers
Type: Mexican
Location: Three Rivers
Type: Steak & Seafood
Location: Three Rivers
Wuksachi Gift Shop
If you're looking for Native American-themed gifts and finer clothing, the gift shop at the Wuksachi Lodge has plenty! The shop stocks souvenirs, clothing, and products from local craftsmen and artists.
Location: Wuksachi Lodge, Sequoia & Kings Canyon National Park
Robin's Nest Antiques
In nearby Clovis, CA you can browse antiques at this quaint little shop. Find jewelry, home goods, holiday decorations, and more along with a friendly staff that will try their best to find exactly what you're looking for!
Location: Clovis
Foxtail Gallery
This shop, tucked among other shops and restaurants in Old Town Clovis, specializes in minerals, gemstones, fossils, meteorites, petrified wood, and other natural history items. Whether you're interested in beginning a collection, searching for a unique gift, or looking for unusual decor for your home, browse the natural selections at this store for something special.
Location: Clovis
Bear Creek Gift and Cabin Decor
Find the perfect bear or wildlife-themed item for your cabin, your home, or to give as a gift. You'll find wall art, decorative hooks, drawer and cabinet pulls, and other accents to give your home the perfect rustic touch!
Location: Clovis
Frost Oak Creek Creations
Best known for her handmade baby clothing that sells out quickly, Betty Frost also stocks garden, home, baby, and gourmet food lines in her shop in Old Town Clovis.
Location: Clovis
Giant Forest Museum
This museum inside Sequoia & Kings Canyon National Park provides an introduction to the features of Giant Forest, teaching guests about the giant sequoias, meadows, and the history of the people who have lived in its shadow.
African American Historical & Cultural Museum of the San Joaquin Valley
The museum is focused on bringing together people of all ages and backgrounds so they can appreciate the culture, history, and art of Valley people of African descent with rotating and permanent exhibitions. The museum also has interpretive displays that describe the life and times of leading San Joaquin Valley African American literature.
The Meux Home Museum
The 16-room Victorian mansion, built in 1888 for Dr. Thomas Richard Meux, is an impressive structure in modern-day Fresno. The home features gothic Victorian architecture and beautiful gardens. Guests can tour the museum and grounds on weekends.
Fresno Art Museum
Immerse yourself in modern art at the Fresno Art Museum. The gallery has over 3,600 works, mainly focused on modern and contemporary artworks including painting, sculpture, prints, photographs, and other media. The museum also has pre-Columbian works from Mesoamerican and the Andes and modern and folk art from Mexico. There are works from Ansel Adams, Salvador Dali, Pablo Picasso, and other notable artists.
Veterans Memorial Museum
Take some time to appreciate the service and sacrifice that veterans have offered the country by visiting the Veterans Memorial Museum. The ceilings, the walls, even the building itself are works of art as you enter the "Home of the Legion of Valor." The museum is staffed by volunteers and houses thousands of artifacts, papers, citations, and photographs that tell the story of America's wars through the eyes of individual soldiers and sailors.
Mount Whitney
You can best see the tallest mountain in the lower 48 states from the Interagency Visitor Center on Highway 395. The more adventurous can apply for a permit and hike the mountain.
Hume Lake
The lake is a great place for fishing, canoeing, hiking, and swimming in summer and snowmobiling, snowshoeing, and cross-country skiing in winter.
John Muir Trail
The John Muir Trail travels a long distance through the Sierra Nevadas, connecting Yosemite, Kings Canyon, and Sequoia National Parks.
Fresno Chaffee Zoo
The zoo began in the 1920s as a place for unwanted pets...almost 100 years later, it has animals from around the world and is home to Stingray Bay, where kids can touch the stingrays, a petting zoo, and a waterfall kids can splash in.
Forestiere Underground Gardens
Tour the vast underground network of rooms, tunnels, and courtyards built as an escape from the Central Valley summer heat. Sicilian immigrant Forestiere used only shovels, picks, and other hand tools to excavate and build for over forty years, and grew fruit trees and grapevines in his grottoes beneath the earth.
How to Get to
Kings Canyon National Park
There are many ways to get to Kings Canyon National Park. Its location in California is relatively central, which means visitors from both the Bay Area and from southern California can easily drive to the park. You can reach Kings Canyon by plane, car, or RV. Because it's right next to Sequoia National Park, you can enter either directly into Kings Canyon at the Big Stump Entrance, or enter via Sequoia at the Ash Mountain Entrance and then drive through to Kings Canyon.
By Car
To get to Kings Canyon and the Big Stump Entrance from San Francisco, take I-80E to I-580E. Continue onto I-205E, then merge onto I-5N. Take CA-120E to CA-99S. Then take exit 133B onto CA-180E. Continue to the entrance. To get to the Ash Mountain Entrance from southern California, take I-5N to CA-99N toward Bakersfield/Fresno. Take exit 96 onto CA-198E towards Visalia. Continue to the entrance to Sequoia National Park.
By plane
If you're flying into the area, the Fresno Yosemite International Airport is the closest large airport. San Jose, San Francisco, and Oakland all have airports in the Bay Area and LAX is the nearest airport in southern California.
By RV
Another excellent way to experience Kings Canyon National Park is by renting an RV. RVing allows you to travel at your own pace and stop wherever you wish to explore the sights along the way. If you don't own an RV, RV rentals are available. You can fly into town and rent an RV near Kings Canyon, or rent one in your hometown to drive to the park. There are some mountain roads through the park, so be sure to read this advice if you're driving an RV in the area.
There are plenty of RV campgrounds in and around the park, just make sure the campground is open at the time of year you're planning your trip and make reservations in advance.
View RV Rentals
Entering Kings Canyon National Park
There is a fee to enter Kings Canyon National Park. Your fee covers both Kings Canyon and Sequoia National Parks. You can also purchase your pass in advance here. If you have a fourth grader, be sure to get the Every Kid in a Park Pass, which allows them and everyone in the vehicle with them free entrance into all national parks for the year. You can find out more about the program here. You can also purchase Annual Passes and Lifetime Senior Passes here.
Private Vehicle : $35
7-day private, non-commercial vehicles (15 passenger capacity or less) and all occupants.
Motorcycle : $30
7-day pass for all passengers on one private, non-commercial motorcycle.
Per Person : $20
7-day pass for one individual with no car (bicyclist, hiker, pedestrian). Youth 15 and under are admitted for free.
A visit to Kings Canyon National Park is a great way to experience California's beauty and wilderness. The breathtaking giant sequoias and awe-inspiring scenery of the Sierras promise a trip you'll remember for a long time. Here at RVshare, we love helping people get outside and experience the beauty of nature with friends and families. RVing is a wonderful way to create memories with loved ones and see the natural world together. Whether you explore Kings Canyon National Park on your own or in an RV rental from us, we want to hear all about your trip! You can share pictures with us by emailing them to [email protected] Also be sure to tag us on social media to share details and tips about your visit. Your adventures could be featured on our blog or social media channels!