All About Workamping: What is it and is it right for you?
Travel Inspiration
October 13th, 2017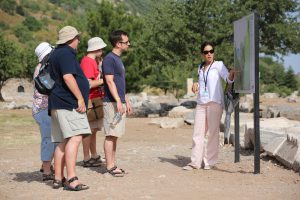 You already know a lot about saving money on your next trip — for instance, you're already saving 50% on your campground accommodations if you've joined RVshare's favorite camping club, Passport America.
But imagine actually getting paid to travel from place to place and meet amazing new people while you do.
Sounds too good to be true, right? But you might be surprised to learn this lifestyle does exist, and many campers are living it right this moment! It's all made possible by something called "workamping" — and if you're looking to lead the life of a nomad without going completely broke, it might just be a perfect fit for you.
So, are you a workamper — or will you soon become one? Read on to learn more and find out if these unique positions and opportunities might be right for you.
RV Workamping
First things first: what's the definition of workamper?
Well, it's kind of exactly what the word sounds like. A workamper is someone who works while camping — mash the words "work" and "camping" together, and you get workamping.
What kinds of jobs do workampers get?
That's the really fun part. Workamping opportunities tend to be the kinds that really excite adventurous, outdoorsy campers. You might end up working as a campground host at a beautiful and famous National Park, or perhaps you'll do some hours behind the reception desk at a privately-owned, developed campground. Either way, you'll get to see a whole lot of the country and meet a ton of new people who are travelers just like you.
And finally, the nitty gritty question that's probably eating away at you… how much do workampers make?
We'll be honest: workamping is certainly not going to make you into a millionaire. These are generally customer service-type positions that earn little better than minimum wage.
But if you're already a thrifty traveler, $8 or $10 per hour can be more than enough to get by on. (And hey, it sure beats earning nothing, which is what most travelers expect to do when they set out!)
Furthermore, in some campgrounds, you'll actually earn a waiver on your own accommodation fees by workamping for the company. Many campgrounds set it up by trading your campground fees for the first 20 hours per week of work you perform, and then paying out any additional work you do on an hourly basis. That way, you could have free accommodations and a little extra cash to line your pocket with! Not bad, right?
How to Become a Workamper
So, workamping sounds pretty darn awesome. But how do you get started?
Well, one way is to simply search for seasonal jobs on your own and travel from place to place as necessary to keep them. For instance, you might spend a winter at a ski resort in Breckenridge, but then head to a coast to spend the summer working at a popular beach hot dog stand. A great resource for these kinds of temporary, seasonal positions is CoolWorks, which specializes in these kinds of unique opportunities.
Other workampers maintain remote jobs with regular employers, perhaps working as remote call center operators or customer service liaisons for companies like Amazon and Google. FlexJobs offers tons of telecommuting jobs like these on their boards, many of which are temporary or seasonal — so you can get a break and head on to the next thing as soon as you get tired of your duties!
Last but not least, there is an actual website devoted to all things workamping, including listings of seasonal workamping jobs and workamper employers. It's called Workamper News, and it's a vital resource for full time RVers who couldn't maintain the lifestyle without these earning opportunities. There is, however, an annual fee to maintain your membership and access the job boards.
Life as a Workamper
Some of the best workamping jobs will take you places you never expected. For example, van dweller Bob Wells ended up spending a beautiful summer camped between the two highest peaks in Colorado, Mt. Elbert and Mt. Massive, earning $7 per hour to meet, greet, and orient campers to the area. Not a bad gig! In his off time, he wanders around the beautiful scenery, which was the perfect place for him to enjoy his passion for photography.
Without a doubt, many of these workamping opportunities are very special jobs, the kinds of things you'd love to do even if you weren't getting paid for it. Making friends with new, like-minded people while living in a beautiful area? It just doesn't get much better, as far as jobs go.
And even if you're doing a more tedious remote job — the kind that takes place from behind a laptop screen — you get the flexibility and freedom to go wherever you choose and often to work whichever hours you'd like, too. You do, however, need to make sure you have reliable WiFi access, which can be trying in certain camping circumstances. If you're parked near a WiFi source that just doesn't seem to be cutting it, you could try a WiFi extending antenna or repeater — the Ubiquiti NanoStation M2 and BearExtender Outdoor RV & Marine High Power USB Wi-Fi Extender Antenna come highly recommended by remote nomads in the community. Another option is to invest in a personal WiFi hot spot, such as AT&T's Velocity 4G LTE Mobile WiFi Hotspot or Verizon's Ellipsis Jetpack 4G LTE Mobile WiFi Hotspot – MHS800L — but keep in mind that you'll pay an additional cost for each gigabyte of data you use. Plans and prices vary by network, so call them up to get all the details before you make a decision!
Workamper Programs
As you can see, these workamping jobs are wonderful experiences that can make full-time travel much more possible for all sorts of campers. It's a great way to make friends if you're traveling solo, and you can even find work camping jobs for couples!
However, if workamping isn't for you or you can't find any workamping jobs available that suit your needs, you can still go a long way toward making your vacation more affordable.
For one thing, it's definitely worthwhile to join Passport America, which will save you 50% on your campground accommodations at almost 1900 nationwide campgrounds — and more are joining the program every day! Hey, a penny saved is a penny earned, right?
Enjoy your trip. After all, you know what they say: work hard, play hard!
This post may contain affiliate links.