RV Decor & Unusual RVs
June 10th, 2015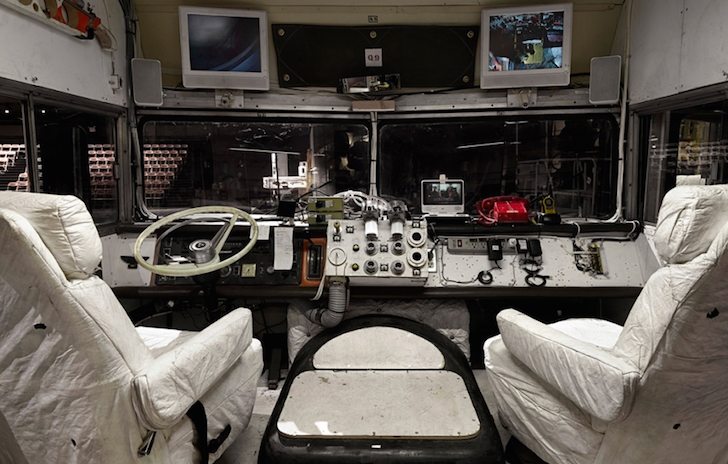 Reclaiming, recycling, and repurposing, this has become the American way. Many people forego modern motorhomes in favor of renovated vintage RVs. Typically, they use these restored RVs for living or traveling.
But modern New York sculptor, Tom Sachs, had a different idea. He used an old Winnebago as an element in his recent art exhibit, Space Program: Mars.

The exhibit will be displayed in the New York Park Park Avenue Armory. It's defined as,
…a demonstration of all that is necessary for survival, scientific exploration, and colonization in extraterrestrial environs: from food delivery systems and entertainment to agriculture and human waste disposal. Sachs and his studio team of thirteen will man the installation, regularly demonstrating the myriad procedures, rituals, and tasks of their mission. The team will also "lift off" to Mars several times throughout their residency at the Armory, with real-time demonstrations playing out various narratives from takeoff to landing, including planetary excursions, their first walk on the surface of Mars, collecting scientific samples, and photographing the surrounding landscape."
Winnebago Art Element
The Winnebago Brave in the exhibit fills the role of a mobile quarantine station for the would-be astronauts.
The Dashboard
The view in the front of this Winnebago art element shows a dashboard that is definitely more "space-aged" than the original.
The Amenities
Perhaps this aspect was intended as modern commentary. There are a large amount of U.S. and Russian alcoholic beverages, as well as cigarettes provided in the display.
The Mars Lander
To create as accurate of a piece as he could conceive, he included a Mars lander in addition to the Winnebago art unit.
The "Astronauts"
Mr. Sachs, along with 13 others, portrayed the astronauts to make the sculpture, which is more like a combination of an installment piece and performance art, more realistic.
In Action
Periodically, the crew members perform certain actions, such as preliminary missions and takeoffs, etc. This brings the piece to life.
Space Program: Mars
Here is the piece in totality. As you can see, the Winnebago Brave–seen on the right–is merely one aspect of the entire experience.
In Conclusion
The art form of "Assemblage" takes materials and elements that already exist and combines them in a way that turns them into "conceptual creations". Although many people prefer vintage RVs to modern ones, whether for ecological reasons or merely due to a love of the past, most don't use them in a sculpture.
If you found this interesting or inspiring, please share it with your friends or family members who have an interest in art, mature motorhomes, or even the space program. Whichever is their passion, this project is sure to please.
Take a look at this video to see the exhibit in action.