You Won't Believe This Spacious Utility Trailer Camper
How Tos & Tips
June 1st, 2015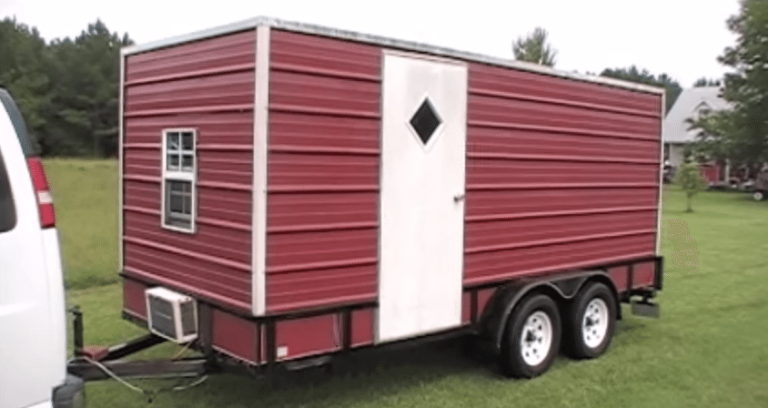 Who says that an RV must be fancy? The truth is that it depends on how you intend to use it. If you plan to live in your motorhome, you probably at least want the bare necessities, such as a full kitchen and bathroom. If you intend to vacation in it, you likely require at least a comfortable bed and living space.
What if, however, you want a trailer merely as an alternative to a tent when you go camping? Your needs would likely be much simpler.
For one man and his family, the answer presented itself in the form of a utility trailer conversion. With a bit of effort, he was able to design and build a structure that was large enough to house his family when camping, and sturdy enough to tow down the road. Simple and inexpensive, this is his utility trailer camper.
Utility Trailer Camper Exterior
The original utility trailer was 16′ long x 6′ wide. Onto this he built a custom made frame of 1 x 1-inch steel tubing that stood a little over 6-feet tall.
He used tin roofing for the siding that he screwed into the studs. He was able to salvage window from a roofing supply store and the full-sized mobile home door he bought cost only $100.
Trailer Camper Interior
The trailer has an interior ceiling height of over 6-feet high. The walls are insulated with either 1/2 to 3/4-inch sheets of insulation. The ceiling is made of 3-inch thick Styrofoam sunroom roofing. A thick Berber carpet covers the floor. Comfort is ensured with the $100 air-conditioner located in the front of the utility trailer camper.
Camper Furnishings
When using the trailer, the family spends most of their time engaged in water sports. Therefore, the trailer is sparsely furnished, similar to what you would see at a rustic campsite. The kitchen consists of a folding table, mini-fridge, a two burner camp-stove, and a waffle maker.
The family makes use of public campground restrooms and showers and thus has no need for a bathroom. The space is instead dominated by a sleeping area consisting of a bunk bed, a queen size bunk, and a couple bedrolls with foam cushions. Other items are stowed in the under bed storage area.
Utility Trailer Camper Accessories
Most of what is carried within the trailer consists of the family's personal clothing and water gear. The other camper accessories are as follows:
Bungees
Extension cords
Indoor desk light
Outdoor light
Ropes
Tarps
Toolbox with tools
Camper Wish List
Although the family feels that their trailer is quite comfortable, there are a few things they would like to add or improve. Adding more insulation on the walls would make regulating the temperature easier, as a few of the walls are bare. They also plan to add a couple more windows and a more permanent form of indoor lighting for obvious reasons.
In Conclusion
Determining what type of motorhome or camper you want is a very individual decision. For some, traveling with anything less than an apartment on wheels is unthinkable. For this family, however, the utility trailer camper entirely fills their needs. The owner can easily pull it, it sleeps all eight of his children, and it only cost $1,100. Please share this with your friends and family. Anyone who is looking for an alternative to sleeping in a tent is sure to find this inspiring.
Check out this great video that demonstrates how the trailer was made. Original link here.
Thanks for reading and don't forget to comment below!