Unicat Takes RVing By Storm
RV Decor & Unusual RVs
April 14th, 2015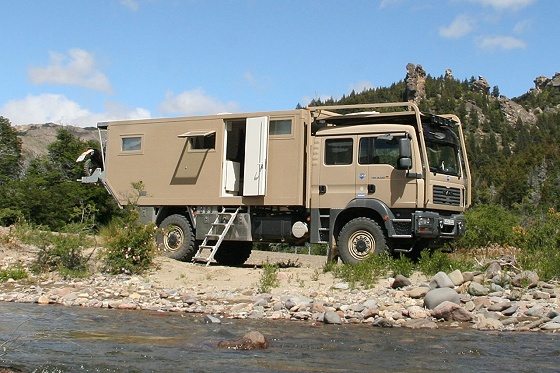 Ready for the adventure of a lifetime? The Unicat Terracross takes RVing to a whole new level. Ok, so it looks like a garbage truck on steroids. Who cares? The truth is, these babies go where no RV has gone before. Unicat creates specialized expedition vehicles perfect for remote travel. In this article we will explore the Terracross and get a feel for this one-of-a-kind unit.
First off, why would anyone want a Terracross? Here are the top 5 reasons you might need a Unicat Terracross.
1. It's the end of the world and if you do survive, you need to get around. (And some serious Zombie protection won't hurt!)
2. You are on a movie crew stuck shooting film in the Sahara desert. It's freezing cold at night and burning hot during the day. The winds are blowing sand in your eyes, but when you climb in your Terracross…"ah, you are home!"
3. As a UN worker, you are on the front lines of disaster response. You need a vehicle that will keep you safe from harm, and haul a ton of supplies to "the bush." The Terracross will get you there and back, no matter the location.
4. You own a tour company that takes people into "the bush." These travelers want to see how the other half lives, without actually living like them.
5. You're a roadie for the East African Safari Rally. (Known as the toughest in the world.) You follow the race and make sure everyone is safe day-in-and-day-out. The good news is you always have a place to call home.
So, we have established there are a lot of good reasons to own a Terracross. How much will it cost? Most Terracross RVs are custom designs. Prices start around $600,000.
Here's a few of the things you will get for the money:
Burglarproof locks
Insulated laminated glass (with no cool spots)
Able to withstand temperature changes of -40C to +50C
Doors of 60 MM thickness
Shutters and mosquito nets
Burglarproof skylights
Freeze-proof drinking water tanks
Freeze-proof sewage tanks
Water desalination system (so you can drink ANY type of water ANY time you need to)
Plus, all the modern comforts of home, and the fact that its tires can go from 100 psi pressure to 25 psi pressure automatically. This comes in handy if you plan to cross sand dunes in a hurry.
All jokes aside, Unicat has built an amazing, one-of-a-kind concept, which has a variety of real world uses. If you are working in a remote region of the world, having a safe place to call home makes all the difference.
Thomas Ritter, creator of Unicat, says this about his company:
"My desire to travel individually, and my passion for technical perfection, led to a decision of great importance: the design and construction of my own expedition vehicle. That was 30 years ago. Today, I am still keen about traveling, and from my passion for engineering, UNICAT evolved."
Here's to your incredible idea, Mr. Ritter. Your innovation may just help save the world!