Introducing the Simple Sleeper Trekker Trailer
RV Decor & Unusual RVs
June 16th, 2015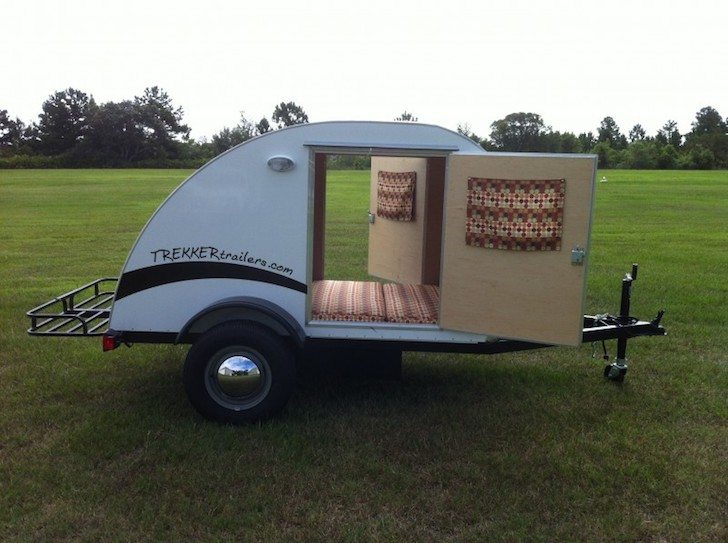 If you seek the ultimate comfort at a low price, you should take a look at Trekker Trailers. This eco-friendly company builds custom teardrop trailers in a variety of styles, including a retro teardrop design. Their main office is in central Florida, but the company will happily ship their trailers nationwide.
One of the more popular Trekker Trailers is the Simple Sleeper.
It may only be the size of a golf cart, but the inside offers cozy comfort with enough room for two adults. The ultra-light design can be towed with a minivan or a small car. It even comes with a two inch receiver on the rear so you can bring along your bike or extra cargo. The Simple Sleeper is available in either a four or five foot width.
This simple beauty has an A/C unit, a drop floor, two doors and a mattress. 
The A/C was custom built in a unique position to leave enough space inside the teardrop. 
Inside is  a 9″ drooped floor, a few storage cabinets and a bed that converts into a couch.
As you can see, this bed will provide a relaxing sleep after a long day of biking, hiking, or surfing. 
This is the base floor plan. It can be slightly modified to add an outdoor kitchen, a roof rack, and a 15 watt solar charger. 
The roof rack can be useful if you have a surfboard, or you want to carry additional camping equipment. 
You can even add an optional sink for washing the dishes.
This teardrop offers an amazing and complete camping experience at an affordable price.
The base Simple Sleeper starts at $5,900 for the 4′ wide model, and $6,900 for the 5′ wide model. The kitchen, roof rack, and solar panel are extra. If you want to learn more about the Simple Sleeper, or see the other custom Trekker Trailers, visit their website or facebook page.