Top 13 Beaches in Wyoming
Travel Inspiration
Last updated on July 21st, 2022. Originally published on June 4th, 2021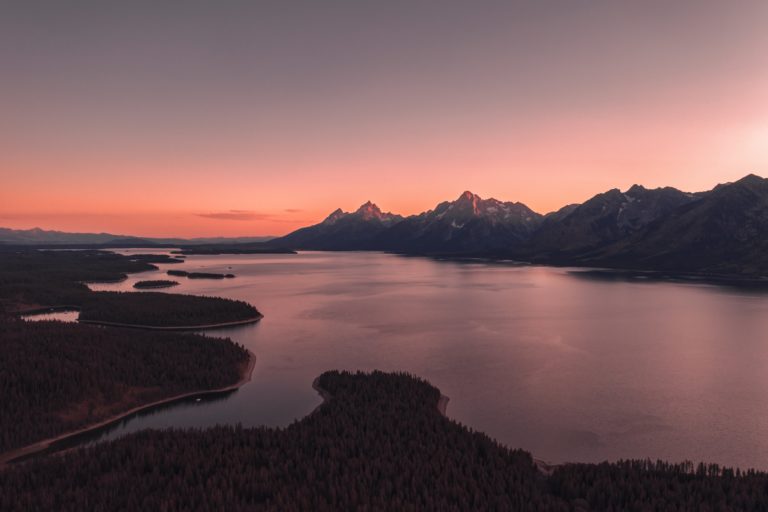 What are the most popular beaches in Wyoming?
When most people think of Wyoming, lots of images come to mind. Cowboys riding the range. The geysers of Yellowstone and the towering mountains of the Grand Tetons. Grazing bison and antelope making themselves at home on the range. But beaches?
 Although most people probably don't think of beaches when they think of Wyoming, they do exist! They're also the perfect place to spend a day unwinding with a good book, or a quiet paddleboard ride after you've explored those more famous areas of Wyoming. 
Top beaches in Wyoming
Wyoming is a vast state with lots of wide open spaces. There are landmarks and national parks people travel across the world to visit, but there is are also open plains, with lakes, forests, and interesting towns spread across the state. An RV road trip is a great way to visit Wyoming, allowing you to travel across the state as you please.
Along the way, stop and take a break at some of Wyoming's top beaches. 
String Lake 

Buffalo Bill Reservoir  

Keyhole State Park

Alcova Reservoir   

Fremont Lake 

Glendo State Park 

Bighorn Canyon National Recreation Area

Boysen Reservoir  

Guernsey State Park  

Flaming Gorge Reservoir at Buckboard Marina 

Colter Bay
Firehole River Swimming Area
Leigh Lake
Wyoming Beaches
Although Wyoming doesn't have ocean beaches, it does have many reservoirs, lakes, and rivers where beachgoers can kayak, swim, paddleboard, fish, and participate in other water activities. One even has a sandy shore for digging and building sandcastles! Here are Wyoming's best beaches:
1. String Lake
String Lake, inside Grand Teton National Park, has gorgeous views of the mountains which slope right down to the water's edge. Bring your own paddleboard or kayak and paddle the lake, or hop in for a swim. Many visitors also like to bring a picnic and enjoy the view while they eat. 
There are also many hiking trails that can be picked up at the lake, whether you're in the mood for a leisurely stroll around the shore or a strenuous hike into a nearby canyon. 
If you do plan to spend time at String Lake, you may want to either arrive early before the crowds or show up later in the afternoon when many people have headed home as it has one of the more popular beaches in the area.
2. Buffalo Bill Reservoir
This reservoir at Buffalo Bill State Park is not far from the town of Cody and is a great place for fishing and boating. Campgrounds at the park mean you won't be far from the water if you want to spend the day there. The reservoir can be windy, so paddleboarding and swimming can be a challenge (along with being very cold!) but bigger boats do fine and it has been rated one of the top ten spots in the country for windsurfing.
3. Keyhole State Park
Keyhole State Park has another state beach – a reservoir with swimming, boating, water skiing, and fishing. In fact, some of the largest fish in all Wyoming have been caught here! Kayaking and paddleboarding are also popular pastimes on the water, or you can find a picturesque spot to relax with a beach read. 
Keyhole State Park also has ten campgrounds, so you have plenty of options for staying close to the water.
4. Alcova Reservoir
Alcova Reservoir is just half an hour from Casper, and offers a variety of water activities like boating and fishing. You can rent paddle boards, kayaks, boats, and bikes. The resort also has a restaurant, bar, ice cream parlor, boating supplies, and RV hookups.
Alcova even has a sandy beach, known as Children's Beach (or Little Sandy Beach) with a playground, picnic shelters, and restrooms. Sandy Beach also has swimming and places for beach volleyball.
If you want to spend some time out of the water, Alcova Reservoir is also near the Cottonwood Creek Dinosaur Trail which takes hikers on a geological journey.
5. Fremont Lake
Fremont Lake is Wyoming's second-largest natural lake and is just outside the quaint town of Pinedale. The lake is great for sailing, and the Fremont Lake Sailing Regatta happens each August if you happen to be in town then. The lake is popular with people on motorboats, kayakers and paddleboarders, and windsurfers. The deep, cold water of the lake is also home to a variety of fish, making it popular with anglers.
6. Glendo State Park
Glendo State Park is about 100 miles from Cheyenne. The Glendo Reservoir has six boat launch areas and 21 different campgrounds. The reservoir has swimming areas at Shelter Point and Sandy Beach, away from the wake zones of boaters. The park also has piney forests and mountain areas, with hiking trails in case you've had your fill of the water.
7. Bighorn Canyon National Recreation Area
The Bighorn Canyon National Recreation Area covers parts of both Wyoming and Montana and is a popular spot to cool off in summer. It is at the bottom of a spectacular canyon, making it a fun place for water recreation but also a spot for some beautiful scenery.
Bighorn Canyon is also a great place for RV travelers, with one hundred camping spots along the river where you can set up.
8. Boysen Reservoir  
Boysen State Park is the largest state park in Wyoming and the reservoir is a great place to fish for walleye and trout. Along with fishing, visitors can swim and boat on the water and the swim beach at the north end of the reservoir has a changing house. There are five areas to launch boats around the reservoir as well.
Boysen State Park also offers campgrounds, so you can spend the day on the water and you won't have far to go when you're ready to relax for the night!
9. Guernsey State Park
Guernsey State Park is also home to a reservoir with great swimming and three boat ramps for water fun. It actually has four separate beach areas, and also has plenty of shade for hot days at the lake! The nearby town of Guernsey is a National Historic Landmark and has many historic buildings.
There are seven campgrounds within the park's boundaries, so RVers can play just steps from where you stay for the night. Visitors can also ride horses, hike, and fish.
10. Flaming Gorge Reservoir at Buckboard Marina 
The Flaming Gorge National Recreation Area is over 200,000 acres and encompasses parts of both Wyoming and Utah. The Buckboard Marina rents boats, and the reservoir has excellent fishing. The marina is also home to a full-service RV park, making it perfect for travelers.
The Flaming Gorge itself is 91 miles long and offers a variety of terrain. Boaters who start at the northern end will find a high desert landscape with rocky cliffs and long beaches. The south end has forests, brightly colored rocks, and amazing formations.
11. Colter Bay
Another great beach in Grant Teton National Park is Colter Bay on Jackson Lake. The views of the mountains and the cool lake water makes this a fantastic beach to swim, sunbathe, or explore. It's a rocky beach, so water shoes are recommended. You can also rent boats at the marina if you'd like to kayak or canoe, and you can also fish on the lake. There's even the Colter Bay Campground nearby so you can stay close to the water.
12. Firehole River Swimming Area
The lakes in Yellowstone National Park  tend to be too cold for swimming, but Firehole River Swimming Area along Firehole River is a natural swimming area that is typically open during the summer months. There's no parking lot, but you can park along the road and head down a set of wooden stairs to the beach. It's a rocky shore, so water shoes are definitely recommended. And just keep in mind that it's not a hot spring swimming area – the water is cold like a typical river! Be sure to check the National Park Service website to see if the area is open before you go.
13. Leigh Lake
Planning an RV trip to Wyoming
Exploring Wyoming in an RV is a wonderful way to travel. The state has a wide variety of things to do and see, but the vast plains mean that there can be considerable driving between each must-see destination. An RV allows you to hit them all without worrying about finding a comfortable place to stay each night.
As you explore the best beaches in Wyoming, be sure to check out our resources on traveling in the state. We have a guide to the best campgrounds in Wyoming, as well as comprehensive guides to Wyoming's state parks.
RVshare is also the perfect one-stop-shop to help you find an RV rental and get all the information you need for your trip.
Now it's time to grab a good book and head to a beautiful beach!