Top 10 Places to Go Camping in Upstate New York
Travel Inspiration
September 2nd, 2015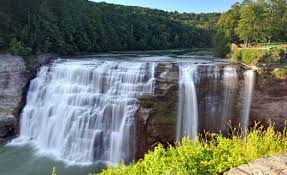 The summer camping season is almost over. But, like the popular 90's song goes, "Almost Doesn't Count." There's still plenty of time left to rough it in a tent, go exploring in your RV, or enjoy the charm of a cabin in the woods.
Interested in learning more? If you are in upstate New York, check out ten of the best campgrounds that this area has to offer.
With stunning waterfalls and impressive plunging gorges, Watkins Glen has a surreal quality. In fact, it is one of the most beautiful camping spots in all of New York State. As an added bonus the nearby area offers a world-famous car racing track, boating opportunities, and more. A visit to this campground is something that every camper should experience.
North Pole Resorts is a privately owned campground located on the banks of the Ausable River near the impressive Whiteface Mountain. This camping resort has many amenities including playgrounds and mini golf. Add its closeness to Adirondack's attractions, and this site is incredibly family friendly. Accommodations include cabin rentals and tent and trailer camping opportunities.
This secluded campground is the perfect place for when you want to get away from it all. A trip here ensures that you won't have to deal with touristy attractions. In fact, the isolation that it offers makes you feel like your own your little slice of heaven. It's located in the northwestern part of Adirondack Park and offers visitors excellent rowing, biking, and hiking opportunities.
If glamping is more your style, the Willowemoc Wild Forest Yurt is perfect for you. With 50 plus acres in the Catskills Mountains and a cozy yurt with solar lighting, a composting toilet, shower and outdoor cooking on a bbq grill, you can enjoy nature without sacrificing the comforts of home.
There's an old saying that goes, 'small in size, big in surprise.' Cherry Plain State Park epitomizes this adage by proving that less can be more. They offer 20 camping spots and this lack of crowds turns this park into a retreat like no other. Here is where you can fully immerse yourself in nature, or take part in the many activities at the park such as horseback riding, biking, hiking, swimming and more.
This location is perfect for those who truly want to get away from the hustle and bustle of their daily lives. Accessible only by boat and located on the Fulton Chain of Islands, this campground offers 15 sites with gorgeous views of the water, picnic tables and fire pits. If you are looking for total peace and privacy, this is the place for you.
Have you ever wanted to be a pirate and explore islands all by your lonesome, or with the help of your trusted mates? The Lower Saranac Lake Islands offers the chance to do just that. With an interconnected series of waterways and lakes you can boat from lake to lake and island to island fishing for dinner and enjoying some of the 87 campgrounds located on the numerous islands.
If you've ever wanted to visit Niagara Falls, then this campground is where you will want to stay. It is part of the popular KOA brand so quality is ensured. You can rent banana bikes or boats, enjoy live entertainment, feast on a pancake breakfast, try your luck in one of their fishing ponds, or simply lounge by the pools.
Glimmerglass State Park is located just a short distance from Cooperstown, NY at the northern tip of Otsego Lake. This scenic campground offers visitors plenty of activities including boating, swimming, and even shows at the Glimmerglass Opera House.
This park is considered to be the "Grand Canyon on the East." It was even named the 'Best State Park in the United States' by USA Today. It features many amenities including hiking, swimming, fishing, arts programs, and more.
This beautiful park offers camping spots for both trailers and tents. There are also private cabins and other luxurious accommodations. It is the perfect place for all your camping needs.
What do you think of the list? Do you know of any great camping spots that deserve to be on this list? Share your thoughts in the comments below.