Landmarks
March 25th, 2021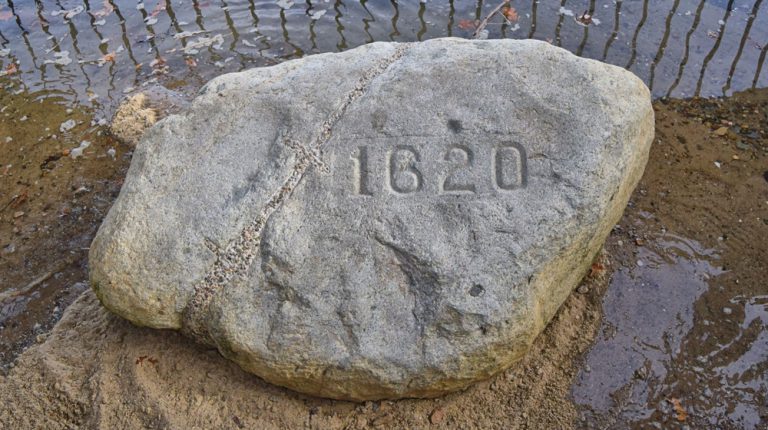 What is a Landmark?
Massachusetts is one of the most historically relevant states in our nation — it's the home of Plymouth Rock, for goodness' sake! But along with these cultural lodestars, Massachusetts also has a variety of other important landmarks, including one-of-a-kind natural landscapes, authentic old naval vessels, the homes of esteemed authors and so much more. Here are just ten of the nigh-unending list of must-see landmarks in Massachusetts.
What are Some Famous Landmarks in Massachusetts?
1. Veterans War Memorial
2. The Mount, Edith Warton's Home
3. Minute Man National Historical Park
4. House of Seven Gables
5. Old State House
6. USS Constitution
7. Old South Meeting Hall
8. Plymouth Rock
9. Race Point Lighthouse
10. Brant Point Lighthouse
Massachusetts Landmarks
Here are the top 10 landmarks you must see on your next trip through Massachusetts.
1. Veterans War Memorial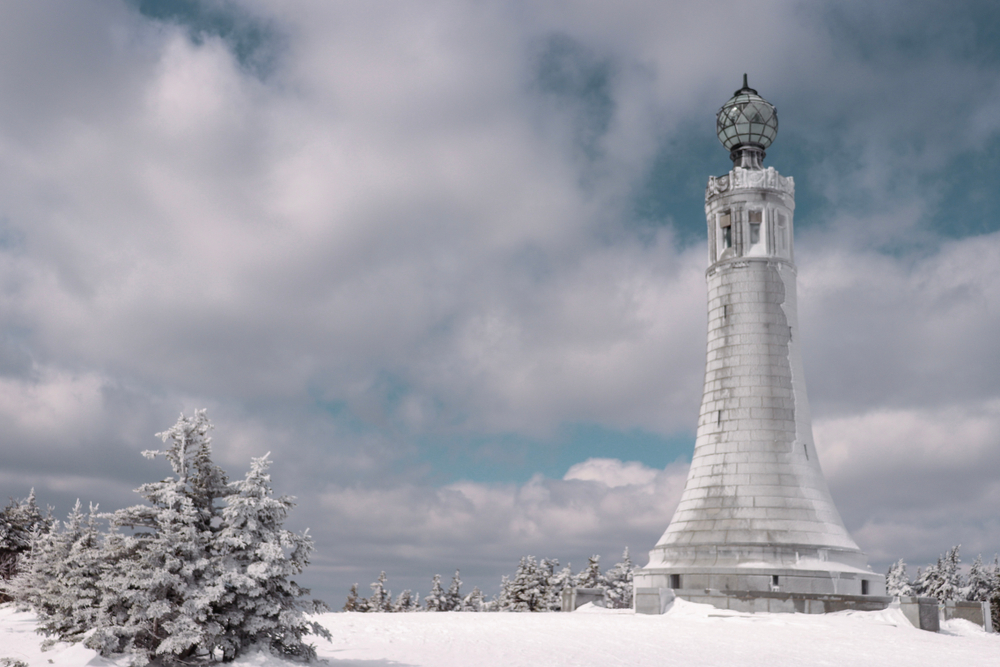 Nestled into a place of honor at Mount Greylock State Reservation, which protects and preserves the highest point in the state of Massachusetts, the Veterans War Memorial was first proposed in 1918, though approval for the tower wouldn't be passed by the state's legislature until 1930. When it was constructed between 1931-1932, it cost around $200,000, or almost $3.5 million in today's dollars. This everlasting lighthouse was originally meant to memorialize the veterans who fought in World War I, but continues to be a light to the families and loved ones of all the people who've fought in American armed conflict. (Plus, the view from the top of 3,491-foot tall Mount Greylock is phenomenal; on a clear day, you can see almost 100 miles into the distance.)
Things to do near Veterans War Memorial: Tucked into the far northwestern corner of the state near the town of Pittsfield, the Veterans War Memorial is close to other Massachusetts state parks and wilderness areas like Wahconah Falls State Park, Savoy Mountain State Forest and Mohawk Trail State Forest. Here are some nearby RVshare rentals to check out.
2. The Mount, Edith Warton's Home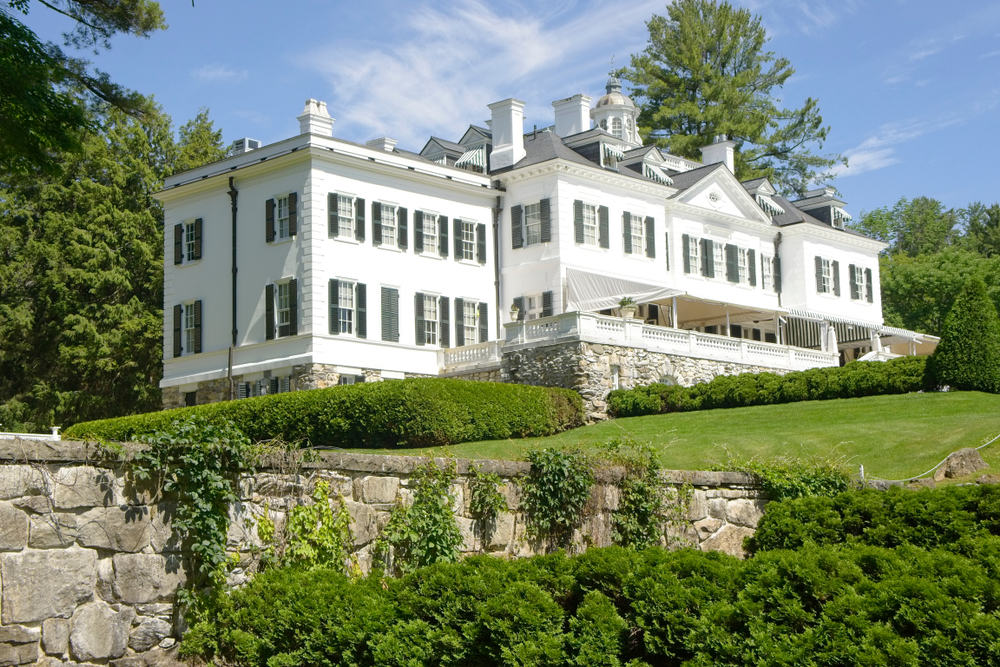 You likely know her as an author, but as it turns out, Edith Warton was something of an architect, too; she designed and built The Mount, her stunning and iconic turn-of-the-century home, back in 1902. She also laid out the property's beautiful grounds, considering it her "first real home" since she had such a hands-on part in its creation. Today, the property has been transformed into a public museum and cultural center, where visitors can stroll through the gardens or enjoy a guided tour introducing you to the house itself, the grounds, or even the ghosts that are said to live here. The Mount was placed on the list of National Historic Landmarks in 1971.
Things to do near The Mount: The small Massachusetts town of Lenox includes some other visit-worthy destinations, such as the Ventfort Hall Mansion and Gilded Age Museum and the Berkshire Scenic Railway Museum. It's also just a few miles from the wild expanses of October Mountain State Forest. Here are some nearby RVshare rentals to consider.
3. Minute Man National Historical Park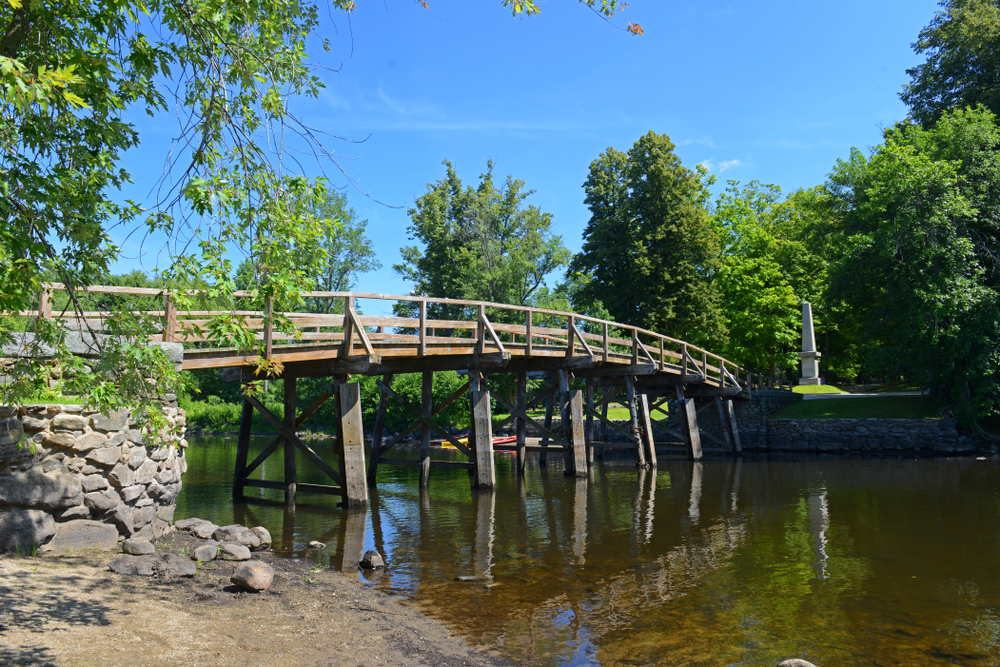 Commemorating the all-important battle that opened the entire American Revolutionary War, Minute Man National Historical Park covers just under 1,000 acres of land near the famous Massachusetts towns of Lexington, Lincoln, and Concord. Within the park are a number of more specific "sites" of important historical and cultural events, such as Concord's North Bridge, which is where militia fired back on British forces for the first time on April 9 of 1775. (In other words, this is the site of Ralph Waldo Emerson's "Shot Heard Round the World.") The park also includes the five-mile-long "Battle Road Trail" between Lexington and Concord, as well as The Wayside, a National Historic Landmark in its own right, which was home to authors Amos Bronson Alcott, Louisa May Alcott, Nathaniel Hawthorne, and Margaret Sidney.
Things to do near Minute Man National Historical Park: Located only a short way from Boston and Cambridge, Minute Man National Historical Park is close to many other fascinating and important attractions and destinations such as the Lexington Common National Historic Site and Mass Audubon's Drumlin Farm. Here are some nearby RVshare rentals to consider, as well as campgrounds in the area.
4. House of Seven Gables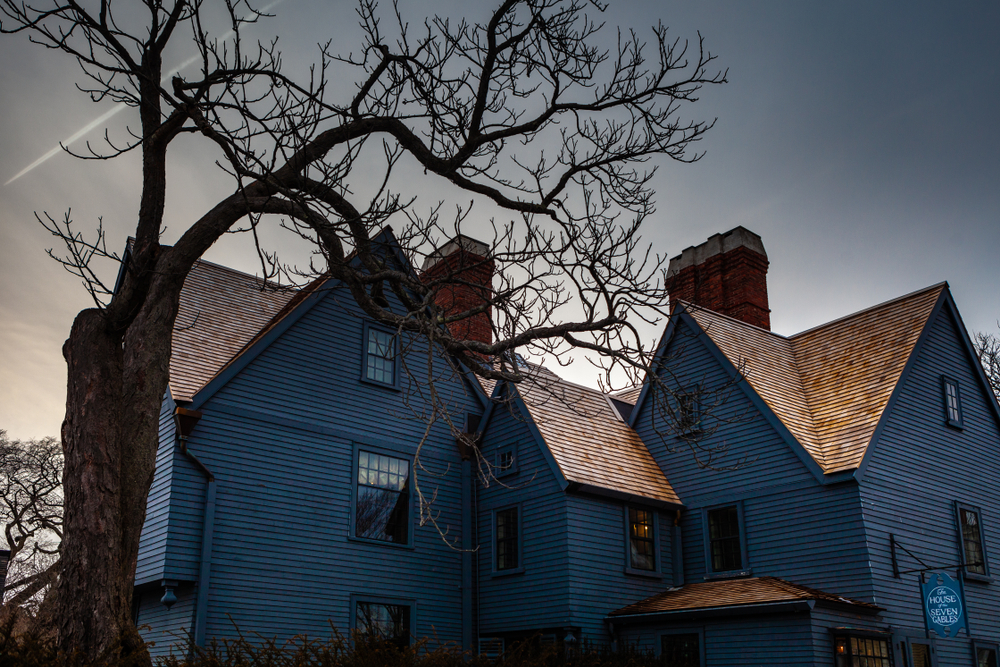 While there are so many fascinating landmarks in Salem to put on your list, not the least of them is the House of Seven Gables, a stunning colonial mansion dating all the way back to 1668 and memorialized by Nathaniel Hawthorne — who, yes, briefly lived in the landmark listed above! — in 1851. The house was constructed by a merchant and ship-owner named John Turner and stayed in his family for three generations. Today, it's a non-profit museum open to the public offering educational guided tours, and also the namesake of an entire historic district — the House of Seven Gables Historic Landmark District, which was designated as such back in 2007.
Things to do near the House of Seven Gables: Salem is full of fun things to see and do… whether or not you believe in witchcraft. For instance, the Peabody Essex Museum features a range of regional Asian/American art exhibits, and Salem Willows Park offers a summery respite complete with a carousel, food carts and live music. Here are some nearby RVshare rentals to consider.
5. Old State House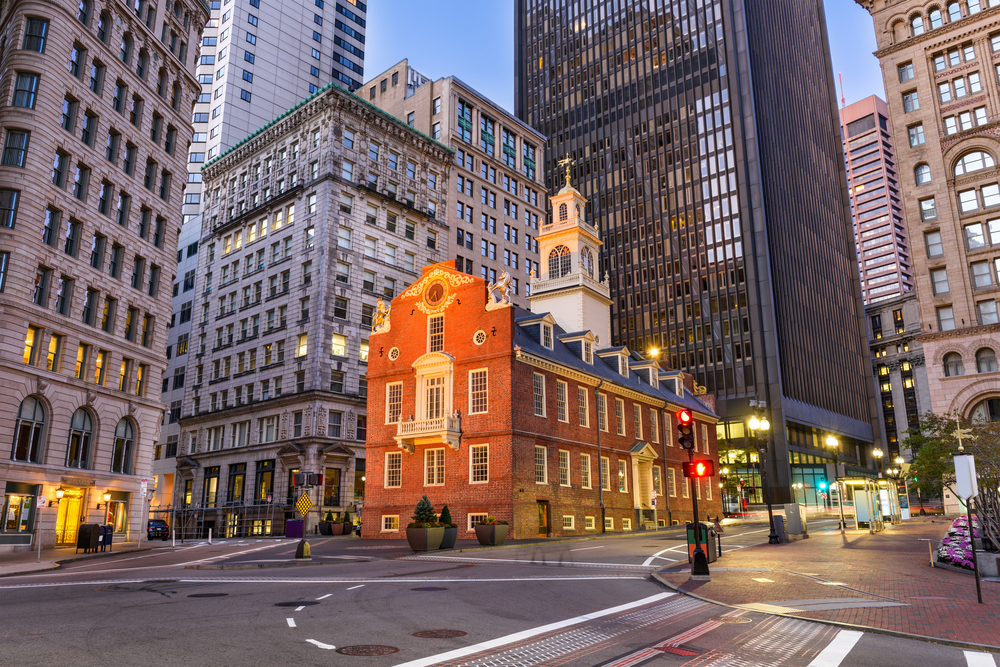 The longest-standing building in Boston and, indeed, one of the oldest public buildings in the United States as a whole, the Old State House was the seat first of the Massachusetts Colonial Government and later as the state government. Then, for a period during the 1800s, it served as Boston's City Hall. Today, the Old State House is a museum open to the public, where visitors can learn more about this structure's storied history by visiting in person. The Old State House is run as a museum by the National Park Service in conjunction with the Bostonian Society, which also operates several other public Boston-area historical landmarks.
Things to do near the Old State House: Simultaneously one of the most historical cities in the world and also one of the most modern and contemporary, Boston offers an endless array of dining, shopping, and cultural attraction options. It's also not far from some incredible campgrounds, and there are plenty of RVshare rentals worth considering in the area!
6. USS Constitution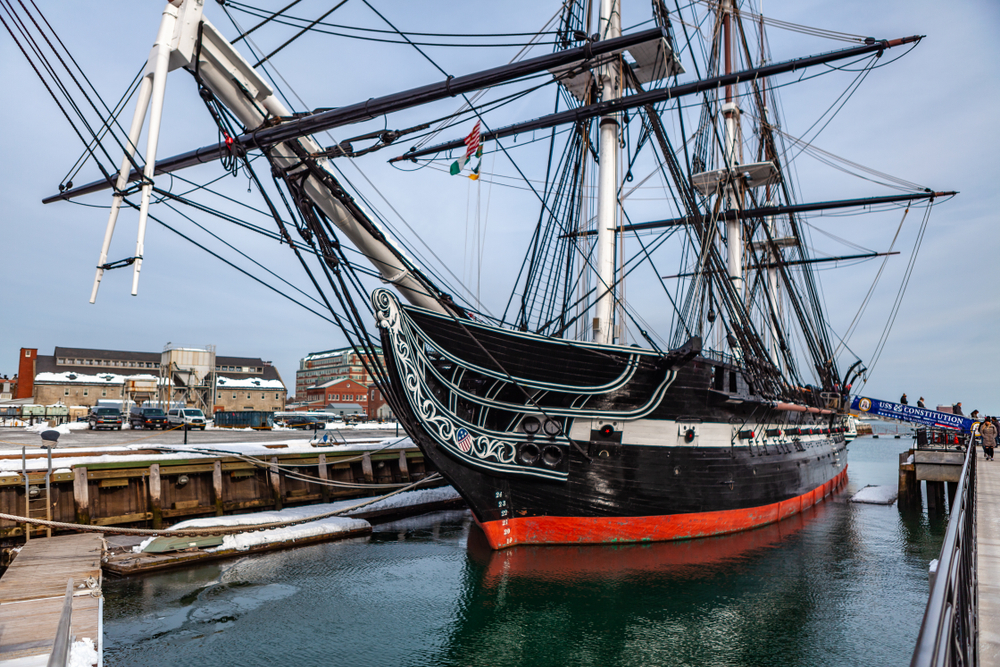 Otherwise known as Old Ironsides, the USS Constitution is a legendary old American naval vessel — technically a wooden-hulled, three-masted heavy frigate, and the world's oldest commissioned naval vessel that's still afloat. Launched all the way back in 1797, this ship is indeed a piece of living, floating history, and her name was selected by none other than George Washington himself (who actually chose from 10 names submitted to him by Secretary of War Timothy Pickering in 1795). Today, the USS Constitution Museum welcomes visitors and offers them a unique perspective on naval history impossible to get any other way. By seeing and touching history with your own two eyes and hands, you can really get a sense of what life was like for those who worked aboard this ship when she was in service.
Things to do near the USS Constitution: Docked in Boston's Charlestown Navy Yard, the USS Constitution is an easy add-on to a day of Beantown exploration. Swing by the nearby Bunker Hill Monument before enjoying some delicious waterfront seafood — and don't forget to check out these local RVshare rentals and campgrounds for selecting your home away from home.
7. Old South Meeting Hall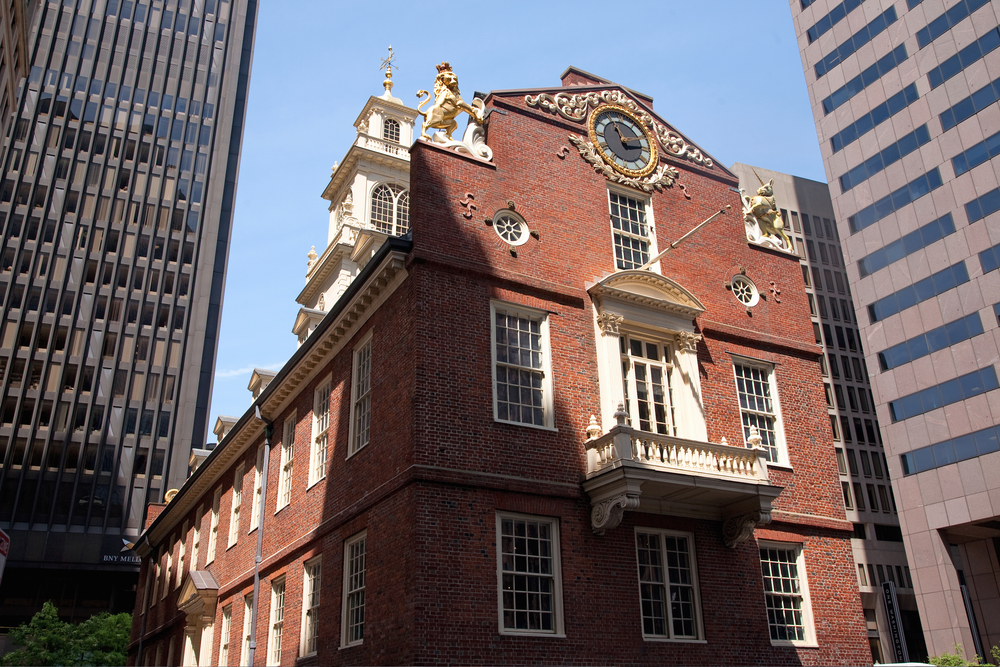 One of the oldest church buildings in the United States, Old South Meeting Hall was originally constructed back in 1729, and is perhaps most famous for becoming the meeting site of the Boston Tea Party in December of 1773. At the time, it was the largest building in Boston, and more than 5,000 colonists gathered there to discuss what should be done about the unfair Tea Act passed in May of that same year. Old South Meeting Hall was very nearly burned down in the Great Boston Fire of 1872, but was saved at the last minute by the arrival of a fire engine coming from Portsmouth, New Hampshire. As a result, however, the congregation moved to a new building… but it still returns for services in this original structure once a year on the Sunday before Thanksgiving.
Things to do near Old South Meeting Hall: Located in downtown Boston, Old South Meeting Hall is close to the heart of the town's happenings, only steps away from attractions like the New England Aquarium. Need a getaway from the city? Mystic Lakes State Park is only a short drive away, and there are some great RV campgrounds nearby (and, of course, RVshare rentals!).
8. Plymouth Rock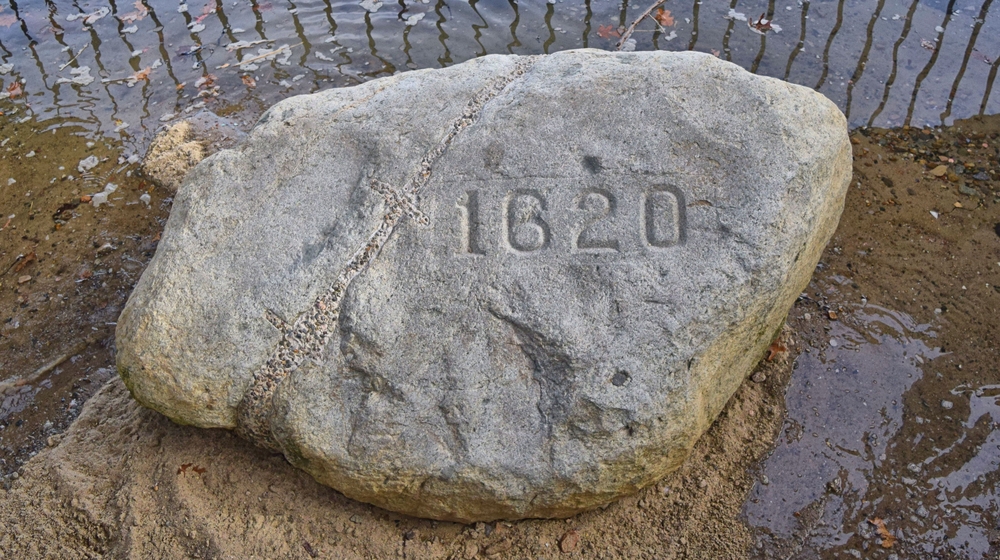 You can't get much more iconic or important when it comes to U.S. landmarks than this. Plymouth Rock is known as the site where the Pilgrims first disembarked the Mayflower on their 1620 journey to the New World — though it's not the first time these lands were settled, of course, as they were inhabited by Native Americans. But Plymouth Rock, located in the town of the same name (Plymouth, Massachusetts) is a classic field trip destination for local students and a worthy stop for an adult itinerary through the state as well. You may notice a crack in the rock, which is because it was accidentally broken in half in 1774 when locals attempted to haul it to Plymouth's Town Square. It has since been reassembled and is now protected by a large granite canopy.
Things to do near Plymouth Rock: Only 40 or so miles from Boston, Plymouth is known for its relatively small-town charm (it has a population of about 60,000), and is also home to the National Monument to the Forefathers and the Plimoth Patuxet Museums. Here are some RVshare rentals in the area — nearby Myles Standish State Forest offers great camping opportunities.
9. Race Point Lighthouse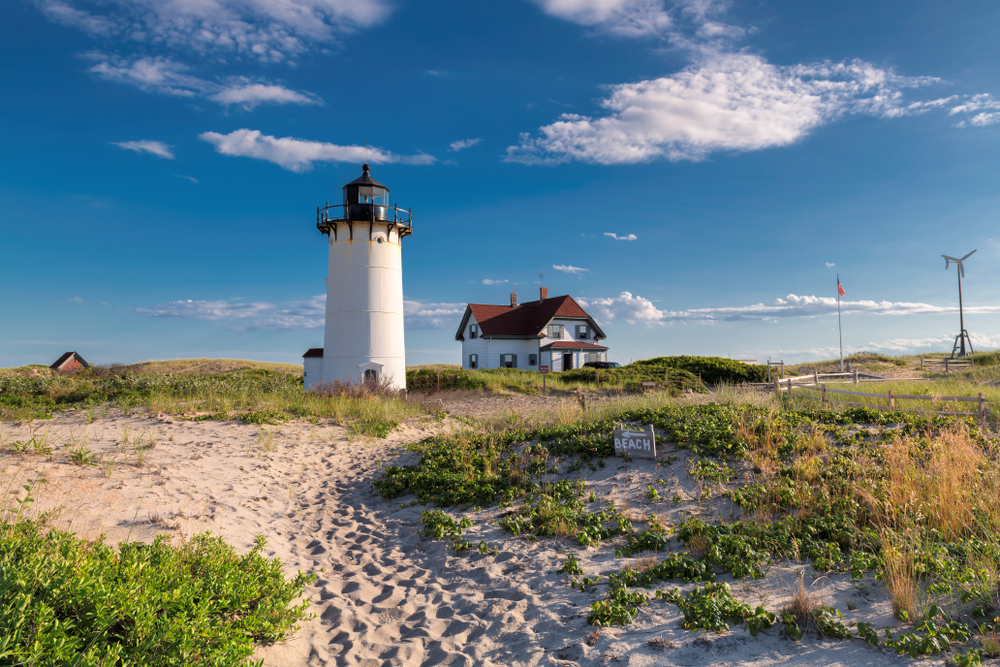 Located in the quaint city of Provincetown at the extreme end of the Massachusetts "boot," Race Point Lighthouse is still an active beacon, though it was originally constructed back in the early 1800s. The 45-foot structure you can visit today is actually the second lighthouse to be built on these grounds; the first one, built in 1816, was replaced in 1876. In order to reach the lighthouse — and keeper's quarters, which are actually available for overnight accommodations — you'll either need to hike in or engage the four-wheel drive on your vehicle. But those who make the trek will be rewarded with a once-in-a-lifetime opportunity, not to mention the beautiful view.
Things to do near Race Point Lighthouse: Provincetown is known, as are many other parts of Cape Cod, for its rolling dunes and gentle sea breezes. Wander the many art galleries, eateries and boutiques in town, or simply enjoy the breathtaking sunrises and sunsets — not to mention Cape Cod National Seashore just down the road. Here are some nearby RVshare rentals to consider.
10. Brant Point Lighthouse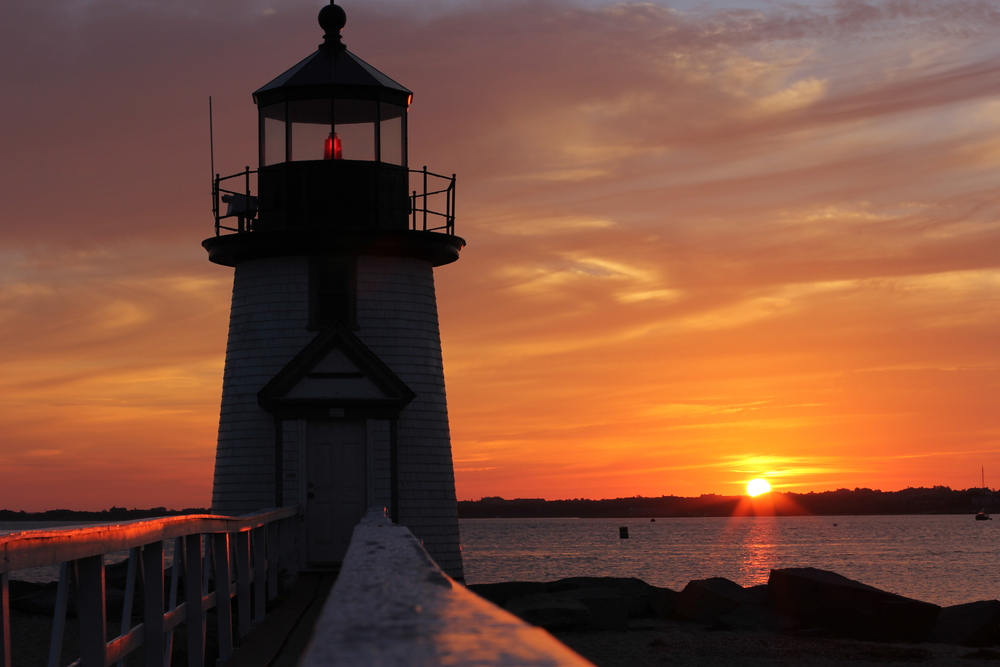 Another famous historic Massachusetts beacon and landmark, Brant Point Lighthouse is located on the rugged but beautiful island of Nantucket, and was first established back in 1746. With a height of just 26 feet, it's the shortest lighthouse in New England, but no less important to the sailors who have historically used it for navigation and guidance. Although visitors can't enter or climb the lighthouse, this important U.S. landmark is still available to view from below and makes an excellent photo opp.
Things to do near Brant Point Lighthouse: The unique and isolated island of Nantucket, with its population of just over 11,000, makes for a fascinating destination in the summer, and is also home to the Whaling Museum, as well as several other lighthouses.
Planning an RV Trip to Massachusetts
As you can tell, Massachusetts is filled with incredible destinations to explore — and we've got you covered on all the info and equipment you need to explore them! For one thing, you can find RV rentals all over the state through our platform, but we've also covered the best campgrounds and state parks in Massachusetts, as well as writing guides to the urban adventures available in Boston and Cambridge.
Enjoy your trip!